Fight disinformation:
Sign up
for the free
Mother Jones Daily
newsletter and follow the news that matters.
From Tim Pawlenty, possibly the most boring person ever to be considered a front runner for a presidential nomination:
Anybody who's going to run for this office who's been in an executive position, or may run, has got some clunkers in their record. Laura, mine I think are fewer and less severe than most. As to climate change, or more specifically cap-and-trade, I've just come out and admitted it — look, it was a mistake, it was stupid….Everybody in the race, well at least the big names in the race, embraced climate change or cap-and-trade at one point or another. Every one of us.
That's true. And then, suddenly, every one of them didn't. Why is that?
One possibility is that they just like taking stands that piss off liberals. But opposing cap-and-trade would have pissed off liberals four years ago and they didn't do it then. So what changed?
The answer isn't very complex. Four years ago, in the wake of Al Gore's Inconvenient Truth and growing public concern about global warming, corporate America felt that some kind of action on greenhouse gases was probably inevitable. And if it was inevitable, then cap-and-trade was their best bet. From their point of view it probably looked less threatening than a flat carbon tax, which is harder to game than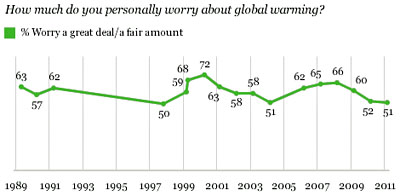 cap-and-trade, and less costly than flat mandates from the EPA. So they got on board, and Republicans got on board with them.
But then a couple of years ago public concern over global warming started to wane and it became less obvious that action on greenhouse gases really was inevitable. So instead of settling for cap-and-trade as their least worst alternative, they decided to fight instead for their first best alternative: doing nothing. And once again, Republicans got on board with them.
All this was made easier by the fact that the conservative wing of the GOP was never a fan of regulating greenhouse gases in the first place, and when John McCain lost the 2008 election it was easy to demonize squishy stands like his support of cap-and-trade as evidence that America had no interest in Democrat-lite policies. If corporations had continued to support cap-and-trade, there could have been a real tug-of-war between the business wing of the party and the Obama-is-a-socialist wing of the party, but once the business community jumped ship it was no contest. They usually get what they pay for, after all.