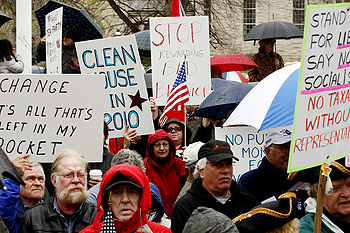 Andrew Sullivan, like many of us, is confused about just what exactly motivates the tea party crowd. Today, he recommends a New York Times essay by J.M. Bernstein, who suggests that tea party anger is, at its core, almost metaphysical:
My hypothesis is that what all the events precipitating the Tea Party movement share is that they demonstrated, emphatically and unconditionally, the depths of the absolute dependence of us all on government action, and in so doing they undermined the deeply held fiction of individual autonomy and self-sufficiency that are intrinsic parts of Americans' collective self-understanding.

….This is the rage and anger I hear in the Tea Party movement; it is the sound of jilted lovers furious that the other — the anonymous blob called simply "government" — has suddenly let them down, suddenly made clear that they are dependent and limited beings, suddenly revealed them as vulnerable.
This sounds nice, but it just doesn't jibe with the basic facts and known demographics of the tea party movement. Here are the results from a New York Times poll a couple of months ago:
Tea Party supporters are wealthier and more well-educated than the general public, and are no more or less afraid of falling into a lower socioeconomic class, according to the latest New York Times/CBS News poll. The 18 percent of Americans who identify themselves as Tea Party supporters tend to be Republican, white, male, married and older than 45. They hold more conservative views on a range of issues than Republicans generally….Tea Party supporters over all are more likely than the general public to say their personal financial situation is fairly good or very good.
And here are the results from a more recent ABC News poll:
Tea Party supporters [are] no more or less apt to be college graduates, to have incomes over $75,000 or to be either among the youngest or oldest age groups. ("Strong" supporters of the Tea Party, however, are somewhat more apt to be in upper-
middle income categories, and to be age 50 or older.)
Look: if anything, tea partiers might be a little less dependent on the federal government than the rest of the country. They're mostly married, middle aged, have slightly above-average incomes, and have the same education level as the rest of the country. They haven't been hit by the recession any worse than anyone else. Maybe a little less, in fact, especially for the older contingent that's covered by Social Security and Medicare.
Trying to analyze the tea party mentality in a vacuum is a mug's game. If you want to get anywhere, you have to understand both the historical context and the media context behind them. And that context is pretty simple: if you elect a liberal Democratic president, you get this kind of reaction from middle class conservatives. In FDR's day you got the Liberty League. JFK inspired the growth of the John Birch Society. Clinton got the conspiracy-minded talk radio crowd. And Obama has the tea parties. This is nothing new.
The other context is the media-political complex. Does anyone seriously think that the tea party movement would exist in anything close to its present form if it weren't for Fox News and Glenn Beck and FreedomWorks and Sarah Palin? It feels silly just to ask the question, doesn't it? Of course it wouldn't.
So then: why have tea partiers gone off the rails about the federal deficit? It's not because of something unique in their psyches. And it's not because they're suddenly worried that America is going to go the way of Greece. (The polls I linked to above show that tea partiers care more about cutting taxes than reducing the size of government.) It's because they're the usual reactionary crowd that goes nuts whenever there's a Democrat in the White House and they're looking for something to be outraged about. And right-wing media and the Republican Party have decided (correctly, I think) that banging on about the deficit is a handy way to gin up opposition to pretty much everything Democrats want to do.
The previous tea party incarnations worked the same way, but their leaders chose topics suited to their time and circumstances. In the 30s it was opposition to the New Deal. For the Birchers it was communism. For the Clinton-haters it was the culture wars. Those were the most obvious and convenient stalking horses of their day for broad-spectrum outrage at Democrats, while today's is the deficits/socialism message. There's really nothing mysterious here. It's just ordinary partisan politics.
So please please please: trying to figure out what's behind the tea parties is fine. But psychoanalysis isn't the right tool. History and politics are.