Fight disinformation:
Sign up
for the free
Mother Jones Daily
newsletter and follow the news that matters.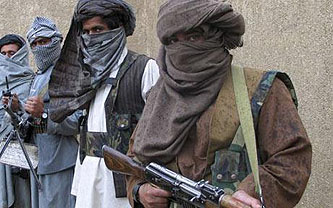 Hot on the heels of their capture of Mullah Abdul Ghani Baradar, the Taliban's senior military commander, Pakistani forces have now captured another couple of senior Taliban leaders:
Two senior Taliban leaders have been arrested in recent days inside Pakistan, officials said Thursday, as American and Pakistani intelligence agents continued to press their offensive against the group's leadership after the capture of the insurgency's military commander last month. Afghan officials said the Taliban's "shadow governors" for two provinces in northern Afghanistan had been detained in Pakistan by officials there.

….The arrests — all three in Pakistan — demonstrate a greater level of cooperation by Pakistan in hunting leaders of the Afghan Taliban than in the eight years of war. American officials have complained bitterly since 2001 that the Pakistanis, while claiming to be American allies and accepting American aid were simultaneously providing sanctuary and assistance to Taliban fighters and leaders who were battling the Americans across the border.

….It is still far from clear, but senior commanders in Afghanistan say they believe that the Pakistani military and intelligence agencies, led by Gens. Ashfaq Parvez Kayani and Ahmed Shuja Pasha, may finally be coming around to the belief that the Taliban — in Pakistan and Afghanistan — constitute a threat to the existence of the Pakistani state.
This suggests — though hardly proves — that Baradar's capture wasn't a fluke and probably wasn't just game playing by Pakistani authorities who were upset at not being included in negotiations with the Taliban. Barack Obama's team has, somehow, leveraged the events of the past year to convince them that the Taliban is genuinely dangerous and needs to be forcibly taken care of.
To summarize, then: in its first year in office, the Obama administration has (a) doubled American forces in Afghanistan, (b) dramatically increased drone attacks against Taliban hideouts, (c) begun a serious offensive against Taliban strongholds in Marja, and (d) gotten the leadership of Pakistan on board in a mission to seriously go after Taliban leaders who have long had safe haven in Pakistani cities. This is, as near as I can tell, more than then Bush administration accomplished in eight years.
But Republicans are still insisting that Obama is "weak on terror" because he made the decision to treat the Christmas bomber exactly the same way that the Bush adminstration treated every terrorist it captured on American soil. How long is the press going to keep taking these guys seriously?1
1No, don't answer that. I think we all have a pretty good idea.