Fight disinformation:
Sign up
for the free
Mother Jones Daily
newsletter and follow the news that matters.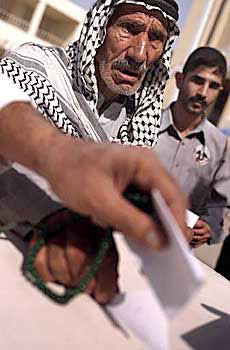 Last year the Iraqi parliament approved a Status of Forces Agreement that called for U.S. troops to withdraw from cities by June 2009 and to leave the country completely by December 2011.  At the time, there was a plan to submit the SOFA to a referendum, but that never happened.
Now, Prime Minister Nouri al-Maliki has apparently decided to revive the idea:
If Iraqi lawmakers sign off on Maliki's initiative to hold a referendum in January on the withdrawal timeline, a majority of voters could annul a standing U.S.-Iraqi security agreement, forcing the military to pull out completely by January 2011 under the terms of a previous law.

It is unclear whether parliament, which is in recess until next month, would approve the referendum. Lawmakers have yet to pass a measure laying the basic ground rules for the Jan. 16 national election, their top legislative priority for the remainder of 2009.
If the SOFA is voted down, American troops have to leave within a year.  That means January 16, 2011 instead of December 31, 2011.  It's not at all clear why Maliki is doing this, but Juan Cole takes a guess:
I am just speculating, but I wonder if this measure was pushed by the Islamic Supreme Council of Iraq, which is close to the ayatollahs in Tehran, who in turn may want to speed up the US withdrawal because they have become afraid of a 'color revolution' in Iran promoted by the US. Staging such things from neighboring Iraq would be easier than doing it from a greater distance…
Meanwhile, there's this:
In an effort to defuse mounting Arab-Kurdish tensions, the U.S. military is proposing to deploy troops for the first time in a strip of disputed territory in northern Iraq, the top American general in Iraq said Monday.

….Though the plan is still not finalized, Odierno said that he had discussed it recently with Iraqi Prime Minister Nouri Maliki and with Massoud Barzani, the president of the regional government, and that both had been receptive to the idea.
So on the one hand Maliki is supporting a referendum that might force a faster troop withdrawal, while on the other hand he's supporting renewed U.S. patrols even though the SOFA banned them starting last month.  The fig leaf is that the patrols will be in "mostly rural" areas, but that's a fairly thin excuse.
Anyway, I'm not sure what to make of all this.  But it wouldn't bother me at all if the Iraqi public voted down the SOFA and we ended up withdrawing a year earlier than planned.