Fight disinformation:
Sign up
for the free
Mother Jones Daily
newsletter and follow the news that matters.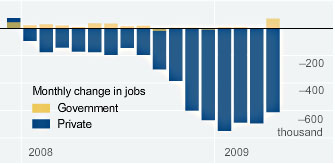 The New York Times reports on the latest employment figures:
The United States economy lost 539,000 jobs in April, the government reported on Friday, a sign that the relentless pace of job losses was starting to level off slightly but was still nowhere near ending.

A year ago, the loss of more than half a million jobs in a single month would have seemed like a disaster for the economy. On Friday, experts were calling it an improvement.
This is being taken as yet another sign that although things are still getting worse, they aren't getting worse quite as fast as before.  Or, even more positively, that since employment is a lagging indicator (i.e., it usually keeps declining even after the rest of the economy starts to turn around), this means the recession might be nearly over.
Maybe.  It's true that, just as it's easy to get too optimistic in good times, it's also easy to get too pessimistic in bad times.  But I still wonder if there are more economic shocks around the corner.  If not, we might be headed for a slow recovery.  But if, say, Russia or Austria or Mexico suddenly decides to collapse, we might not be.  Obviously I don't know any more about this possibility than the next guy, but I'm still having a hard time generating much optimism about this report.  We'll see.