If you're interested in the political blogosphere and the netroots in general, Eric Boehlert's Bloggers on the Bus is a great read.  It's built around potted sketches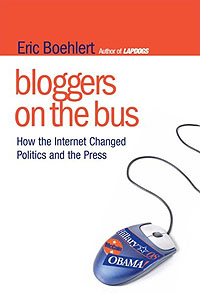 of some of the best known liberal bloggers (Atrios, Digby, Jane Hamsher, John Amato, Arianna Huffington, Glenn Greenwald, and others) and some of the blogosphere's greatest campaign hits during 2008 (the Obama MySpace debacle, the John Hagee meltdown, the Sarah Palin eruption, the great sexism debate), and Boehlert really does a terrific job of diving in and explaining how everything unfolded.  I followed almost all of this stuff pretty obsessively in real time, but I still learned lots of details I'd never heard of before.
It's a very fast, entertaining read, and since it focuses (almost) exclusively on the liberal blogosphere it mostly avoids the sense of triumphalism you might get in a more partisan book.  Which is a good thing since it ends with this:
The bad news for liberal bloggers was that as the Obama campaign unfolded, as his new commuhity-based coalition was being built and celebrated, it became obvious that bloggers were never really invited to the party.  Liberal bloggers simply never became active partners with Obama in the way they had been with the Dean insurgency four years earlier, and the way they had been with scores of Democratic politicians in skirmishes throughout the Bush years.  Why?  Mostly because Obama didn't seem to want the bloggers around.
That's true, isn't it?  For all the hype, the liberal blogosphere in 2008 had its biggest impact in state and local races, just as it did in 2004.  It's true that it was much more successful in pushing stories into the mainstream media than it was four years ago, but in terms of being active in the Obama campaign itself, it wasn't.  And that was primarily a choice made by Obama himself, who apparently felt that the raw partisanship of the blogosphere was something he wanted to keep at arm's length.
There were a couple of things missing from the book that struck me.  The first is specific: the Jeremiah Wright firestorm, which begged to be included in any book about the 2008 campaign, but which Boehlert inexplicably never mentions.  The second is more general: Boehlert does a good job of showing how the blogosphere managed to gain attention for stories that might otherwise have gone unnoticed, but at times his account feels too blinkered.  The mainstream media played a pretty big role in all this too, and even in a book about the blogosphere this deserves a little more attention.  At the very least, there should have been a chapter devoted to the relationship between blogs and the MSM.
But these are nits.  If you're looking for a blog's eye view of Campaign '08, Bloggers on the Bus is a terrifically readable and carefully reported book.  Highly recommended.