Fight disinformation:
Sign up
for the free
Mother Jones Daily
newsletter and follow the news that matters.
MARY SCHAPIRO….The Financial Industry Regulatory Authority is a private regulatory body formed a couple of years by merging the enforcement arm of the NASD and part of the New York Stock Exchange's regulatory apparatus. The head of Finra is Mary Schapiro, who has been nominated to lead the SEC by Barack Obama.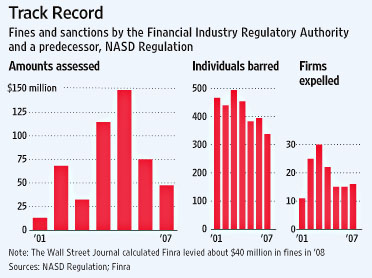 Today, the Wall Street Journal has a long story on its front page raising questions about whether she's tough enough for the job:
Last year, amid historic market convulsions and Wall Street scandals, Finra often filed tiny cases against small players. During the past few years of Ms. Schapiro's career as a regulator, which earns her over $3 million a year, enforcement fines against firms have plunged.

….Finra levied fines against financial firms totaling $40 million in 2008, according to a Wall Street Journal analysis. That was the third straight annual decline in fines levied by Finra or one of its predecessor agencies, the NASD.

….Finra also appears to have lagged behind in a Wall Street mess that affected thousands of individual investors in early 2008 — a freeze-up in the market for what are known as auction-rate securities.

….One of the biggest Wall Street disasters of 2008 was the September bankruptcy filing of Lehman Brothers Holdings Inc….Joseph Mays Jr., a consultant to small broker-dealers and a former NASD examiner, says Finra should have scrutinized the mortgage-backed securities at the root of the crisis. "If I had to assign blame, I'd blame Finra and the SEC, but I'd blame Finra first because it's the first line of defense," he said.

….At Citigroup, which has had huge mortgage-related write-downs and still struggles despite massive federal aid, Finra's largest 2008 action was a fine of $300,000 for failing to supervise commissions on stock and options trades.
Finra also failed to catch the Bernie Madoff ponzi scheme, which is probably the most defensible of its lapses but also, obviously, the most headline grabbing. Felix Salmon has more, and comes down against confirming Schapiro: "The SEC needs someone in charge who's committed to root-and-branch reform of the regulatory system. So far, there's no evidence whatsoever that the toothless and narrowly-focused Schapiro is that person, and I do wonder how committed the Obama transition is to her nomination." Her confirmation hearing bears watching.