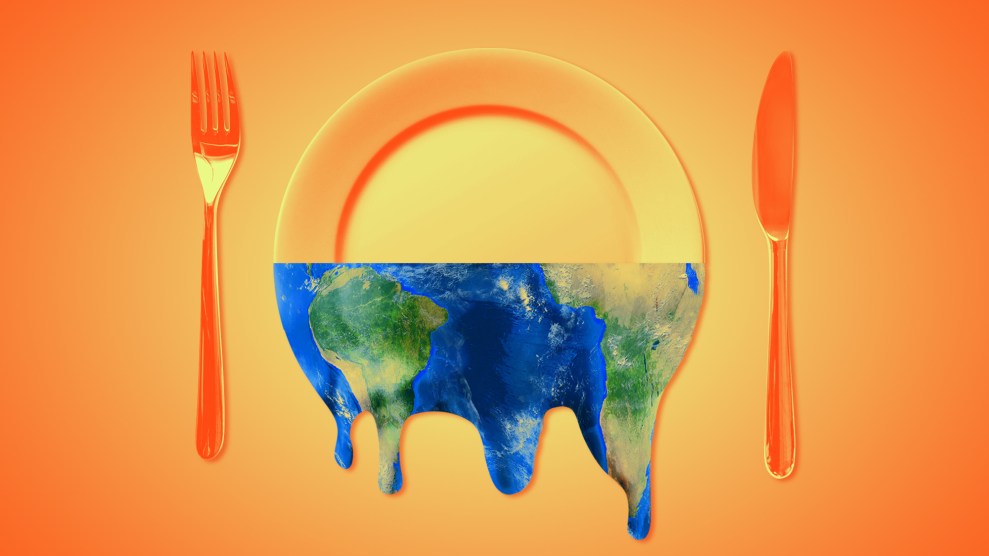 Fight disinformation:
Sign up
for the free
Mother Jones Daily
newsletter and follow the news that matters.
Climate change has already started to unleash its fury, from megastorms to flooding to ravenous fires. But the way many people will first experience this phenomenon is in the quiet of their homes—at the dinner table. As Amanda Little, author of The Fate of Food: What We'll Eat in a Bigger, Hotter, Smarter World, puts it: "Climate change is becoming something we can taste." And the flavorful foods we treasure are in peril.
In this special series from Bite, we explore how farmers, chefs, policymakers, and food lovers are reckoning with this shift. We traipse through rye fields and vineyards, peek inside futuristic laboratories, and catch up with some of the politicians vying to lead the country.
While there's plenty cause for concern, we promise not to completely ruin your appetite. Although the food system plays a huge role in driving climate change, it also holds the key to how we might tackle it. "What the new science tells us is, actually, we can solve it," argues environmental activist and chef Anthony Myint—"and we'll eat better, too."
Trailer: Eating in Climate Chaos
Episode 1: "All the Delicious Foods Are Dying"
Which foods will climate change hit first? Journalist Amanda Little has some warnings about the tastiest delicacies—from cherries to coffee. Delicious foods aren't the only thing we need to worry about: We hear from a scientist who's studying how increasing carbon dioxide levels are making plants less nutritious. But it's not all bad news! We visit a farm in California to learn how a tiny berry could have huge lessons for us about droughts.
Episode 2: In Vino Veritas
Wine growers in Napa can no longer rely on the consistent fog and cool nights that brought the region global fame. Mother Jones politics reporter Kara Voght takes a break from covering the Hill and travels to Napa to learn about how vintners are coping—and why wine matters in the conversation about climate change. And Tom Philpott travels to Iowa to witness the wreckage from this year's flooding and to drink beer with a very spirited rye farmer.
Episodes 3: Beef Got Us Into This Mess. But Could It Also Help Reverse Global Warming?
Rancher Loren Poncia counts roughly 500 Angus beef cattle, 350 sheep, and 19 hogs among his brood at his scenic Stemple Creek Ranch in Tomales, California. And there's something else he's farming—something that has the potential to revolutionize agriculture as we know it. Visit Loren on his ranch, and then hear from scientists Rattan Lal, Drawdown Project executive director Jonathan Foley, and restaurant owners Anthony Myint and Karen Leibowitz to learn about how farmers and ranchers will play a crucial role in slowing climate change—and maybe even reversing it—through carbon sequestration.
Episode 4: 5 Presidential Candidates Dish on the Future of Food
How would each of the presidential hopefuls change your experience at the grocery store and in the kitchen? You'll hear straight from the mouths of Elizabeth Warren, Bernie Sanders, Cory Booker, Pete Buttigieg, and Kamala Harris on their food and climate plans—from supporting farmers and small business owners to protecting people in rural towns and cities from contaminated air and water. Mother Jones climate reporter Rebecca Leber and our very own Tom Philpott are on hand to offer sharp insight and context as Bite sheds light on the 2020 election.
Episode 5: The Leftovers
Silicon Valley's tech companies are all competing for talent, and offering employees perks like free breakfast, lunch, and dinner. And all those free meals create a lot of leftovers. One organization aims to redirect that food away from the landfill and into the mouths of people in need. Ride along with Mother Jones' Marisa Endicott and Les Tso, a driver for Food Runners, as he rescues uneaten grub and delivers it to the far corners of the city. Then, two New Mexico farmers have a different strategy for dealing with leftovers: turning them into bacon.
Episode 6: This Lab Makes Real Meat—But Not From Animals. Will You Eat It?
We visit a startup called Finless Foods that's making actual fish—without killing any actual fish. Then, we talk to Ben Wurgaft, author of the new book Meat Planet: Artificial Flesh and the Future of Food, about some of the thorny philosophical questions swirling around this food of the future.