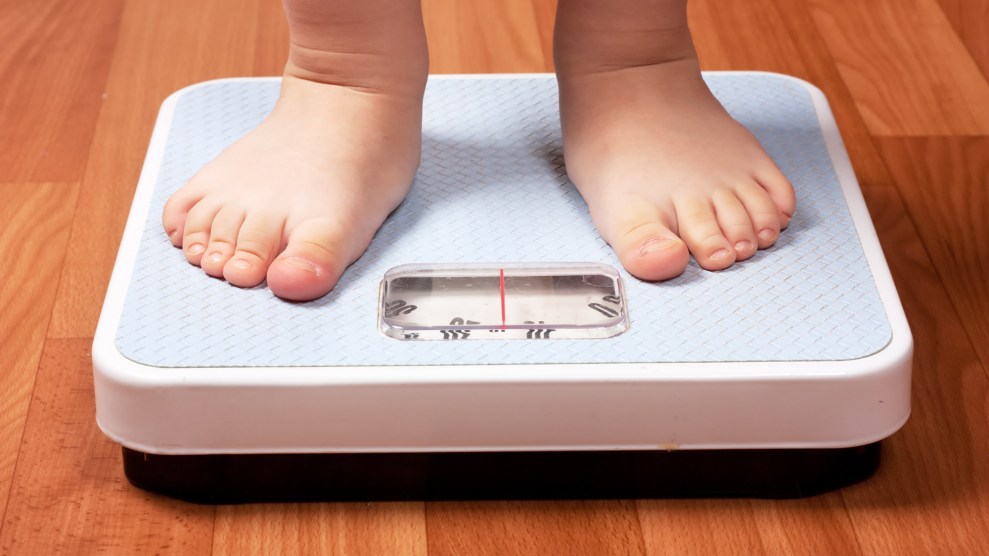 Fight disinformation:
Sign up
for the free
Mother Jones Daily
newsletter and follow the news that matters.
Global obesity rates are on the rise, and the number of children and adolescents with obesity has increased more than ten-fold over the past four decades, according to a new study published in the Lancet today. 
The researchers, from Imperial College London and the World Health Organization, analyzed data on trends between 1975 and 2016 in child and adolescent obesity in 200 countries, pulling from more than 2,400 population-based studies that included height and weight measurements for children and adolescents between the ages of 5 and 19. The researchers used data from nearly 130 million participants to analyze trends in mean BMI and the prevalence of BMI categories in each country. 
The authors found that the global prevalence of child and adolescent obesity increased for both girls and boys, from 0.7 percent to 5.6 percent for girls, and from 0.9 percent to 7.8 percent for boys. The number of girls who were obese climbed from 5 million to 50 million, while the number of boys increased from 6 million to 74 million over the same time period. 
Obesity rates have accelerated rapidly in parts of Asia and in low- to middle-income countries, but have plateaued in high-income countries such as the United States and the United Kingdom. Obesity rates remain high in those high-income countries, however: More than 1 in 5 children and adolescents in the US are obese, while 1 in 10 in the UK are obese.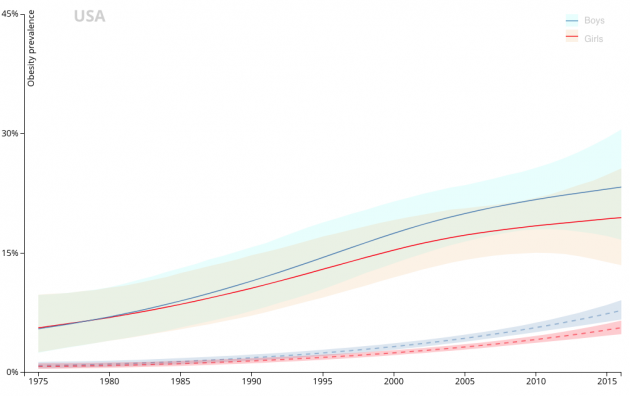 The Lancet study also notes that despite these increases, there are still more children and adolescents who are moderately or severely underweight than are obese. In 2016, 75 million girls and 117 million boys were moderately or severely underweight. Almost two-thirds of these children live in South Asia. 
If current trends continue, though, the number of children and adolescents who are obese would surpass the number of underweight children and adolescents by 2022. 
The study's authors caution that the overall increase in obesity rates could lead to severe health consequences: Early childhood obesity often leads to lifelong obesity and is associated with a greater risk of chronic diseases such as type 2 diabetes. 
"The trends show that without serious, concerted action to address obesity… the health of millions of people will be needlessly placed in great jeopardy, leading to immense human and economic costs to communities," Leanne Riley, one of the study authors, said in a press release.
What's also startling is that the researchers note that countries can quickly swing from being underweight to obese, due to an increase in food that might be energy-dense, but poor in nutrients. While there are programs that target unhealthy foods, there are far fewer policies focused on making healthy food such as whole grains and fresh fruits and vegetables more affordable.
"Unaffordability of healthy food options not only leads to social inequalities in overweight and obesity, but might also limit the effect of policies that target unhealthy foods," the authors write. 
"Our findings highlight the disconnect between the global dialogue on overweight and obesity, which has largely overlooked the remaining under-nutrition burden," Majid Ezzati, a study author, said in the press release. "There is a continued need for policies that enhance food security in low-income countries and households, especially in South Asia."