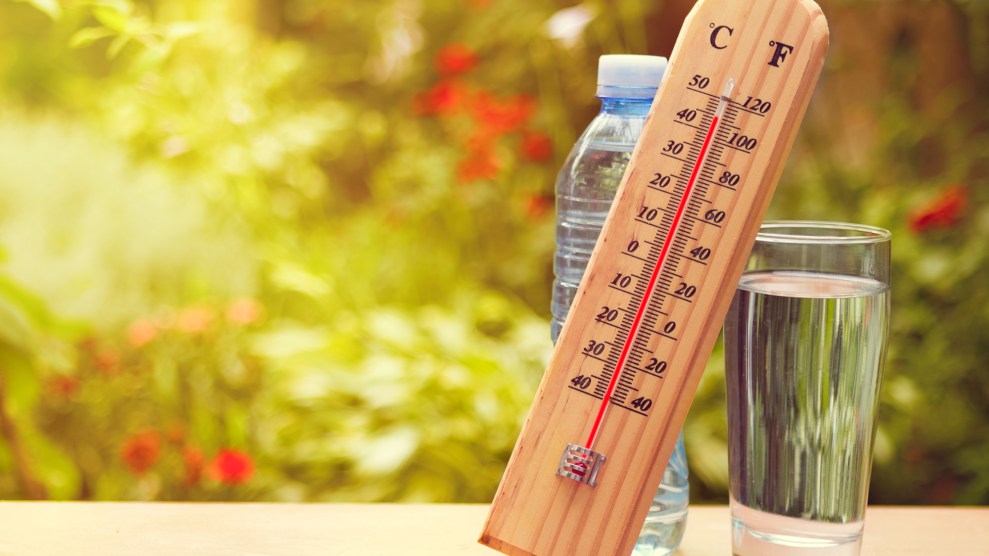 Fight disinformation:
Sign up
for the free
Mother Jones Daily
newsletter and follow the news that matters.
On a recent summer morning in Mendota, a small farming community in California's Central Valley, the sun glared down from a cloudless sky. The temperature was heading toward 101 degrees, and it had hit 106 a few days before—not unlike the blistering heat that blanketed much of the West Coast over Labor Day weekend.
While that heat wave proved uncomfortable for the Golden State, such extreme temperatures can actually be dangerous for the people who work outside. That's especially true in the Central Valley, where a major portion of the nation's fruits and vegetables are grown. If farmworkers don't drink enough water, are unable to take breaks in the shade, or simply aren't acclimatized to working at such high temperatures, they can suffer heat exhaustion, heatstroke, even death (PDF).
"We continue to hear from people that there's still employers that don't provide water, don't provide shade," said Estella Cisneros, directing attorney in the Fresno regional office of California Rural Legal Assistance (CRLA), in the Central Valley.
One researcher, Sarah Horton, who has studied heat stress in Mendota for nearly a decade, says that when she started out in 2008, field-working conditions were "terrible." Horton, an anthropologist at the University of Colorado-Denver, interviewed farmworkers about their experiences with heat sickness, and about friends and co-workers who lost their lives to it.
Her 2016 book, They Leave Their Kidneys in the Fields, offers a detailed investigation of why farmworkers suffer and die from heat exposure. It isn't simply the extreme temperatures, she argues. Heat sickness is a symptom of an agricultural system where laborers can't speak up against unsafe field conditions, in part because many are undocumented.
This summer, however, Horton began hearing from Mendota's farmworkers that working conditions were actually improving. That was likely due to several factors, she says, including a state heat protection law that some companies in the area are finally following under heightened scrutiny, and the recent immigration crackdown. With their labor supply under pressure, employers simply don't want to risk losing more workers.
Setting a standard
With laborers harvesting in some of the hottest regions of the country, at least four US farmworkers die from heat annually—20 times the rate in all non-military employees, according to the Centers for Disease Control and Prevention. But such tragedies are preventable. Indeed, it was the death of 10 outdoor workers in 2005 that actually prompted California to institute a heat protection law. By mandating access to water, shade and heat-protection training for outdoor laborers, the regulations put the state on a precedent-setting path.
California's heat standard has been praised as a model for the rest of the country, though only one state—Washington—has followed suit. Not even the federal government has a standard for preventing workplace heat illnesses, noted William Krycia of the California Division of Occupational Safety and Health (Cal/OSHA), who oversees its heat illness prevention campaign.
Yet California's first stab at the problem fell short. In 2009 and again in 2012, the American Civil Liberties Union and United Farm Workers (UFW) sued Cal/OSHA, charging that the heat regulations were too weak, and poorly enforced—and too many workers were still dying.
The agency further tightened the rules in 2015, the same year it settled the lawsuits; for instance, employers are now required to give workers 10 minutes of rest every two hours, when the heat exceeds 95 degrees. But there's no heat level at which work must cease entirely.
Still, California is light years ahead of other states. North Carolina, for instance, has historically ranked as having the worst rate of US heat fatalities among ag workers, according to a 2008 CDC analysis, with roughly two heat deaths each year per every 100,000 farmworkers. That's around three times the rate in Florida and five times the rate in California. "North Carolina is not only hot, but it's also very humid. So it puts you at grave risk for heat stress," said Thomas Arcury, director of Wake Forest School of Medicine's Center for Worker Health.
Many North Carolina employers follow a field-sanitation requirement of providing drinking water within a quarter-mile of worksites, Arcury said. But because there's no requirement for rest breaks or shade, some workers don't have time to drink that water.

Production pressures
The heat-stress problem is aggravated by fast-paced production pressures and the piece-rate wage that farmworkers are paid—per bucket or bin of fruit or vegetables. That's a powerful financial disincentive against rest. "Even if the employer sometimes gives them the freedom to go and drink water, workers don't want to stop because they will make less money," said J. Antonio Tovar-Aguilar of the Farmworker Association of Florida.
That's been a problem in California, too. But workers may not have much choice. Some companies fail to provide breaks, regardless of how hot it is, even though the state's relatively strict laws require them, labor advocates say. And piece-rate workers typically won't complain for fear of losing their jobs, according to Horton's research. But this summer, Horton heard from field hands in Mendota that their employers were doing a better job of granting breaks, and even stopped work by noon during heat waves.
This uptick in compliance may have resulted from a recent spotlight on poor labor conditions. One regional farm employer is under increased scrutiny after a worker collapsed and died of heatstroke in 2013 while harvesting watermelon. Another melon producer in the area also came under investigation earlier this year by the California Labor Commissioner's Office for failing to provide general, state-mandated rest breaks (The commissioner's office declined to discuss the case, which is ongoing.) "You can have great laws on the books, but without enforcement, they are without teeth," said Horton.
Indeed, in 2016, the Cal/OSHA agency reported (PDF) that only 62 percent of ag employers complied with heat regulations. And although heat-related deaths among California's outdoor workers have become less common in the last few years, they do still occur—including the only heat fatality confirmed by Cal/OSHA last year. On a 106-degree day in June 2016 in Laton, in Fresno County, a 54-year-old Mexican farmworker removing netting from nectarine trees suffered convulsions. He died four weeks later. Cal/OSHA cited the employer, a farm labor contractor, for six heat violations and assessed penalties of $33,740.
CLRA also turned up numerous problems this summer during weekly field-monitoring trips. In a garlic field in Fresno County, three harvesting crews totaling more than 90 workers had only a single 10-gallon water container within reach in 90-degree heat. At a citrus pruning operation in nearby Tulare County, "there was no drinking water, no shade, and no toilet facilities or hand-washing facilities," said CRLA community worker Ephraim Camacho, who called Cal/OSHA. Agency officers shut down the operation.
For Cal/OSHA's part, Krycia says the agency is open to input from labor groups. "We welcome referrals of complaints from them, so that we can address heat violations that exist out in the field," he said.
Even though progress is uneven in the fields, California continues to push ahead. A new law went into effect in 2016 mandating that employers pay piece-rate employees for rest breaks—a move that should help ease financial pressure to just keep working. "The hope is that workers will be encouraged to take a rest break and therefore avoid heat stress," said CRLA's Cisneros. And make it through another hot day of harvesting America's produce.
This article was produced in collaboration with the Food & Environment Reporting Network, a non-profit, investigative news organization.