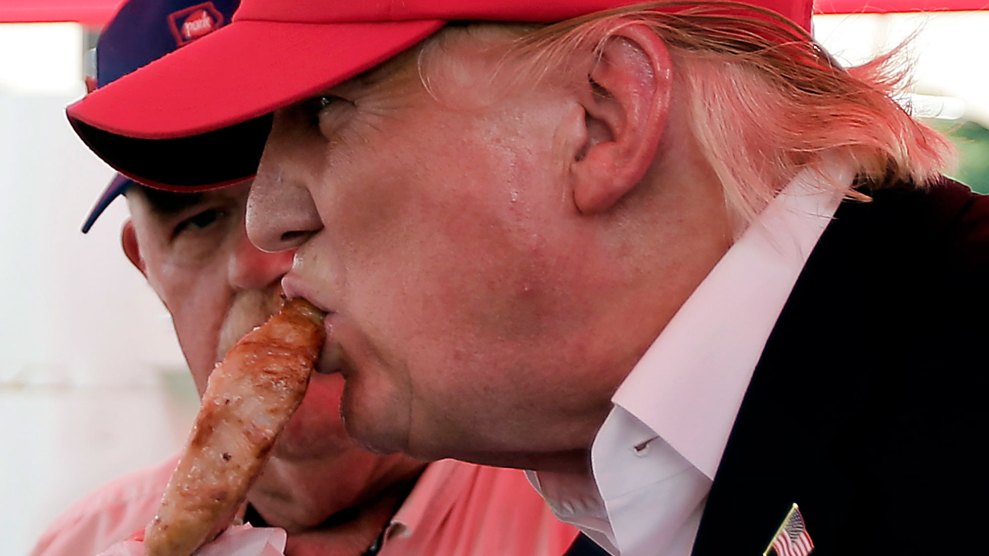 Fight disinformation:
Sign up
for the free
Mother Jones Daily
newsletter and follow the news that matters.
As President Donald Trump adapts to his new life as the leader of the country, his food choices have remained pretty stodgy. Steaks doused in ketchup, chocolate soufflé, wedges of iceberg lettuce served with creamy dressing: "He basically has the eating habits of someone who was spending lots of time and money in fine-dining establishments in the early '80s and late '70s," said Slate political correspondent Jamelle Bouie on our recent episode of our food politics podcast, Bite:
What do these tastes tell us about the president's politics? Bouie had some thoughts: "He is someone who does not like change," he said. "Someone who, you might say, has a core immaturity about him, who does not see the value in seeking out new experiences or even trying to understand them."
To better understand Trump's weird eating habits, listen to the rest of the episode above—and then take a stroll through some of the weirdest food moments from the president's past:
---
1995
Several years after their divorce, Donald Trump and his former wife, Ivana, appear in a Pizza Hut commercial. In the ad, Trump jokes about secretly eating pizza "crust first" in a penthouse suite with Ivana. "Let 'em talk," he tells her.
---
2002
In a commercial set in what appears to be a New York City high-rise, a darker-haired Trump asks a McDonald's mascot how the company pulls off such a stellar deal: selling the Big n' Tasty for just a buck. "You're a man of few words," Trump tells the purple mascot; "I like that."
---
2004
In his book Trump: Think Like a Billionaire, he lists one of his favorite Mar-a-Lago meals as yellow heirloom tomato gazpacho with summer squash and lingonberry sorbet. He offers some dieting advice: "If you eat the best foods and watch your waistline, you'll begin to look and feel great in no time." The key to the "Mar-a-Lago Diet," he writes, is:
"1. It has to be served in a fantastic setting.
2. It has to look fantastic.
3. It has to taste incredible.
4. It cannot make you gain wait."
Easy, right?
---
2007
Trump enters a partnership with Buckhead Beef to sell his patented Trump Steaks. "When it comes to great steaks, I've just raised the stakes!" he boasted. As detailed in Think Progress' "definitive history" of the product, Trump Steaks were for sale in the June 2007 Sharper Image catalog for $999 for 24 burgers and 16 steaks. Reviews varied; one online reviewer complained that the Angus Beef Steakburgers were "really greasy, have no flavor, over-priced and just gross!!"

---
2009
Trump licenses his name to Ideal Health, which rebrands and becomes the Trump Network. "The Trump Network wants to give millions of people renewed hope, and with an exciting plan to opt out of the recession," he said in a video. The multilevel marketing vitamin and weight-loss company recruits people to sell snacks such as "BBQ puffs," "Peanut passion bars," and "Chocolate colossal shakes." The Washington Post later reports that some salespeople complained to the Federal Trade Commission that they had been taken advantage of; Trump's attorney told the Post that the Trump Network never received any complaints from the FTC.
---
2014
Trump addresses the National Press Club about Japan's refusal to import American crops. "If I was negotiating, I'd say, 'fellas, you're gonna take our food and you're gonna love it.'…You'd have so much food pouring into Japan right now they wouldn't know what to do with it."
---
February 2016
At a presidential town hall in South Carolina, Trump reveals that his love for fast food from McDonald's and Wendy's isn't just about its taste: "I like cleanliness and I think you're better off going there than maybe some place that you have no idea where the food is coming from."
---
May 2016
Trump goes against his campaign manager's advice and tweets a photo of himself munching on a taco bowl on Cinco de Mayo, accompanied by a note: "I love Hispanics!" Janet Murguía, the president and CEO of National Council of La Raza, responds on Twitter: "Eating a taco or wearing a sombrero doesn't cut it w/ our community."
Happy #CincoDeMayo! The best taco bowls are made in Trump Tower Grill. I love Hispanics! https://t.co/ufoTeQd8yA pic.twitter.com/k01Mc6CuDI

— Donald J. Trump (@realDonaldTrump) May 5, 2016
---
August 2016
Trump tweets a photo of himself from his private plane dining on Kentucky Fried Chicken with silverware. Top Chef star Tom Colicchio interpreted the image for us on one of last year's episodes of Bite: "I think by putting that bucket of chicken on the plane, he was saying, 'The cultural elites are making fun of your fried chicken and your fast food and I'm embracing it. I'm one of you.'" It remains a mystery whether Trump also uses his own cutlery when munching on Popeye's or Burger King.
Great afternoon in Ohio & a great evening in Pennsylvania – departing now. See you tomorrow Virginia! pic.twitter.com/jQTQYBFpdb

— Donald J. Trump (@realDonaldTrump) August 2, 2016
---
January 12, 2017
Donald Trump gives his first press conference as president-elect and shares some personal information: "I'm also very much of a germaphobe, by the way. Believe me."
---
January 20, 2017
Trump's three-course inaugural luncheon includes Maine lobster, Angus beef, and chocolate soufflé, along with California wines. Six months later, the president has yet to choose a new White House chef.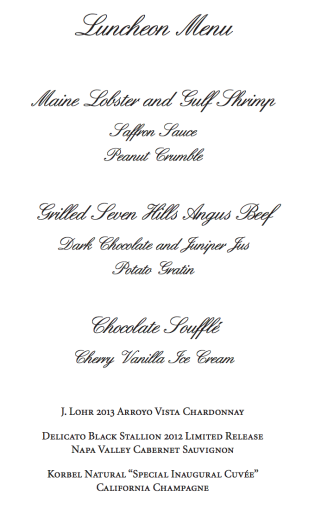 ---
February 2017
Trump's first meal out in the nation's capital consists of a $54 well-done steak, served with ketchup. The press has a heyday, while others, like food writer Frank Bruni, say to leave him alone.
A onetime restaurant critic, I rise in defense of Donald Trump. Let him eat steak..with whatever condiment he likes. https://t.co/HvsqgtRpY6

— Frank Bruni (@FrankBruni) March 4, 2017
---
April 2017
Reports of the president's "Coke button" surface: When Trump presses a red button on the Oval Office desk, a butler appears, cold Coca-Cola in tow.
Fun Fact: With the press of a red button on his desk, Trump sends a butler scurrying into Oval Office with a Coke https://t.co/y4wfSv6CMH

— Julie Pace (@jpaceDC) April 23, 2017
---
May 2017
Time reports that during a White House dinner, Trump is served two scoops of vanilla ice cream with his chocolate cream pie, while others at the table get one.
Trump Gets Two Scoops Of Ice Cream Because He Is The President! https://t.co/ArAUwtyaT5 via @juliareinstein

— julia reinstein 🚡 (@juliareinstein) May 11, 2017
---
January 2019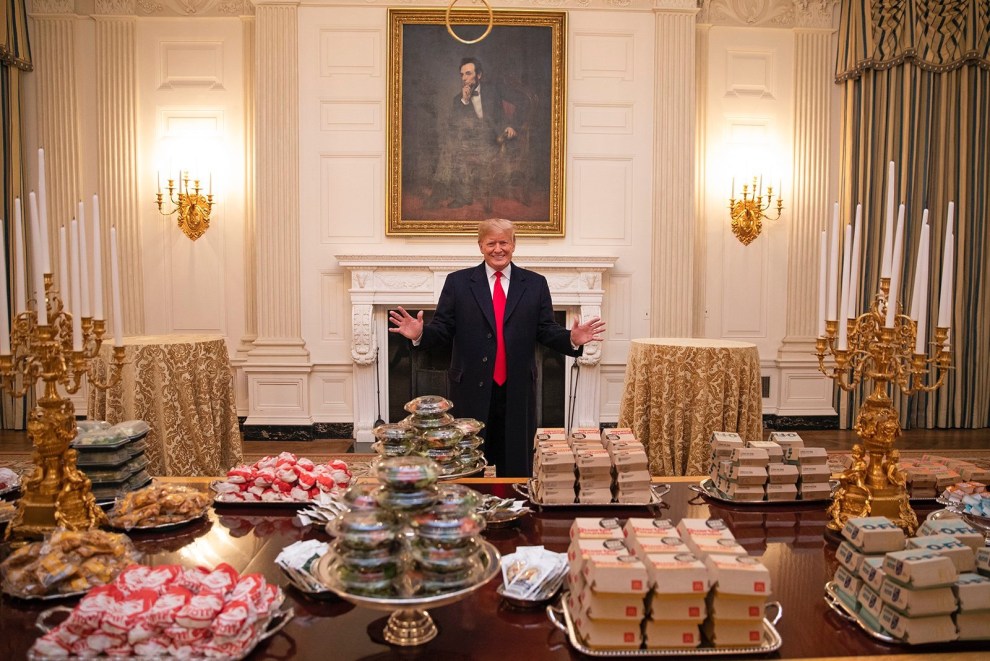 After the Clemson Tigers win the 2019 College Football Playoff National Championship, Trump invites the team to the White House to celebrate over Big Macs, Domino's pizzas, and french fries. "We went out and we ordered American fast food, paid for by me," the president boasts. People take to Twitter to lambast the choice—many call it an insult to the team, and some worry the president is disrupting the athletes' diet with junk. Ayesha Curry, Quavo (of the rap group Migos), and former Giants' defensive end Michael Strahan all offer to provide a more complete dinner for the football players, though the Tiger's quarterback isn't complaining: "It was awesome. We had McDonald's and everything. It was good!" QB Trevor Lawrence tells a reporter. "I thought it was a joke," another Clemson player is overheard saying on a video. "He's paying the check, so he had to get the cheapest food they could find," Jimmy Kimmel speculates on his TV show.
---
Bite is Mother Jones' podcast for people who think hard about their food. Listen to all our episodes here, or subscribe in iTunes orStitcher or via RSS.