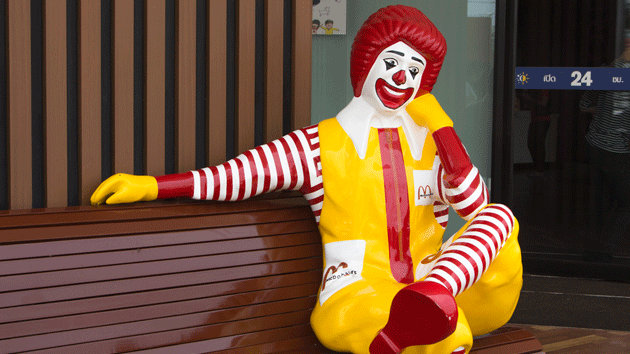 For McDonald's, 2014 has been like a Happy Meal that's missing a trinket: a major bummer. Its China operations (along with those other US fast-food firms) got caught up in an expired-meat scandal that pushed down Asian sales. Its US sales are down too, and its share price has fallen about 8 percent over the past three months. Strife among workers over low wages has lingered, and took a nasty turn for the company when the National Labor Relations Board (NLRB) ruled that it's responsible for employment practices at its thousands of franchises, which it had been using as a shield to protect it from allegations of labor abuse. Insult to injury, a Consumer Reports survey named Mickey D's signature burgers the "worst-tasting of all the major US burger chains."
What's a beleaguered, ubiquitous burger giant to do? Apparently, take to Twitter with an ask-me-anything attitude and roll out a bunch of behind-the-scenes videos, hosted by Grant Imahara, a former star of TV's Mythbusters, all under a new program called "Your Questions. Our Food."
In this one, Imahara tours a plant owned by Cargill, a vast agribusiness conglomerate, that supplies McDonald's with preformed burger patties. Spoiler alert: Imahara finds everything hunky dory.
On the burger-factory floor, Imahara confronts the Cargill folks about whether they add "lean finely textured beef," a.k.a., pink slime, to the burgers. Pink slime, you might remember, is a slurry made of scraps of beef that have been pulverized, defatted, and subjected to ammonia steam to kill microbial pathogens. No, they assure him. (They neglect to add that McDonald's burgers did contain pink slime until 2012, when consumer outrage inspired them to stop the practice.)
Over at Time, Naomi Starkman has a rundown of some less-than-appetizing practices the fast-food giant has copped to on the campaign.
On beef hormones: "Most of the cattle we get our beef from are treated with added hormones, a common practice in the U.S. that ranchers use to promote growth." On feeding animals GMO feed: "Generally speaking, farmers feed their livestock a balanced diet that includes grains, like corn and soybeans. Over 90% of the U.S. corn and soybean crops are GMO, so cattle, chickens and pigs in our supply chain do eat some GMO crops."

And while it says it no longer uses so-called "pink slime" in its burgers, it does use an anti-foaming agent, dimethylpolysiloxane, in the oil it uses to cook Chicken McNuggets. It also uses azodicarbonamide, a.k.a. "the yoga mat ingredient," in its buns and sandwiches, saying it has many uses: "Think of salt: the salt you use in your food at home is a variation of the salt you may use to de-ice your sidewalk." As for why its U.S. menu contains items that are banned in Europe? "Every country has different food safety and regulatory standards and, because of this, ingredients will vary in our restaurants around the world. But no matter where you're dining with us—in the U.S. or abroad—you can be assured of the quality and safety of our food."
The company even answered one of my questions, about the precise composition of its McNuggets.
@tomphilpott The meat in our McNuggets is 100% white breast meat & a little chicken skin to make them juicy-0% tissue, bone spicule & glands

— McDonald's (@McDonalds) October 13, 2014
It's way too early to tell whether this corporate glasnost campaign will inspire consumers to stampede back through the Golden Arches. The stock market, though, shrugged Monday. McDonald's shares fell 1.7 percent, part of a broader sell-off.
Meanwhile, given recent controversies over wages, I just asked McDonald's a question it presumably isn't eager to answer. I'll update if I get a response.
.@McDonalds When are you going to start paying your workers a living wage?

— Tom Philpott (@tomphilpott) October 13, 2014