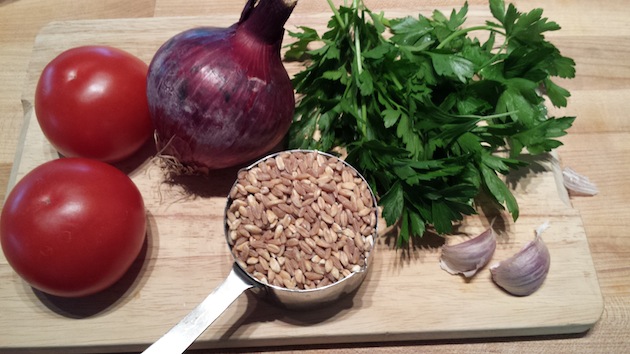 Fight disinformation:
Sign up
for the free
Mother Jones Daily
newsletter and follow the news that matters.
I fell in love with farro, an ancient relative of wheat, more than 10 years ago at the venerable Brooklyn restaurant Al di La. The puffed little kernels formed the basis of a chilled salad, tossed with arugula and tomatoes. The farro was light yet nutty, substantial yet melt-in-your-mouth tender, and it merged beautifully with the other ingredients, like some kind of Platonic ideal of pasta. Then I encountered it in similar form several times in a trip across Italy working on organic farms, mostly in the northern states of Umbria and Tuscany.
I returned to the United States in the throes of a full-blown farro obsession, determined to make it part of my repertoire. By then I had moved out of New York City and was living on a small farm in rural North Carolina, far from any fancy-food emporia. Online research seemed to suggest that what we call spelt in the United States is identical to Italy's farro. So I embraced spelt berries, which I could find at the local health food store. Results were more or less dismal. Even after long soaking and hours of cooking, something almost always seemed off: The kernels would be either way too chewy, deplorably mushy, or, paradoxically, both. In time, I learned that true farro (also called emmer) and spelt are indeed distinct, but by then I had ceased to care. I had moved on to other obsessions. (Somewhat childishly, I exacted my revenge against spelt in this 2011 April Fool's piece. I should note that spelt flour is an excellent thing, especially for nonyeasted baked goods like biscuits and cookies).
Fast-forward to a month or so ago. I was perusing the bulk-foods section of Austin's Wheatsville Food Co-op when a bin of "organic pearled farro" caught my eye. According to the label, the stuff cooked in just 20 minutes, and no soaking. The "pearled" bit stopped me short for a second, because pearled grains have their hulls partially scrubbed away, meaning they're not whole. But the fiber content—5 grams per serving, comparable to brown rice—made me think that pearled farro is whole enough. I took some home and cooked it up. The first bite set off a Proustian reverie, whisking me straight back to Al di La and Italy.
Pearled farro made a low-key cameo in my recent okra recipe, but it deserves a star turn. Like an ancient Roman, I've been practically living on the stuff. What follows is a quick guide to creating an endless variety of dishes from this noble grain. The day I wrote this, I made one with chopped tomatoes gently sautéed with onion and garlic in olive oil—a sublime combination—and tossed with garbanzo beans (yes, from a can) and parsley. Leftover farro salad is great to have on hand, to be pulled from the fridge for a quick meal.
Farro Recipe Generator
(Yields about four servings.)
1. Drop one cup of farro in 3 to 4 cups of lightly salted, boiling water. Cover, turn heat down, and simmer for about 20 minutes—until tender but slightly al dente. Drain, reserving a half cup or so of the water.
2. Meanwhile, sauté aromatics in olive oil and/or butter: onions and/or garlic and/or shallots and/or chili peppers.
3. Add a vegetable or two, such as: chopped kale, collards, okra, broccoli, cauliflower, tomatoes, summer squash, winter squash, mushrooms. Cook until the desired tenderness is reached.
4. Toss the cooked vegetables with the cooked farro plus the reserved cooking water, add some chopped herbs, a splash or two of something zingy—lemon juice or your favorite vinegar—a lashing of good olive oil, and season with sea salt and freshly ground pepper. Optional: Fold in something crunchy, like chopped, toasted walnuts or almonds.
5. Serve topped with a protein: a fried egg; a sautéed pork chop, chicken breast, or fish fillet; or beans. (Note: If using beans, you can add them to the vegetables in Step 3 just as they're about to be done cooking—they'll pick up flavor that way).