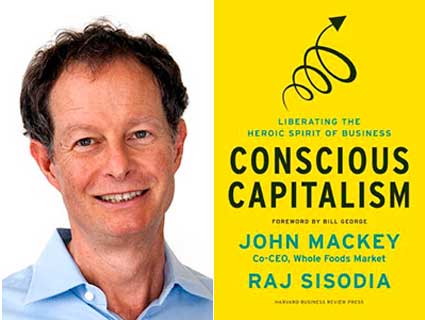 If you shop at Whole Foods, you've probably seen the ads at the cash register for Conscious Capitalism. Cowritten by the store's founder, John Mackey, and Raj Sisodia, chairman of a nonprofit called Conscious Capitalism Inc., the book bills itself as a tale of "Mackey's own awakenings as a capitalist." While Mackey serves up plenty of cheerful exhortations and pithy self-help tips, however, the only "awakening" that you're likely to get from reading this 313-page apologia for libertarianism is a sense that he ought to stick to selling groceries. (Read my interview with Mackey here.)
To give Mackey his due, he proved that many shoppers are willing to pay a premium for foods that are healthy, sustainably produced, and sold by workers who earn decent wages and health benefits. His book strives to show CEOs in other industries that they can follow his lead. "We need a richer and more ethically compelling narrative to demonstrate to a skeptical world the truth, beauty, goodness, and heroism of free-enterprise capitalism," he writes. "Otherwise we risk the continued growth of increasingly coercive governments, the corruption of enterprises through crony capitalism, and the consequential loss of both our freedom and our prosperity."
Reading between the lines, though, you gradually get the sense that Mackey not only fears bad government, but also the one we have right now. If CEOs just did a little bit better job of looking out for the interests of their workers, their suppliers, and the environment, then government regulators and tax collectors could basically pack up and go home. We'd be left with a sort of enlightened corporatocracy in which people like Mackey would lead the way.
The first tip-off to Mackey's thinking comes when he describes how he long ago realized that "social democratic philosophy" is outdated and libertarian heart-throbs such as Milton Friedman, Friedrich Hayek, and Ludwig von Mises explain "how the world really works." Later on we learn that that "all federal regulations should have a sunset provision," meaning they'd expire after 10 years unless Congress renewed them. And it's apparently self-evident to Mackey and Sisodia that lowering taxes on business means that "all other stakeholders would have more."
At times, Mackey reveals a pathetic lack of consciousness for someone writing a book about it.
If the dream world that Mackey paints in Conscious Capitalism inspires a few more CEOs to allow bathroom breaks in their sweatshops or spare some old-growth hardwoods in Borneo, then he has accomplished something. But it's just as likely that this book, which evokes the "compassionate conservatism" peddled by a recent former president and fellow Texan, will help those CEOs and their minions feel better about themselves the next time they write fat checks to Americans For Prosperity or the US Chamber of Commerce.
At times, Mackey reveals a pathetic lack of consciousness for someone writing a book about it. For instance, he credulously cites a paper by the Koch-funded American Enterprise Institute that writes off climate change because the United States supposedly absorbs as much carbon emissions as it emits. In our interview, Mackey went further, telling me that climate change is "perfectly natural and not necessarily bad." And this is from a guy who runs a grocery store known for its environmental values. If he can't get this right, should we really expect the world's CEOs to solve this problem?
Conscious Capitalism could have been an interesting read if Mackey had chosen to pull back the curtain. He could speak frankly about some of the trade-offs that he made in order to popularize organic foods. Or discuss the pros and cons of industrial organic farms. Or frankly describe his fights with organized labor, which, he fails to mention, have involved "a variety of retaliatory measures to discourage union activity," as investigators with the National Labor Relations Board have concluded.
For better or worse, Mackey has been thrust into a position of leadership that transcends the particulars of selling sustainably caught cod and organic kombucha: Whole Foods beat out other natural foods chains to dominate the market, and with that dominance comes an increasing duty to represent his politically minded customers in causes that they care about. Leadership "is perhaps the most important element in Conscious Capitalism," Mackey writes. It also might be the part that he's botching.