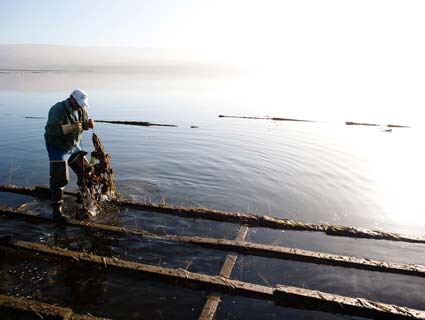 After years of highly publicized debate surrounding the fate of an oyster operation on Drakes Estero in the Point Reyes National Seashore, the Interior Department has decided against renewing the company's lease and has ordered it to vacate the property within 90 days. "After careful consideration of the applicable law and policy, I have directed the National Park Service to allow the permit for the Drakes Bay Oyster Company to expire at the end of its current term and to return the Drakes Estero to the state of wilderness that Congress designated for it in 1976," interior secretary Ken Salazar said in a statement. "I believe it is the right decision for Point Reyes National Seashore and for future generation who will enjoy this treasured landscape."
Salazar plans to designate 2,700 acres of the estuary, including 1,100 acres the farm operated on, as wilderness, the first such distinction for a marine area on the West Coast. Environmental groups—including the Sierra Club, the National Wildlife Federation, and the National Parks Conservation Association—and conservationists hailed the decision as a special victory for a parcel of water and land that hosts 90 species of endangered birds and the biggest colony of seals on the coast.
But owner Kevin Lunny, who bought the property in 2004 from another oyster operation, was predictably devastated. "It's disbelief and excruciating sorrow," he told the San Francisco Chronicle. His team of thirty will lose their jobs, and seven families who live on the property will be displaced. The region, which is also home to many other ranchers, will also lose a historic farm that has thrived on the inlet since the 1930s and well before the park existed. (Full disclosure: I worked as a fellow for the small, Pulitzer Prize-winning weekly Point Reyes Light newspaper, where my colleagues aggressively covered the saga and did not shy away from publishing editorials criticizing the government's role in the matter.)
Several high-profile oyster farm supporters have also criticized the way the National Park Service and the Department of Interior have handled the issue. Senator Dianne Feinstein (D-California) said she was "extremely disappointed" with Salazar's choice. "The National Park Service's review process has been flawed from the beginning with false and misleading science, which was also used in the Environmental Impact Statement," she said in a statement. Park Service officials have alleged that the farm's operations had a negative impact on marine life. But in 2009, a review by the National Academy of Sciences found that park officials "had made errors, selectively presented information, and misrepresented facts" in their studies. In August, the organization concluded that there was no evidence to support claims about effects on seals and shoreline habitat.
Nonetheless, the shacks, motor boats, and oysters racks will be removed. And the National Park Service will soon preside over a new swath of wilderness.