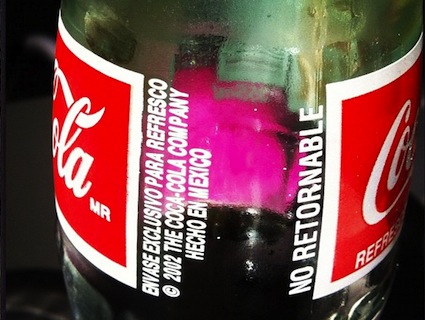 Fight disinformation:
Sign up
for the free
Mother Jones Daily
newsletter and follow the news that matters.
The US Food and Drug Administration is notorious for bowing to food-industry interests at the expense of public health. Consider the case of trans fats—whose damaging effects the FDA ignored for decades under industry pressure before finally taking action in 2006, a story I told here. Then there's the barrage of added sweeteners that have entered the US diet over the last two decades, while the FDA whistled. This week, Cristin Kearns Couzens and Gary Taubes, who has been writing hard-hitting pieces on the dangers of excess sweetener consumption for a while, have a blockbuster Mother Jones story documenting how the FDA rolled over for the food industry on added sweeteners.
As evidence of harm piles up, the industry is only accelerating its effort to keep government action at bay. Back in April, a Reuters investigative report found that the food industry had "more than doubled" its annual lobbying spending under Obama and had successfully pursued a strategy of "pledging voluntary action while defeating government proposals aimed at changing the nation's diet."
But the food industry isn't satisfied with just keeping the US safe for its junk products. As a new Reuters report shows, the industry is also actively seeking influence at the global level by cozying up to the World Health Organization, the public-health arm of the United Nations. The WHO is most known for its efforts to fight communicable diseases like malaria and AIDS. But the UN has recently charged it with focusing on chronic, diet-related ailments like heart disease and type 2 diabetes.
At the same time, though, the global economic slowdown has meant tighter UN budgets—and fewer resources for fighting what the WHO calls "NCDs"—noncommunicable diseases. According to Reuters, the WHO has to trim its overall 2012-13 budget by 12 percent because of less funding—but it cut an out-of-proportion 20 percent from the Geneva headquarters' chronic-disease budget. WHO's Geneva headquarters now devotes just 6 percent of its budget to fighting these diet-related diseases—even though they "cause 63 percent of premature deaths worldwide," Reuters reported.*
As budgets shrink, the WHO is increasingly "relying on what it calls 'partnerships' with industry…"
As budgets shrink, the WHO is increasingly "relying on what it calls 'partnerships' with industry, opting to enter into alliances with food and beverage companies rather than maintain strict neutrality," Reuters reported. "The strategy differs dramatically from WHO's approach to interacting with the tobacco industry—companies with which it is unwilling to partner."
At the organizational level, that doesn't mean accepting industry funds—Geneva-based WHO and five of its regional outposts have been barred from taking cash from the food and soda industries. But as the agency's funding dwindles and Western-style maladies like heart disease and diabetes spread to the developing world along with processed food, Reuters showed, the WHO is increasingly pushing industry-friendly, "voluntary" approaches.
And one regional office, the Washington-based Pan American Health Organization (PAHO), operates under different rules than the WHO's other regional offices—and it has begun accepting industry lucre, Reuters reports:
$50,000 from Coca-Cola, the world's largest beverage company; $150,000 from Nestle, the world's largest food company; and $150,000 from Unilever, a British-Dutch food conglomerate whose brands include Ben & Jerry's ice cream and Popsicles.
The Pan-Am office is expected to exert serious influence over how Mexico handles its diet-related health crisis. Mexico is a flashpoint in the global diet-related health crisis—it has the globe's highest overweight rate, 69.5 percent (slightly edging out the US rate of 69.2 percent), and its a lucrative market for the soda industry. Here's Reuters:
[Mexicans] drink an average of 45 gallons of Coca-Cola products a year. That's almost eight times more than the world average and 70 percent more than Americans, who are the second biggest soda drinkers in the world.
And cash isn't the only thing the Pan-Am office is taking from Coke and other sugary-foods providers; it's also soliciting policy advice. In the appeal to businesses to joint the Pan American Forum on Non-Communicable Diseases, the Pan-Am office lists "avoid regulation," "reinforce the positive connection between their brand and healthy, active living," and "reduce risk and avoid future litigation" as "benefits of membership." So far, Coca-Cola, Kraft, Unilever, Nestle, and drug giant Merck have heeded the call.
Such footsie with industry doesn't always stop the WHO's Pan-Am office from taking stances that contradict industry interest. In 2011, the office convened a panel of "government officials, consumer advocates, and experts"—note the absence of industry reps—to come up with policy recommendations on how member countries should respond the targeting of children in junk-food ads. The result (PDF): "perhaps the world's toughest plan to restrict junk-food marketing to children," Reuters reported. The report repeatedly cited Mexico as the site of particularly blatant marketing practices: "marketing [that] aims to forge emotional connections with children and to provide fun and excitement to stimulate brand loyalty, notably through the use of cartoons," for example, and "marketing of unhealthy foods [that] often involves giveaways and contests."
A Mexican member of the expert panel told Reuters that health officials "do not want to have any kind of conflict with the industry."
The report called on each member nation to institute a regulatory ban on all marketing of junk food to kids. "[S]elf-regulatory and voluntary approaches are too limited to meet the objective of reducing exposure sufficiently to reduce risk to children," the report stated. Released in May 2011, the PAHO expert panel called on governments to act on its recommendations "in a time frame of no more than 18 months"—that is, by right about now. But according to Reuters, "PAHO has yet to even formally present its report to the Mexican government." Why not? A Mexican member of the expert panel told Reuters that PAHO health officials "do not want to have any kind of conflict with the industry."
And the junk-food industry is pretty powerful in Mexico. Vicente Fox, the country's president from 2000 to 2006, rose to that position after serving as president of Coca-Cola's Latin American unit. Fox's successor as Mexico's president, Felipe Calderon, has also been cozy with the sugary soft-drink giant. He has pushed a voluntary approach to the obesity problem, and applauded Coca-Cola's ever-expanding grip over his nation's beverage habits. Here's Reuters:
Calderon had appeared with Coca-Cola chief executive Muhtar Kent at the World Economic Forum in Davos, Switzerland, in January [2012]. Kent said Coke would invest another $1 billion a year to grow the Mexican market. Calderon praised the plan for adding jobs. Coke has plans to double its sales in Mexico within a decade.
Brushed-aside expert panels, voluntary approaches—all of this is depressingly familiar to anyone who has observed the US government's attempts at reining in Big Food. Not only is processed junk food going global, but so are the tactics used to keep it free of any government restriction.
*Correction: An earlier version of this story failed to clarify that the calculation for the portion of the WHO budget that is allocated to chronic diseases only applies to the Geneva headquarters; the organization was not able to provide a breakdown of its overall budget.