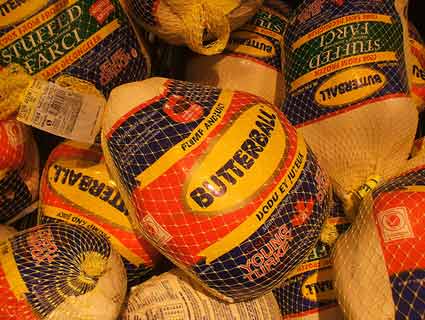 Fight disinformation:
Sign up
for the free
Mother Jones Daily
newsletter and follow the news that matters.
A while back, the animal advocacy group Mercy For Animals turned up some alarming footage of workers at a Butterball facility kicking and throwing turkeys and hitting them with metal rods. MFA sent out a bunch of emails yesterday reminding reporters of that awful footage. I thought this might be a good opportunity to ask Butterball a few questions about its operations—including its reaction to MFA's allegations. So I sent the company a few questions, including:
How many turkeys does Butterball sell every year?
How long does it take for an average Butterball turkey to reach slaughter age?
Are Butterball turkeys fed antibiotics? How about ractopamine (Topmax)? Any other growth enhancers?
How has Butterball responded to Mercy For Animals' allegations of abuse at factories?
I got an away message from the first spokeswoman I tried, so I forwarded it along to someone else. Here's what I got back:
I hope you're well today. I received your note below from my colleague, Bridget.
Unfortunately, resources who are appropriate to answer these questions are limited this week and are unavailable to respond by your deadline.
I wrote back:
Okay, but it does seem like this week of all weeks would be a crucial one for answering these questions! I'd really like to include Butterball's input if at all possible.
No dice. The spokeswoman responded:
Thanks, Kiera. Due to scheduling, we just won't be able to make it work. Re: the MFA allegations, I can share with you the company statement if you'd like – let me know.
I wrote:
Okay. Can you at least tell me whether Butterball uses antibiotics, ractopamine, and/or other growth enhancers?
And…crickets. No company statement, no answers on growth-enhancers, nada. Mind you, this is the same company that runs a fully-staffed hotline to tell you how to cook your turkey. The company's website boasts that "No question is too tough for these turkey talkers, and they are ready and excited to tackle any challenge you throw at them."
Except, it seems, when it comes to the turkeys themselves.