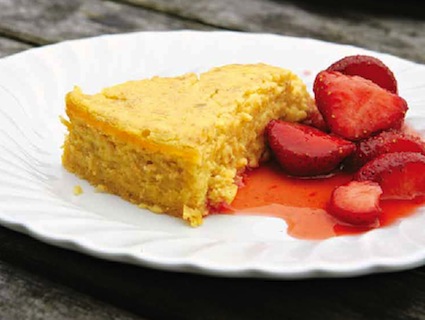 Fight disinformation:
Sign up
for the free
Mother Jones Daily
newsletter and follow the news that matters.
Part of me swore off cookbooks years ago. I used to dive into them, creating feasts that started with huge shopping lists and ended in towers of dirty dishes. No regrets—it was a great way to learn to cook and get some tangible, edible education about the culture of faraway lands.
I actually still love that sort of thing. But I don't have time for it anymore; my cooking has become streamlined and simple, driven not by some vision of, say, authentic Moroccan cuisine, but rather by what's coming off the farm, what basics—grains, beans, oils, spices, etc.—are in the pantry, and what meat I can get from neighboring farmers for the occasional splurge.
If I have largely turned away from cookbooks, though, they have not done me the same favor. One of the perks of writing about a topic is receiving via mail a steady stream of "review copies" of books on the subject. One kind of food book is the cookbook—and once a month or so, unsolicited new ones arrive, usually hotly promoting some aspect of "green" or "sustainable" cooking. I confess that until recently, most of those books, worthy as they are, bored me. I don't need to "green my kitchen," or be harangued to buy local and eat lower on the food chain.
But this year, I started receiving what I consider a new genre of cookbooks, put out by inspired writer-cooks whose lives are deeply embedded in their own foodsheds—a condition they take as a given, without hitting you over the head with it—and who share my fixation on simple, seasonal, high-flavor cooking. I learned they can can teach me new tricks without wrecking the kitchen or sending me scurrying to the grocery store for special ingredients. For the first time in years, I found myself digging into cookbooks for ideas and inspiration—and falling in love with them all over again.
In addition to being highly practical and in tune with the way I cook now, these new-wave cookbooks are all lovingly put-together artifacts—things you want to hold, pore over, and return to, in a way that no website or app can simulate. Here, in no particular order, are the cookbooks that have won me over this year, in spite of myself.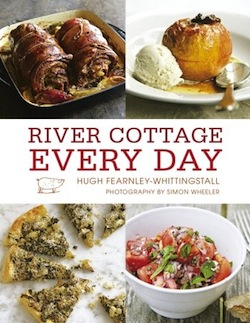 River Cottage Everyday
By Hugh Fearnley-Whitingstall
Fearnley-Whitingstall, who runs the runs River Cottage farm/restaurant in the UK, made his authorial rep with a celebrated tome on meat (which I confess I've never cracked). In this one, vegetables take center plate, giving meat just a single (okay, quite brilliant) chapter. As suggested by the title, what Fearnley-Whitingstall is doing here is laying out a blueprint for fitting home cooking into a busy life. So we get chapters like "Making breakfast," "Weekday lunch (box)," and "Thrifty meat." Thrift, indeed, is a theme running throughout—for a superb fish soup, for example, he has you "buy an inexpensive fresh fish, get the fishmonger to fillet it for you, and use the head, fish, and bones to make a flavorful stock."
But the mood is whimsical, not earnest, brightened by the delightful photography of Simon Wheeler and Fearnley-Whitingstall's droll prose. And every recipe I've tried—from "Roast carrots with butter, cumin, and orange" to "Easy rich chocolate cake"—has been both dead simple and a winner. It is, in short, the most charming and irresistible cookbook I've come across in ages.
Killer dish: "Beet and walnut hummus" (my favorite discovery of 2011)
Dish I'm dying to try: "Neck of lamb with lemon and barley"
Tender: A Cook and His Vegetable Patch
By Nigel Slater
Here we have another charming and useful book by a British writer, this one from the veteran Observer food columnist Nigel Slater. Slater's shtick—and it's a good one—is that he intensively gardens the 40-by-20-foot lot behind his London townhouse. Somehow, he has managed to write an entire thick book about his rarefied urban-homesteader lifestyle without sounding the least bit self-satisfied or snobbish. Again, the photography is gorgeous—in the elegantly written introduction, don't miss the bird's eye shots of Slater's garden as it progresses from early spring to the dead of winter. Even more so than Fearnley-Whitingstall's, this book is a valentine to produce—meat turns up in some of the recipes, but each one highlights a specific vegetable. And Slater's focus isn't on just the cooking, but also the growing. The chapters take us alphabetically from asparagus to zucchini, with wise and hard-won tips on growing each, followed by a dozen or so recipes, all of them quite practical. The cooking style is Anglo-Mediterranean, in the proud, unfussy tradition of the great postwar UK food writer Elizabeth David. Not long after the book arrived, I caught my roommate, Maverick Farms director Hillary Wilson, leafing through it with a frown. I asked her what was the matter. "This is the book I wanted to write," she said. "Damn it." I suspect a lot of cooking-obsessed growers will feel the same.
Killer dish: "Carrot and cilantro fritters"
Dish I'm dying to try: "A soup of broccoli and bacon"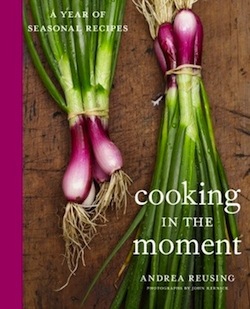 Cooking in the Moment: A Year of Seasonal Recipes
By Andrea Reusing
If Slater's book is a love letter to fresh produce, Andrea Reusing has written one to her food shed: North Carolina's highly fertile Piedmont region, with its gently sloping hills that separate the state's mountainous western region (where I live) from the sandy lowlands to the east. Her home base is Chapel Hill/Carrboro, the epicenter of one of the nation's most vibrant small-farm scenes: talented youngsters, back-to-the-landers from the '70s, and traditional smallholders all producing top-flight produce from the region's rich soil and warm climate. In her restaurant Lantern, Reusing takes those raw materials and transforms them into correct and elaborate pan-Asian fare: just the kind of stuff I love to eat in restaurants but am too time-strapped to attempt at home these days. (Full disclosure: Andrea is a friend, and I've had many terrific meals at Lantern). In this book, though, Andrea sheds her chef's toque and shows us how she cooks those same staple ingredients at home with her family: dishes that are simple, fast, and full of flavor. The book is structured seasonally, each chapter containing a mini-profile of a local producer, written in prose as friendly and precise as her cooking. My favorite vignette is the one about her clandestine source for raw milk (which can be legally sold in North Carolina only as animal feed, wink, wink). The story climaxes with a showdown between a food processor and a stand-up mixer over which can turn fresh cream into butter faster and better. Again, the photography is a delight.
Killer dish: "Spinach with melted leeks and cardamom"
Dish I'm dying to try: "Hard-cider braised pork shoulder" (Andrea is an artist of pork)
The Art of Living According to Joe Beef: A Cookbook of Sorts
By Frédéric Morin, David McMillan, and Meredith Erickson
This bizarre and spectacular book isn't like the others on my list—but then again, it's not much like any other book I know of, cooking-related or otherwise. "What the fuck is Joe Beef?," the great New York chef David Chang asks in the book's introduction. He notes that the name evokes "images of Sloppy Joe's, of ground meat in ketchup, and of hairnets." What Joe Beef is, by all accounts, is one of the best restaurants in North America, crammed into a tiny space in an unfashionable Montreal neighborhood. (The restaurant takes its name from a colorful tavern keeper who kept Montreal's working stiffs well-fed and -lubricated a century ago.) The Art of Living According to Joe Beef is a kind of artist's statement for an idiosyncratic and unlikely restaurant. It doesn't follow seasons or ingredients or meal genres, but rather the quirks and obsessions of Joe Beef's founders. A cookbook only "of sorts," it offers chapters on the history of eating in Montreal, on nostalgia for trains, on booze (sample sentence: "I love red Burgundy wine so much I want to pour it in my eyes"), on building and mastering your own smoker, and on transforming a crack den into a garden worthy of Nigel Slater. Interrupting the gonzo-style essays and dazzling photos are recipes for straight-ahead, unfussy French food—a little chefy and rarefied-ingredients-based for my current cooking habits, but deeply appealing. I want to try them all. Even more, I want to make my debut at the bar of Joe Beef.
Killer dish: "Cider turnips" (so far, it's the only recipe I've had everything on hand to try)
Dish I'm dying to try: Every single one, but if I had to choose: "Scallops with pulled pork"