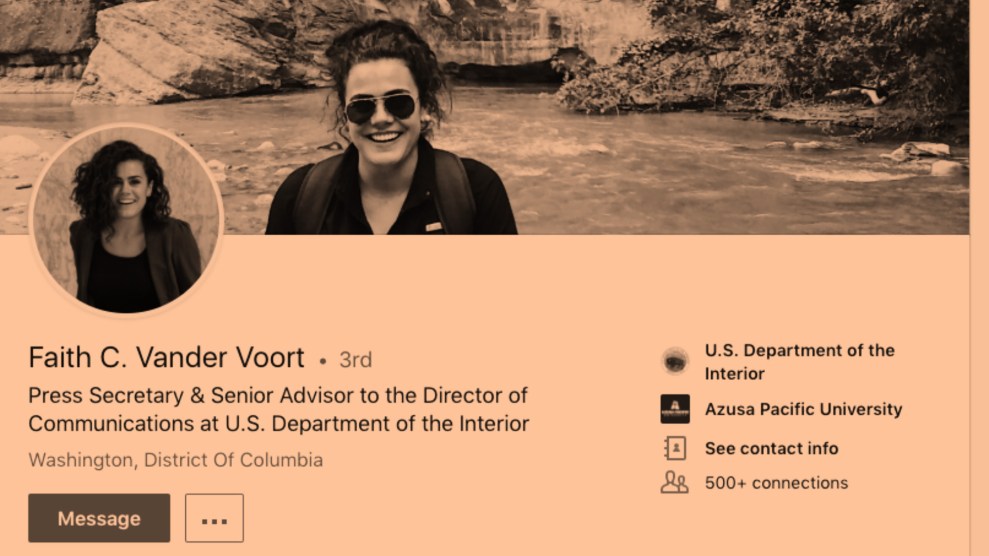 Fight disinformation:
Sign up
for the free
Mother Jones Daily
newsletter and follow the news that matters.
This story was originally published by HuffPost. It appears here as part of the Climate Desk collaboration.
Faith Vander Voort, the newly promoted top spokeswoman at the Interior Department, voiced support for more surveillance of Muslim communities and argued that attacks by radical self-proclaimed Muslim groups pose a far bigger threat to society than climate change during a 2017 interview full of Islamophobic and anti-immigrant rhetoric.
The comments were made during a June 8, 2017, episode of "The Word," a podcast of the now-defunct right-wing news outlet the Daily Nerv. Vander Voort co-founded the Daily Nerv in early 2017, about a year before she joined the Trump administration, and briefly co-produced and co-hosted the podcast, according to her resume on Interior's website.
During the episode in question, Vander Voort says she does not believe it is a violation of individual civil liberties for intelligence agencies to monitor phones and internet activities—at least when it comes to surveillance of Muslim communities.
"I think that terrorists attacking us are the real infringement on our freedom," she said. "Our freedom comes from our safety and ability to follow our dreams and live a happy and free life here in the United States. It doesn't come from us being able to send whatever we want without anyone looking."
The episode aired a few days after the deadly London Bridge attack—a tragedy that President Donald Trump used to promote his Muslim travel ban. It is chock full of the very anti-Muslim rhetoric that has emboldened extremists around the globe, and that is all but indistinguishable from white nationalist talking points.
HuffPost was alerted to the podcast last week, hours before a gunman opened fire at two mosques in New Zealand, killing at least 50 people. The suspect left behind an anti-immigrant, anti-Muslim manifesto in which he cited American white supremacy as an inspiration and called Trump "a symbol of renewed white identity and common purpose."
The massacre brought into harsh light the alarming rise in Islamophobia. In the US, hate crimes against Muslims have skyrocketed, with civil rights organizations blaming Trump and his team for fueling bigotry against Muslims and other minorities. On the campaign trail, Trump embraced the idea of creating a database to track Muslims in the US and proclaimed, "I think Islam hates us." For years, Muslim Americans have urged local and national political leaders to come out stronger and denounce Islamophobia, including by employees of the federal government.