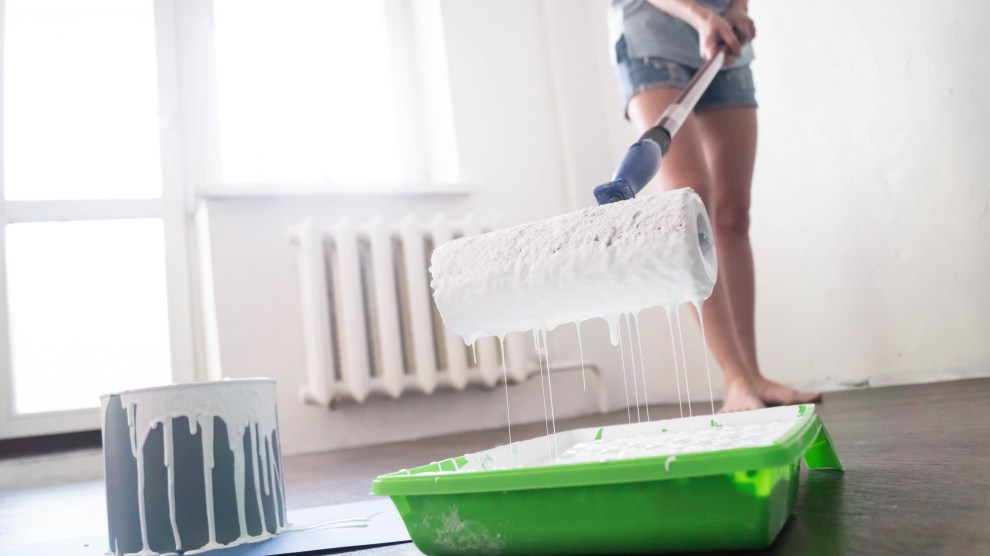 Fight disinformation:
Sign up
for the free
Mother Jones Daily
newsletter and follow the news that matters.
Today, the Supreme Court turned down an appeal from several paint companies who were ordered to pay at least $400 million to clean up the damage done from the lead once found in their product. In 2014, a California Superior Court judge ruled that decades ago, several paint manufacturers created a public nuisance by selling toxic lead paint to homeowners, and the companies—Sherwin-Williams, ConAgra, and NL Industries—were responsible for cleaning it up. The manufacturers appealed, but the decision was upheld in late 2017, though slightly amended; then, the companies appealed to the state Supreme Court, which declined the case. The manufacturers then went one step further and appealed to the US Supreme Court, which turned down the case today.
High lead exposure has been known to have serious health impacts, especially on children, including developmental delays, skin issues, and seizures. As Kevin Drum explored in his 2016 feature, one researcher even posits that children exposed to high levels of lead were more likely to grow up to be violent criminals. Lead exposure has dramatically declined since 1978, when the federal government banned lead pigments from paint products and unleaded gas started to replace leaded gas. But deteriorating lead paint and dust in older homes can still cause lasting health problems.
The California case wasn't the first of its kind, but it has made it the furthest: In 2006, a jury sided with Rhode Island in determining that paint companies were responsible for the damage caused by lead paint, but the state Supreme Court reversed the decision two years later. Similar lawsuits, framed as product liability cases, failed to determine which specific products were used in older houses. As Tik Root laid out in this Mother Jones story, the Motley Rice law firm helped the California plaintiffs re-frame the issue under the public nuisance doctrine. "Public nuisance litigation is wider in scope than product liability and allows the government to step in and clean up an ongoing threat such as environmental contamination from a polluting factor," Root explained.
The Supreme Court's denial to hear the latest appeal implies that the companies will have to proceed with paying for lead paint abatement throughout the state. "This is very significant victory for the tens of thousands of California children who have been poisoned by lead paint," Greta S. Hansen, one of the lead attorneys representing the 10 California cities and counties against the paint manufacturers, told the Los Angeles Times. "The case will provide the funds needed to protect future generations of California's children from the devastating effect of lead paint."