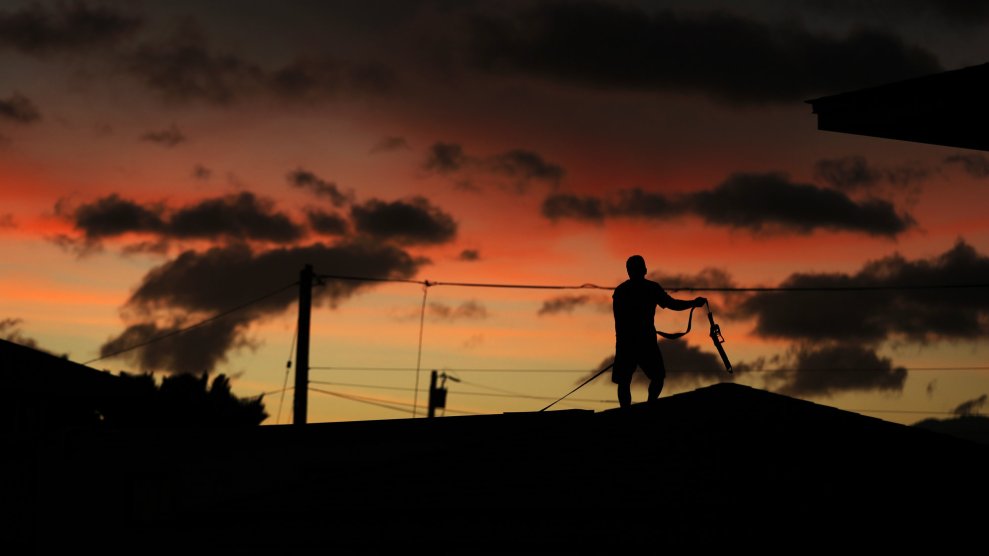 This story was originally published by the HuffPost. It appears here as part of the Climate Desk collaboration.
HONOLULU—People in Hawaii are scrambling to gather emergency supplies and food as Hurricane Lane inches dangerously close to the islands as a Category 4 storm.
Lane's forecast track prompted hurricane warnings for nearly all of the main islands, including Hawaii (also known as the Big Island), Maui, Molokai, Lanai and Oahu. By 8 p.m. on Wednesday, Hurricane Lane was located 260 miles south of the Big Island and 375 miles south of Oahu, with maximum sustained winds of 145 mph.
"The center of Lane will track dangerously close to the Hawaiian islands from Thursday through Saturday," the Central Pacific Warning Center said in an evening update. "Regardless of the exact track of the storm center, life-threatening impacts are likely over some areas as this strong hurricane makes its closest approach."
Speaking at a press conference on Wednesday, Gov. David Ige told residents to prepare to shelter in place with enough food and supplies to last 14 days.
"We are expecting large amounts of rain, flooding and high winds," Ige said. "There will be significant impacts even if the hurricane doesn't hit us directly."
#HurricaneLane in the early morning hours near #Hawaii. The crew of the @Space_Station sends much aloha to everyone there. pic.twitter.com/raPh37MZH9

— Ricky Arnold (@astro_ricky) August 22, 2018
Hurricane Lane caused some panic as it moved closer to the islands and strengthened into a Category 5 storm late Tuesday night before weakening to Category 4 on Wednesday morning.
On Oahu, where nearly 70 percent of the state's population lives, residents flocked to grocery, hardware and wholesale stores, clearing inventories of propane tanks, water bottles and canned food.
Some residents on the Big Island started seeing rain as early as Wednesday afternoon. By Wednesday evening, heavy rains showered the Big Island and Maui as the edges of the storm made its way northwest toward the other islands.
#HurricaneLane update as of 6:44PM on August 22 strength at Category 4 with winds 145 mph. Track #Lane here https://t.co/XVFKqA8BvA || #HIGov #HINews pic.twitter.com/VEcmLI3kQW

— Governor David Ige (@GovHawaii) August 23, 2018
Imago Mana, who was forced to flee from her Big Island home in Leilani Estates in May due to months-long volcanic eruptions, said she has to prepare for the hurricane while still dealing with problems caused by the lava evacuations. She and her partner are temporarily renting an apartment in Keeau that she says is prone to flooding.
"It's really intense, uncomfortable and frightening," Mana told HuffPost. "The issue is that it's an emotional exhaustion."
Mana also said that there were some things she had left behind during the evacuation that could be useful in a hurricane, including a generator that would've powered a medical machine she uses at night.
"There are vital things that we did leave that would be tremendously helpful now," she said.
There's only one grocery store in my neighborhood and last night it was hectic. Essentials were first to go: Water, canned goods, propane tanks, etc. #HurricaneLane pic.twitter.com/ns1jQg0qxI

— carla herreria (@carlalove) August 22, 2018
The Big Island can expect to see tropical storm-force winds as early as Thursday morning, with hurricane-force winds picking up by afternoon or evening, according to the Central Pacific Hurricane Center. Dangerous conditions could begin in Maui County, including the islands of Lanai and Molokai, as early as Thursday and worsen by Thursday night. Oahu can expect to feel the storm's effects as early as Thursday night, with conditions worsening by Friday. Kauai County, including the island of Niihau, remains on a hurricane watch.