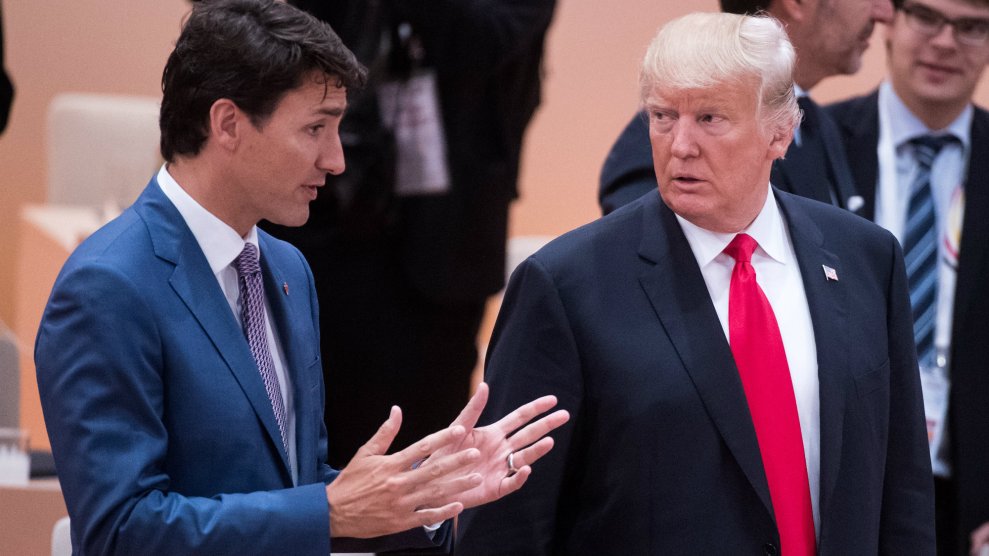 This story was originally published by National Observer and appears here as part of the Climate Desk collaboration.
With less than two weeks to go before Canada hosts the world's seven big economies, Prime Minister Justin Trudeau's government is being urged to push the United States over its climate change stance and stop the Trump administration from blowing up the summit.
An environmental group that witnessed pre-summit talks on Monday said that Canada was navigating some tough diplomatic choices in the lead up to the G7 meeting in La Malbaie, Quebec, on June 8 and 9. G7 meetings traditionally end with a consensus of commitments made by all of the countries, released in a communiqué signed by each leader.
At last year's summit in Italy, the group of seven industrialized nations were forced to issue an unusual communiqué after it became clear that United States President Donald Trump had made up his mind to withdraw from the Paris climate accord.
That year's environment ministers' statement used a footnote to describe how the US would not join the other G7 members in reaffirming a commitment to Paris. Environment and Climate Change Minister Catherine McKenna summed up the situation at the time by saying the US had been "left as a footnote to climate action."
There has been careful planning this time around to ensure a smoother outcome, Trudeau's chief summit organizer told The Canadian Press earlier this month.
But Peter Boehm, Canada's G7 sherpa, has already been pressed at a keynote dinner appearance on May 10 whether the G7 would act again as a "six-plus-one" body, with the US as the outlier, after Trump said he would abandon the Iran nuclear agreement.
Any language suggesting that Canada wants to ramp up global climate change ambition would also come as the Trudeau government faces criticism from environmentalists, such as former US vice-president Al Gore, over its support for oilpatch expansion.
They also say Canada is heading in the wrong direction with its support for an oil pipeline and tanker project, the Trans Mountain expansion. On Tuesday, Canada doubled down, saying it would spend $4.5 billion of public money to purchase the project outright, angering some former supporters and setting off a fresh wave of criticism.
Fossil fuels are subsidized 38x more than renewables globally. Now the Canadian government wants to spend billions more of taxpayer dollars to increase its country's contribution to the climate crisis. This is not in the public interest. We must keep fighting to #StopKM.

— Al Gore (@algore) May 29, 2018
Annie Bérubé, director of government relations for Montreal-based Équiterre, told National Observer that Boehm spoke to civil society groups at talks on Monday, and said multiple options are still being examined to get climate change on the agenda at the summit, which will be Trump's first visit to Canada.
According to Bérubé, Boehm said those options include the official G7 communiqué, which is negotiated between states, or a statement from Canada as the host of the summit, which would not be negotiated.
As well, a recent Politico article quoted senior officials in Europe and the United States suggesting that, as of last week, there was no agreement on whether there would be a final communiqué signed by all leaders or a statement from Trudeau. The report also alleged that the Trump administration's "America First" stance was blowing up the G7 agenda.
Neither Trudeau's office nor McKenna's office would confirm or deny what Trudeau and Boehm said behind closed doors at the meeting on Monday. Both issued statements supporting the G7 and Canada's commitment to the Paris accord.
"The G7 summit is an important opportunity for Canada to bring together our friends and allies to talk about pressing global challenges such as growing the economy to help the middle class and people working hard to join it, and to make real progress on goals we all share," said Trudeau's spokeswoman Eleanore Catenaro.
"Canada remains steadfast in its commitment to the Paris agreement. Canadians see the very real impacts of climate change in our country, with floods, droughts, forest fires and a thawing Arctic. They understand the need to take action to ensure a sustainable planet for future generations," said McKenna's spokeswoman Caroline Thériault.
Late on Tuesday, Trudeau talked with US Vice President Mike Pence about the G7 summit, NAFTA and US steel and aluminum investigations, according to a readout from the prime minister's office.
Moderator @cat_abreu tactfully asks how one handles conversations with #climatechange deniers at these meetings, especially one in particular… @G7Sherpa responds: "You have to be patient […] It's no secret that there are divisions at @g7" #C72018 pic.twitter.com/9Q4HMyo4kv

— CCCI | CCIC (@CCCICCIC) May 28, 2018
"It's no secret that there are divisions"
Bérubé spoke to National Observer on the sidelines of government-hosted talks running May 28 and 29 in Ottawa. At the talks, Trudeau gave a short speech that was open to media, and held a Q&A in private with attendees.
Catherine Abreu, executive director of Climate Action Network Canada, moderated a discussion with Boehm, according to a tweet by the Canadian Council for International Cooperation.
Abreu asked him "how one handles conversations with climate change deniers at these meetings, especially one in particular," the CCIC tweeted. Trump has denied the science of climate change and issued tweets that conflate weather and climate.
Boehm responded: "You have to be patient…it's no secret that there are divisions at G7."
In fact, the Canadian government has been confronted with the "six-plus-one" dynamic over climate for months, according to a University of Toronto report.
During early government-hosted talks on Canada's G7 priorities in Toronto in December 2017, the audience at a town hall chose climate change as its top priority, wrote John Kirton, the director of the G7 Research Group at the university.
"Concerns centered on how to avoid another 'G6' on the Paris Agreement and how to get Canada to wean itself off carbon," Kirton wrote.
At Monday's meeting, Trudeau discussed climate financing and climate adaptation of developing countries, said Bérubé, which she took as a hint that the G7 might commit some international financing at the summit.
During the Q&A, Bérubé said, she asked the prime minister whether Canada was going to use the G7 to reaffirm its commitment to the Paris agreement. In response, "the PM said that Canada is a leader on climate change, and that we do have a plan in Canada to meet our Paris targets," she said.
On climate resilience: the Paris Agreement is paramount– we need to be able to articulate it within our @g7 commitments. The leaders have the opportunity to strike high level targets that can then be further refined at the ministerial in the fall @G7Sherpa #C72018 #MyG7

— C7Canada (@C7Canada) May 28, 2018
Canada will overshoot its Paris target of cutting carbon pollution 30 per cent below 2005 levels by 2030 without "substantial effort and actions beyond those currently planned or in place," Canadian auditors general jointly concluded in March.
The largest single source of emissions in Canada is the oil and gas sector, according to government figures, and that sector was mostly responsible for the increase of Canada's overall carbon emissions between 1990 and 2015.
The Trudeau government has a plan to price carbon nationwide and has moved to invest in public transit, renewable energy, clean technology and other low-carbon initiatives. But Trudeau has also pushed hard for oilpatch expansion via fossil fuel exports, primarily through his support of Trans Mountain.
During his speech that was open to media, Trudeau told the group that "climate change doesn't care about jurisdictions," and urged them to "build on the successes we've jointly created," like the federal Pan-Canadian Framework on climate change.
"You and Indigenous communities helped make (the framework) happen, and I know there are lots of people in this room, who will make sure we do even better. Together, we can make the future brighter," he said.
In her emailed response, Catenaro said G7 countries are among the world's wealthiest and "have a responsibility to show leadership on protecting the environment and growing the economy at the same time."
"As the prime minister has said, whether it's tackling the challenge of plastics and pollutions in our oceans or investing in climate resilient infrastructure around the world, there are many opportunities to work together with the G7 countries. We will continue to make sure that we are making progress together on shared goals."
A "whole circus" of "elephants in the room"
Cathy Orlando, Canadian director for the Citizens' Climate Lobby which was also at the talks on Monday, told National Observer that her sense of the gathering was that it was "a whole circus" of "elephants in the room."
"We have this (US) economy which we're totally intertwined with, on top of the fact that there's a president who has rejected the Paris accord even though this is utterly critical to humanity," said Orlando in an interview.
Outreach session at #climate energy and oceans on second day of summit .. Focusing on oceans .. Africa and Small Island Nation States invited TBA #G7Charlevoix .. rising oceans, biosphere, unreported fishing and plastics .. #C72018

— Cathy Orlando (@ConnectedCathy) May 28, 2018
At Monday's meeting, Bérubé said Boehm described the government's commitment to oceans protection and the resilience to climate change impacts of small island states.
The use of resilience is notable: the Politico article states US officials have started to use the phrase "environmental resilience" instead of "climate change," suggesting that this path could allow for a joint statement.
"Given that they're prepared to talk about resilience to climate change, and the impact of climate change on small island states, our question was, does that not bear the question of the responsibility of the G7 countries to address climate change?" said Bérubé.
"His (Boehm's) answer was, that the Paris agreement is absolutely paramount—it's the priority of all the G7 countries except the US—and that Canada is trying to find a diplomatic way to get that on the agenda, either through the official G7 communiqué, or…a president's statement, which is not a negotiated text with the G7 countries," she said.
Regardless of global politics, "no one government can stop the momentum" of the Paris accord, said Thériault in her emailed statement. "Not only are countries around the world acting on climate change, so are businesses," she said.
"They understand that tackling climate change is not only the right thing to do, it is good for business. Our government will continue to take advantage of the trillion dollar clean growth opportunity. Supporting the global clean economy will allow Canada to diversify and open up access to new markets, reduce emissions, and create good middle class jobs for Canadians."