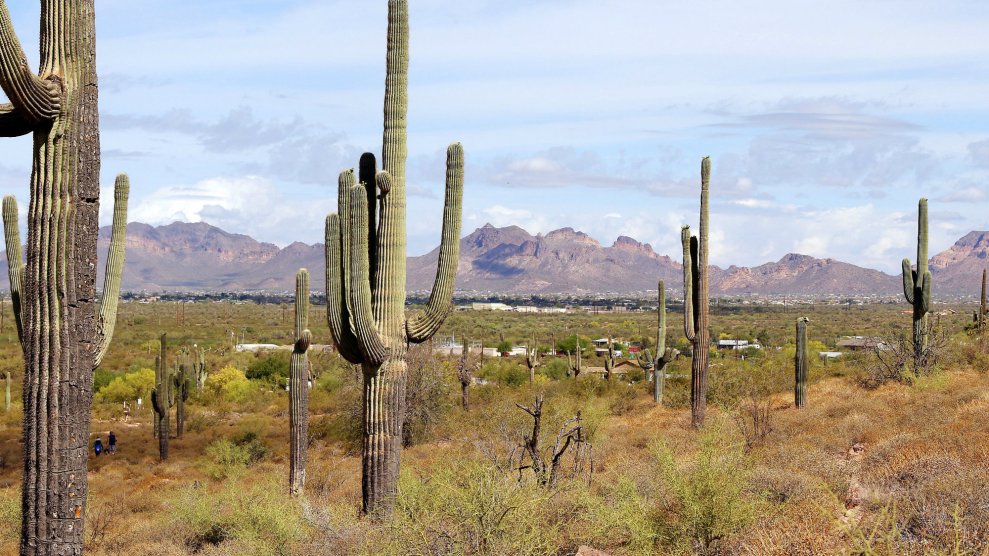 The Southwest United States is wrapping up an abnormally dry winter. Nearly all of Utah, New Mexico, Colorado, Arizona, and California are facing drought conditions in 2018. About a quarter of the West's drinking water relies on melting snow, which has been in short supply this year, to fill up reservoirs.
While it's unlikely that the Southwest United States is headed for a full-scale disaster like in Cape Town, South Africa, where residents have severely restricted water usage after three years of drought. But thanks to climate-changed linked droughts in the Southwest, water will become a precious commodity in this part of the US. "There's a general sense that there will be less water in the future," says Michael Cohen, a senior research associate at the Pacific Institute, a global water think tank.
Within the next several decades, states in the Southwest will receive considerably less rain than they do now. The region is naturally dry, but over the last 100 years developers have turned sprawling deserts into communities with lush green grass and green golf courses. Historically, droughts aren't unusual in this part of the US, but climate change is set to make them worse as less rains fall. Reservoirs will be dry, the agriculture sector will be forced to cut back on water usage, and individuals will be required to adopt conservation measures which can range from getting rid of lush green lawns to shorter showers.
The five states currently facing droughts, plus Wyoming and Nevada, depend heavily on the Colorado River Basin, which includes the two largest man-made reservoirs in the United States, Lake Mead and Lake Powell, for water. The river is a lifeline, providing water to more than 40 million people. In 1922, seven states including California and Arizona, signed the Colorado River Compact which governed the allocation of water to the different states. But when leaders were dividing up the river, they overestimated how much water it could actually supply. Overallocation, coupled with development and growing populations, has left the river strained.
According to NASA, rainfall may decline by 20 to 25 percent over California, Nevada, and Arizona by 2100. Anticipating drier times, California and Arizona are currently in talks over a drought contingency plan to prevent Lake Mead from losing so much water that it must declare a shortage, which would require states in the river basin to deliver less water to consumers.
Because of a 1964 Supreme Court ruling, California has "senior" rights and Arizona has "junior" rights to Lake Mead. Without a new drought plan, if water levels fall below 1,075 feet above sea level and stay there, Arizona will be forced to give up 13 percent of its water allocation. The lake is currently 1,088 feet above seal level. The cutbacks would hit the agriculture sector hard as cities and tribes are prioritized. Those fortunate enough to have water would be faced with steep prices. Time is running out—federal forecasters have said that there could potentially be a shortage in 2019.
But infighting in Arizona has hindered progress on coming up with a new plan. The Central Arizona Project, which manages a 336-mile long canal that delivers water from the Colorado River to Tucson and Phoenix, and the state's Department of Water Resources have fought over the state's water supply. While there several issues at play, it all boils down to which agency controls the water and which one gets to decide how to conserve it—CAP or DWR.
There's also the question of development. Arizona's Groundwater Management Act created urban districts where groundwater is managed to prevent depletion, and requires developers to first prove that there's enough water to construct new buildings and homes. But then investors began buying up farmland in order to meet the water requirements, something that rural Arizonians say is stealing their water and will turn their part of the state into a "dust bowl." "There's a lot of pressure from developers," Cohen says, "they're pushing continued use of water supply that's not going to exist in the future."
Meanwhile, California is dealing with its own drought-related issues. Last month federal officials declared that half the state is in a drought—just months after the last one ended. State officials are considering adopting permanent water restrictions that would ban overwatering lawns, using a hose to wash sidewalks, or using a hose without an automatic shut-off nozzle. The restrictions were welcomed by environmental groups, but weary water resource managers said making them permanent could chip away at water rights across the state.
But as California and Arizona are jockeying over how to conserve water, there's one state in the Southwest that is trying to get even more water. In fast-growing Utah, Washington County wants more water. The mostly rural county of more than 100,000 people located in the Southwest corner of the state is expected to grow to more than half a million people by 2065, leaving community leaders worried about their water supply. The expected growth is fueled by a combination of job seekers and a high birth rate. So, the Utah Division of Water Resources came up with a grand idea: A pipeline from Lake Powell, a reservoir on the Colorado River that straddles Utah and Arizona, to Southwest Utah. The project, which would be the largest diversion project anywhere on the Colorado River, is projected to cost $2 billion.
There's just one caveat: environmentalists and other water experts claim Washington County could meet the needs of its growing population if the region focused on conservation. The average resident in Washington County uses 300 gallons of water per day, while the average American uses between 80 to 100 gallons a day. Environmentalists blame the cheap cost of water in Utah for the exceptionally high usage.
"They're tapping into a resource that may not exist in the future," Cohen says. In fact, everyone in the Southwest will have to deal with shrinking water resources in the future.
"The fear of drought and climate change in the West is the long-term lifestyle changes that are required to cope with more people and less water," says John Fleck, a water resources professor at the University of New Mexico. "All these big cities like Los Angeles, Phoenix, and Albuquerque are going to have to continue using less water and conserve more and more."