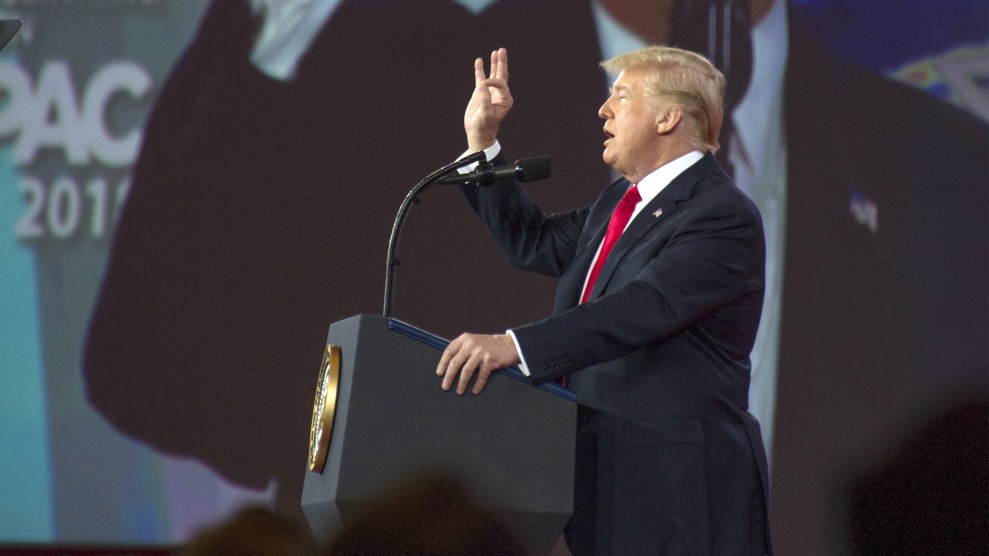 Does Donald Trump have any idea what the Paris climate accord really does? Based on the president's speech Friday at the Conservative Political Action Conference, it seems unlikely.
In his longest remarks on the subject since announcing last June that he would withdraw the United States from the landmark agreement, Trump called the deal "totally disastrous," "job-killing," and "wealth-knocking out." He didn't dwell on the point of the accord, which is to avoid the worst-case-scenarios of climate change—something he has described as a "hoax."
Trump also didn't sound like a president who is serious about brokering a new climate deal, a proposition he and members of his administration have floated repeatedly since last summer. "They basically wanted to take our wealth away," Trump said at CPAC. "They didn't want us to use our wealth power."
In reality, the 2015 Paris agreement was a flexible deal in which countries around the world put forward voluntary, non-binding targets for curbing their domestic greenhouse gas emissions. Environmentalists pointed out that the deal didn't go nearly far enough to avert dangerous climate change, but it was a start—and it still may be one, if the rest of the world stays the course in spite of Trump.
The deal marked the first time nations overcame old divides between the developing and developed world on how much responsibility they bear for climate change. As I've explained, before the Paris deal, a "lack of agreement on these points [had] doomed previous climate talks. Rapidly growing countries, like China, India, and Brazil, have been loath to curb their own emissions, since the United States and Europe are far and away the largest historical polluters. And industrialized nations, in turn, have used the reluctance of developing nations to disavow that development path as an excuse not to act." Paris was unprecedented because the world finally bridged that gap, which meant the US and Europe wouldn't have to go it alone in cutting emissions.
But Trump described the deal as a punitive measure designed to limit economic growth in the United States. He made it sound as though China and India were doing nothing and Paris was somehow the reason for the decline of the US coal industry. (In fact, economic trends such the low cost of natural gas during Obama's term have been a bigger factor in coal's downfall.) In reality, China and India—whose historical contributions to global warming pales into comparison to that of the United States—brought a plan to the table to, respectively, cap and slow their emissions growth by 2030. The United States agreed to cut its 2005-level emissions by about a quarter by 2025. This doesn't mean China and India are doing nothing—developing nations are being asked to rely less on fossil fuels than the developed world has and to transition to renewables and cleaner fuels at record speed.
Trump also declared that the "war on beautiful, clean coal, one of our great natural resources" is over. But coal's share of the US energy mix is still declining. Bloomberg New Energy Finance projects 2018 will be one of the biggest years for coal plant retirements yet.