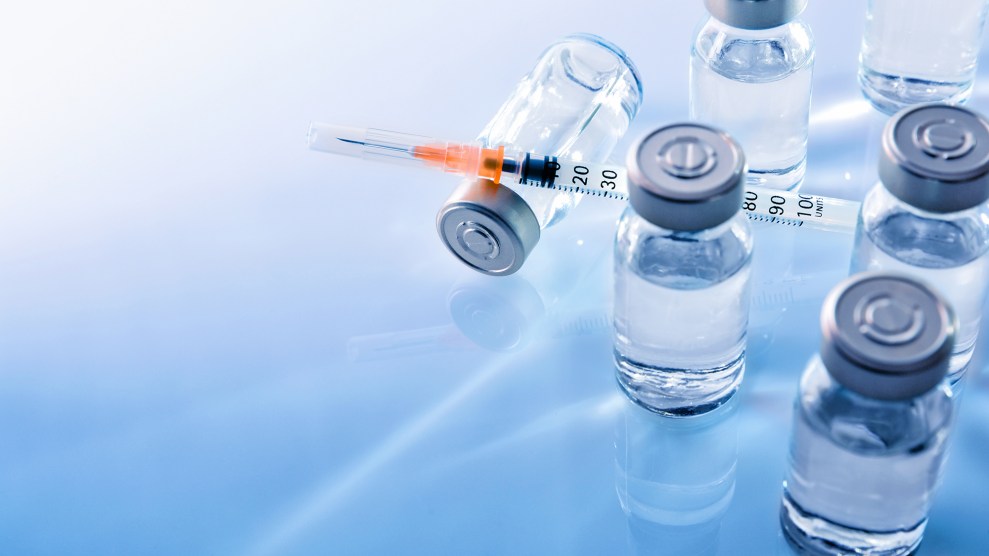 This fall, Californians may have the opportunity to vote on a catch-all ballot initiative that would ban genetically modified organisms and get rid of school vaccination requirements. But that's not all. The so-called California Clean Environment Initiative would also prohibit the use of 300 substances, including certain vaccine ingredients and chemicals used in water treatment—chlorine and fluoride. And it would create a new agency to "regulate environmental activities, modify or stop projects having pollution and radiation impacts, and test and approve substances before they are introduced into the environment."
This long-shot initiative was introduced by Cheriel Jensen, a retired urban planner who told the Times of San Diego she was "prompted to write the initiative because she believes cancer, autism and other diseases are linked to exposure to toxic chemicals, genetically modified organisms or radiation."
Jensen is a resident of the affluent Santa Clara County town of Saratoga and has a history of environmental activism. In 2015, she sued Santa Clara County to stop it from spraying pesticides to prevent the spread of mosquito-borne West Nile Virus. (A judge dismissed the suit.) In 2017, she sued the county again, this time to prevent it from passing a half-cent sales tax to generate $6 billion for public transit and road repairs. She argued that building an extension of the Bay Area's BART light-rail system wasn't feasible because it would disturb an aquifer. After a judge dismissed the lawsuit, Jensen appealed. The suit is now with the 6th District Court of Appeal.
Aspects of Jensen's latest effort run counter to the scientific consensus. Public health authorities worldwide agree on the importance of vaccination to curb deadly outbreaks and protect the most vulnerable people. There's overwhelming evidence that vaccines do not cause autism and that they are safe for the vast majority of children and adults. Numerous scientific societies, including the American Association for the Advancement of Science and the American Medical Association, have issued statements affirming that genetically modified foods are safe to consume.
To get her measure onto the ballot, Jensen will need to come up with 365,880 signatures—5 percent of the state's voters. Does she stand a chance? Well, stranger things have made it onto the California ballot.