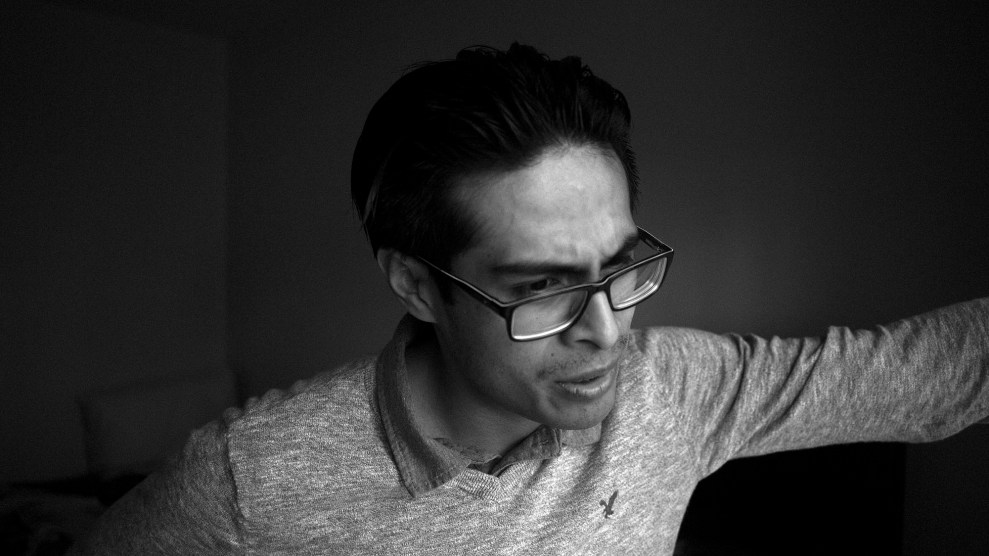 Fight disinformation:
Sign up
for the free
Mother Jones Daily
newsletter and follow the news that matters.
When he first smelled smoke, Luis just thought a neighbor was having a barbecue. But the scent lingered, and the 25-year-old aspiring neuroscientist soon learned that a forest fire was barreling straight toward his home in Santa Rosa, California. He dashed out the front door, jumped in his Saturn, and sped toward the highway through fumes so thick they swallowed his headlights. Within hours, Sonoma County's Tubbs Fire—the most destructive blaze in the state's history—would incinerate the house Luis shared with his father, sister, and grandparents, as well as about 2,900 of his neighbors' homes. In coming days, he would think back on the belongings he'd left behind, like the paper lantern his girlfriend had pieced together from origami stars. At least he had grabbed a folder of precious documents—without which, he knew, he might never land a job in the United States.
Luis, who is from Oaxaca, Mexico, came to the United States at the age of nine. Today he is a "Dreamer"—a participant in a program, currently being phased out by the Trump administration, that gives young immigrants temporary permission to live and work in the country even if they came here without documentation. (Luis is not his real name; he requested it be changed out of concern for the safety of his family members.) There were roughly 38,500 undocumented immigrants in Sonoma County, including most of Luis' family, as of 2013, the most recent year for which statistics are available, and they hold down many of the county's housecleaning, construction, and vineyard jobs. In the wake of Northern California's wildfires, many are living a doubly precarious existence—struggling, like everybody else, to deal with tremendous personal and financial destruction, yet also uncertain if they still have any future in this country.
The firestorm that sparked on October 8 forced thousands of Santa Rosa residents into emergency shelters. But many immigrants, spooked by rumors that Immigration and Customs Enforcement officers were prowling the area, avoided these sites. Dozens went west to Bodega Bay instead, where they slept in cars or camped out by the ocean. One disabled couple was still there 13 days later, according to an organizer from the Graton Day Labor Center. It didn't help matters when the right-wing website Breitbart suggested erroneously that an immigrant had been arrested in connection to the deadly fires after walking out of a creek area with a plume of smoke behind him. The Sonoma County sheriff quickly clarified that the man in question was suspected in a separate incident of arson, but the rumor prompted the fact-checking website Snopes to post a story debunking the claims.
Luis' family, meanwhile, crammed into a friend's house, 12 people sharing a tiny living room. In the morning, the sky was dark and snowing pieces of ash. Luis didn't have a dust mask, and the smoke combined with gnawing anxiety gave him a splitting headache. The inferno landed right as he'd been preparing for a round of job interviews. He hoped to work in a cutting-edge field of science that targets the brain with light, to one day help people with pain management and addiction. For the next two nights, he instead had to focus on getting through each day at a local shelter.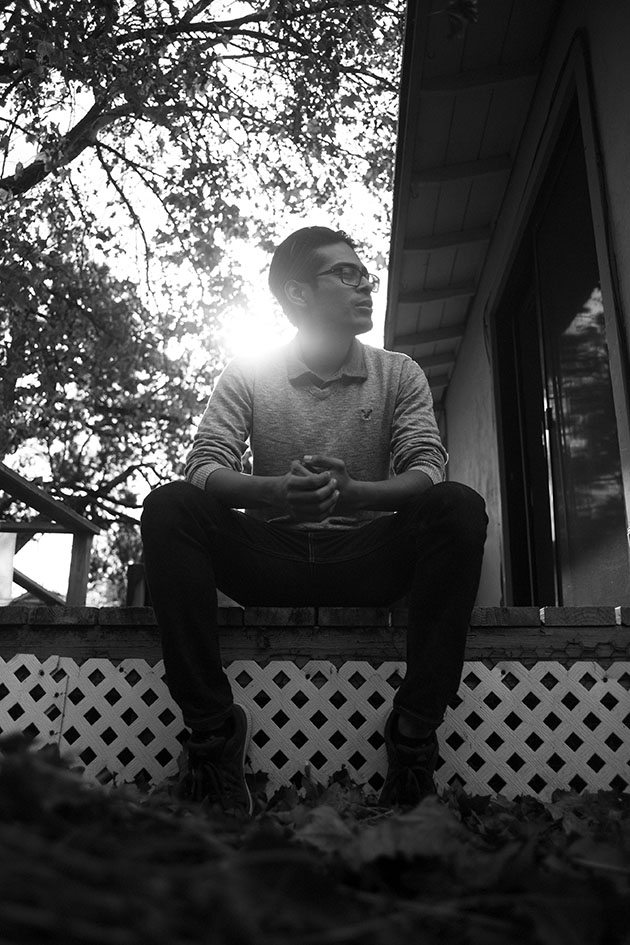 The Federal Emergency Management Agency set up shop at the Press Democrat building in downtown Santa Rosa. Locals could apply for up to $34,000 to pay for temporary housing, home repairs, and the replacement of damaged belongings. Luis walked down there one afternoon, passing Red Cross volunteers handing out bags of miniature chocolate chip cookies. Only legal residents would be eligible for FEMA assistance, but if an immigrant family had one member who was a citizen, they could apply using that person's Social Security number.
Luis considered the form, weighing his options. His sister is an American citizen, so he could use her number to apply. He thought about the belongings his family had lost: $10,000 worth of tools, all their furniture, thousands in saved cash they had tucked beneath mattresses. His family's bills, including for the regular medical costs associated with his grandfather's diabetes, were stacking up. But he couldn't bring himself to apply for the aid. He'd been warned by a lawyer that information given to FEMA could be accessed by other government departments, possibly immigration officials.
Though there have been no reports of ICE apprehending victims of the fire, Luis' fears weren't unfounded. "Even though there are families who can get FEMA, it doesn't necessarily make it safe," Mara Ventura, of North Bay Jobs With Justice, told me. "Really anyone who is undocumented is at the bottom of the list to get services."
Undocumented families will also contend with a housing crisis that was already full blown in Sonoma County before the fires hit. Santa Rosa had a 1 percent vacancy rate for homeowners before losing 4 percent of its housing stock to the blazes. The city's Coffey Park neighborhood, which the fires flattened so completely that it is now barely a footprint on a map, was home to dozens of day laborers. Now, nobody knows where they'll go.
Two weeks after his house burned down, Luis attended a Spanish-language community meeting hosted by local nonprofits at the gymnasium of a middle school. Santa Rosa Mayor Chris Coursey, dressed in a light-blue collared shirt and a baseball cap, promised attendees that the city had plans to develop more multifamily housing: 5,000 new units over the next six years, much of it downtown near the city's commuter train. He said that "any new houses we build will include affordable housing." When asked if the low-cost homes would be accessible to undocumented residents, he could only say, "I'm not sure."
After two nights at the emergency shelter, Luis' family moved into two hotel rooms, paid for by a benefactor. UndocuFund, a project launched by several local nonprofits, was doling out cash to families for food and supplies as part of an informal survival network that sprang up after the fires. Luis got another taste of generosity when he took a break one day to meet friends at the Russian River Brewing Company downtown. A waiter learned that Luis and two other guys in his party had all lost houses in the blazes, and he offered the beers, pizza, and hot wings on the house. "We weren't expecting that at all," Luis said. Everyone at the table was laughing and having a good time, and then a fire truck rolled by the restaurant. "The whole bar went quiet," he remembered. "You get that fight-or-flight memory of the whole thing again."
As the community begins to sift through the wreckage from the disaster, real estate listings in Sonoma County suggest median rental prices may have shot up, though it's still too early to know the full picture. County leaders worry about an uptick in homelessness and the economic toll of losing even more blue-collar workers, who may no longer be able to afford accommodation in the area. For now, Luis and his family have found a way to stay put: They're renting the house of some family friends. It's smaller than their last place, and at $1,800 a month it's more expensive—but at least it's a home.
Still, Luis has wrestled with waves of anxiety about an uncertain future. He struggled to help his dad come up with the first month's rent. Scientific research relies heavily on federal funding, so, as an undocumented applicant, Luis has found himself excluded from many public university labs. That pressure is compounded by the mess of digging out from the fires, he says. "Now it seems like I have two fights."