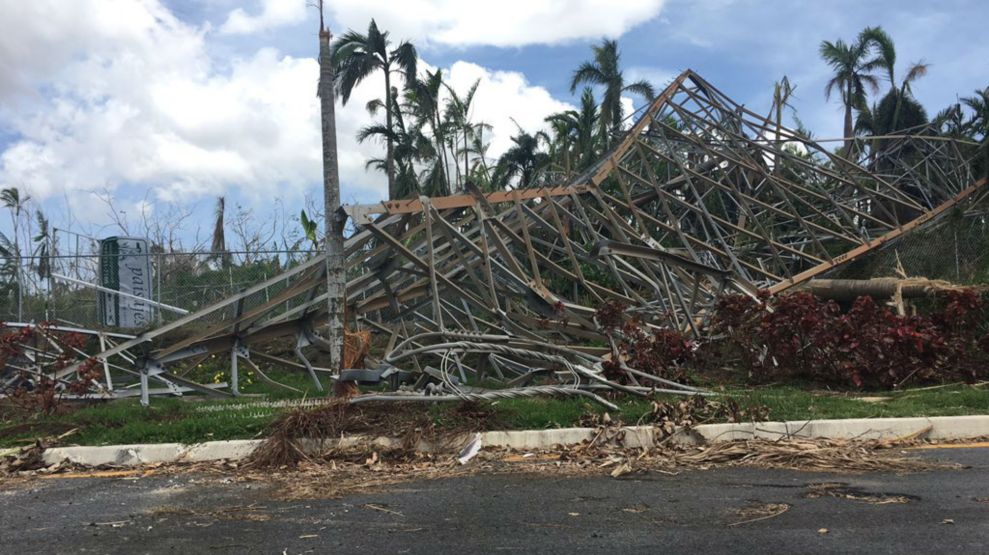 What does a one-day food ration look like in Puerto Rico in the wake of Hurricane Maria?
It's a small fruit cup, a 7.5-ounce can of corned beef hash, four cookies, and a pack of peanut butter and cheddar crackers. That's what some residents are expected to survive on each day as the island struggles to recover from the hurricane's devastating effects.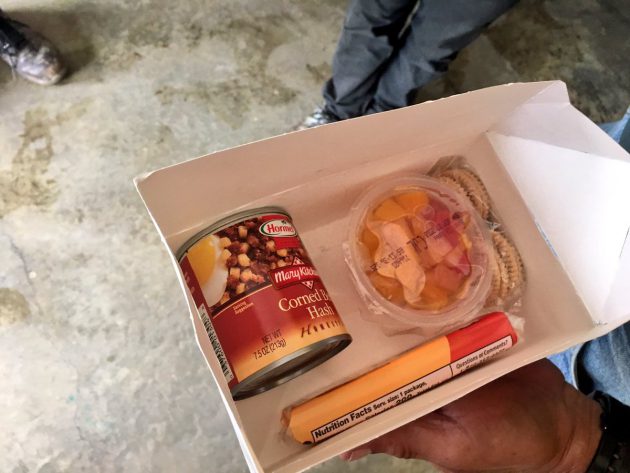 Since Friday, one of Mother Jones' reporters, AJ Vicens, has been on the ground there, documenting how residents are coping with the disaster, as well as the excruciatingly slow—or, in some places, non-existent—recovery efforts. Two weeks after Maria, 95 percent of the island's 3.4 million residents still don't have electricity. Fifty-five percent don't have access to drinking water. People wait in line for hours just to get gas. Electricity poles litter the street like matchboxes. "Green," decomposing bodies flow into a funeral home. And in small towns like Ciales, AJ reports, "many homes were either wiped from the earth or rendered uninhabitable, gutted of everything the families had inside."
In one dispatch, AJ follows the mayor of Cabo Rojo, Bobby Ramírez Kurtz, as he's conducting a meeting entirely by flashlight. Kurtz says he's determined to help not only residents of his city, but also Puerto Ricans elsewhere on the island. "I don't care what I have to do to get the things for my people," he says.
AJ will continue to report from Puerto Rico and help shed light on the situation for our readers. What questions do you have for him while he's there? Let's see what he can investigate for you.
[contact-form submit_button_text="Send" to="talk@motherjones.com" subject="Puerto Rico Form Submission"][contact-field label="Your Question" type="textarea"][contact-field label="Email address" type="email"][/contact-form]
By providing your email address you agree to let us contact you regarding your question. Your question will be shared with the reporter. We respect your privacy and will not use your email address for any other purpose.
---