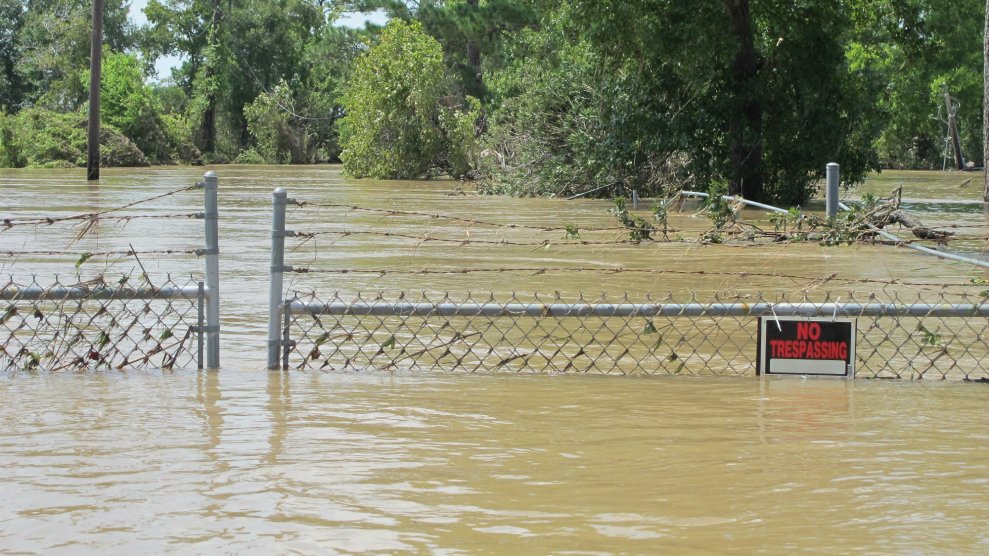 In August, Hurricane Harvey made landfall in southeast Texas as a Category 4 storm, bringing with it catastrophic winds and 33 trillion gallons of rain, which caused deadly flooding in the Gulf Coast region of the state and around the Houston area. The record breaking rainfall also brought another problem: Toxic pollutants in vulnerable communities.
There are 82 Superfund sites—EPA-designated areas that have been polluted with toxic waste and chemicals—in 13 counties affected by Harvey. According to the Center for Biological Diversity, a nonprofit conservation organization, 73 percent of those sites are located in communities that are predominantly low-income or homes to people of color. Of the 16 Harvey-affected Superfund sites reported flooded by the Environmental Protection Agency and the Associated Press, nine are in neighborhoods where the majority of the population is of color, low-income, or both. Residents are worried that flooded sites could spread toxic waste to their homes and neighborhoods.
Environmentalists are alleging that the Environmental Protection Agency has not acted fast enough. "The EPA's slow response to this crisis compounds the risks," John Fleming, a staff scientist at the Center for Biological Diversity's Climate Law Institute, said in a press release. "This situation is horribly unjust to people of color and low-income communities already bearing an unfair pollution burden."
The Highlands Acid Pit in Highlands, Texas, about 20 miles from Houston, was designated as a Superfund site in 1982 and was flooded by Harvey. According to the EPA, in the 1950s the pit received an unknown amount of industrial waste that the agency believed to be sulfuric acid from an old oil and gas refinery. The chemicals have since seeped into the soil and the ground water. The site has flooded at least once before in 1961 during Hurricane Carla. Today, the area is home to thousands of people—some whose families have lived there for generations.
The Highlands Acid Pit is not an anomaly. Harris County, home to the city of Houston, has 50 Superfund sites alone. In Harris County, neighborhoods with Superfund sites are, on average, 79 percent nonwhite.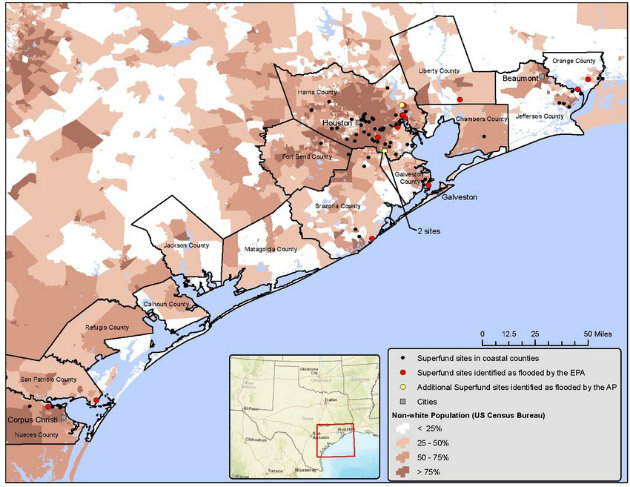 On average, 42 percent of the population near Superfund sites is low-income.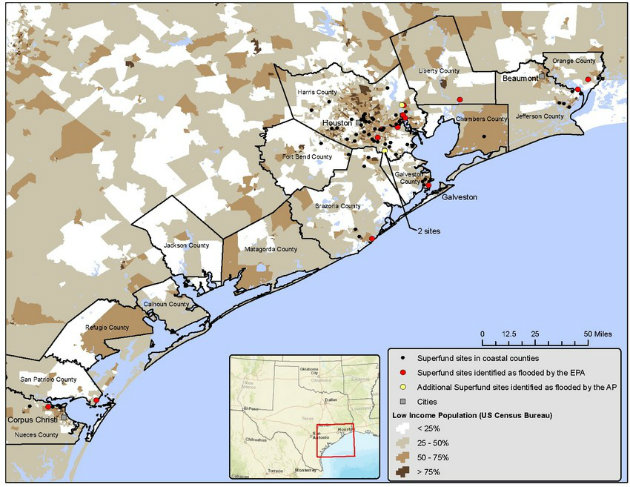 In the wake of Harvey and Hurricane Irma, which is poised to make landfall in Florida some time on Saturday, EPA head Scott Pruitt said that now isn't the time to discuss climate change, despite the role it's playing in these storms.
Scientists are unsure if climate change will cause more frequent hurricanes or even more intense ones, but they are pretty confident that storms like Harvey, which drop unprecedented amount of rain, can be linked to global warming. And more rain means more flooded Superfund sites that could cause further damage in hurricane-prone areas. Fleming has no confidence that the EPA can handle the multiple challenges, saying, "Harvey's toxic fallout is an environmental-justice issue the EPA is increasingly ill equipped to handle."