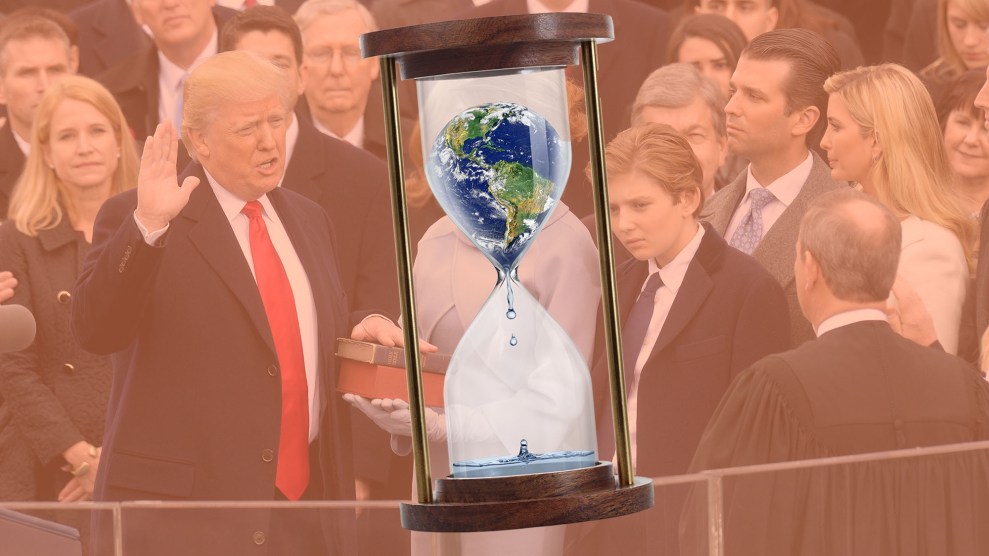 It's been an eventful 100 days.
Since taking office, Donald Trump has done his best to fulfill his campaign promise to roll back environmental regulations and liberate business from what he insists are job-killing, growth-impeding, unnecessary constraints. During a Republican primary debate in Michigan, he articulated his vision for the Environmental Protection Agency this way: "Department of Environmental Protection. We are going to get rid of it in almost every form. We're going to have little tidbits left, but we're going to take a tremendous amount out."
So now at the 100-day mark, if not mission accomplished, he has certainly gone a long way towards fulfilling that dream.
"Department of Environmental Protection. We are going to get rid of it in almost every form. We're going to have little tidbits left, but we're going to take a tremendous amount out."
Since 2009, Climate Desk, a collaboration among 14 news organizations—Mother Jones, CityLab, Wired, Slate, Reveal, The Atlantic, the Guardian, Grist, HuffPost, Fusion, Medium, the New Republic, Newsweek and High Country News—has tried to fill a void in climate coverage and explore climate change in all its complexity. And while the previous seven years have certainly had their fill of complexity, the Trump administration, with its the potential to unravel hard-won climate agreements and undo a generation or environmental protections, poses even greater challenges for journalism. Or, to borrow a line from Trump, this is more work than our previous life.
To mark the first 100 days of the Trump era, Climate Desk partners have put together a series of stories examining what's changed so far. In New Republic, Emily Atkin writes that Trump has already "done lasting damage to the planet" by issuing executive orders, initiating regulatory rollbacks, and approving oil pipelines. This article by Jonathan Thompson of High Country News looks at Secretary of Energy Rick Perry's efforts to protect the coal industry as it faces increased competition from natural gas, wind, and solar power. In a memo earlier this month, Perry warned that "regulatory burdens" were endangering the nation's electricity supply. "Judging by Perry's memo, and by much of the Trump administration's rhetoric and actions during the first 100 days, they yearn for a time when such memos were pounded out on manual typewriters," writes Thompson.
Karen Hao in Mother Jones gives us a historical perspective on the EPA, returning to a very different 100-day mark: the first 100 days of the agency's existence. In a look at what the Trump administration has done to the Office of Environmental Justice, created during the George H.W. Bush administration, Nathalie Baptiste explores what has happened to a program which defined its mission as reducing the disproportionate impacts environmental problems have on minority, low-income, and indigenous people. And Rebecca Leber examines how Trump's assault on environmental regulations could be considered one of the greatest successes of his administration—at least according to his standards.
But before exploring some of these stories, take a look at a brief but revealing timeline of some of the highlights of the assault on the environment during the first 100 days of the Trump administration:
Jan. 20: Within moments of Trump's inauguration, nearly all references to climate change disappear from the White House official website. While there's nothing unusual about a new administration changing the website, the new language is telling. "President Trump is committed to eliminating harmful and unnecessary policies such as the Climate Action Plan and the Waters of the US rule," reads the new site's only reference to climate change. "Lifting these restrictions will greatly help American workers, increasing wages by more than $30 billion over the next 7 years."
Jan. 23: The EPA receives a gag order on external communication, including press releases, blog posts, social media and content on the agency website. A former Obama administration EPA official describes the action as "extreme and very troubling."
Jan. 24: Within days of becoming president, Trump signs an Executive Order that reversing environmentalists' hard-won efforts to block the Keystone and Dakota Access pipelines. On the same day, Trump meets with three Detroit auto industry executives and promises big regulatory rollbacks.
Jan. 25: The Trump administration reportedly mandates that all EPA studies and data be reviewed by political staffers before being released to the public. These restrictions far exceed the practices of past administrations, according to former EPA staffers.
Feb. 7: The House Science Committee, led by climate denier Rep. Lamar Smith (R-Texas), holds a hearing titled "Making EPA Great Again." Smith attacks the agency, accusing it of pursuing a political agenda and using questionable science to burden Americans with regulation.
Feb. 17: Scott Pruitt, Trump's controversial EPA pick, is confirmed by the Senate. In his former career as attorney general of Oklahoma, Pruitt sued the EPA 14 times.
Feb. 28: Trump signs another executive order to dismantle the Waters of the US rule, a controversial Obama-era policy intended to protect waterways and wetlands from pollution.
Mar. 9: In a television appearance, Pruitt dismisses the basic scientific understanding that carbon dioxide emissions are the primary cause of climate change. He then questions the EPA's authority to regulate carbon emissions. His comments are condemned by scientists, environmental activists, and Obama EPA administrator Gina McCarthy. That same day, the head of EPA's Office on Environmental Justice, Mustafa Ali, resigns from his post after a 24-year career, saying he had "not heard of anything that was being proposed that was beneficial to the communities we serve." He adds, "That is something that I could not be a part of."
Mar. 16: Trump proposes slashing the EPA's budget by 31 percent, as well as cutting spending on climate change programs across the State Department, NOAA, NASA, and the Interior Department. "We're not spending money on that anymore," says White House Budget Director Mick Mulvaney during a press briefing.
Mar. 27: In his most significant environmental order yet, Trump begins begins the process of gutting Obama's landmark Clean Power Plan and other Obama-era climate policies.
Apr. 26: Trump signs another executive order, this time in an attempt revoke national monuments created by Obama and Clinton. It's uncertain whether this is even legal.