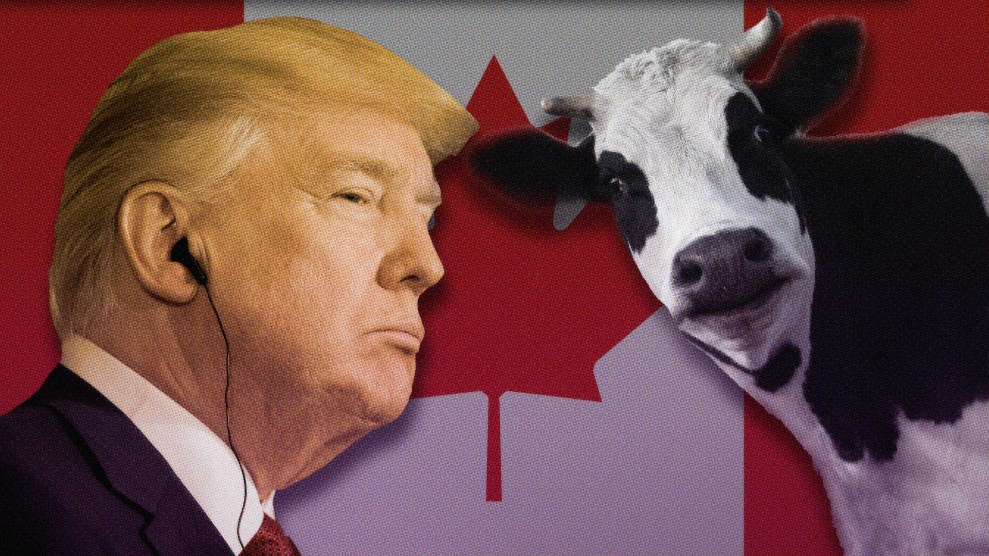 Fight disinformation:
Sign up
for the free
Mother Jones Daily
newsletter and follow the news that matters.
Donald Trump hasn't done much in his young presidency to delight high-powered Democratic lawmakers like Senate Majority Leader Chuck Schumer (D-N.Y.). But last week, Trump did just that when he picked a fight with Canada's dairy farmers, after receiving a letter urging him to do so from Schumer, Sen. Kirsten Gillibrand (D-N.Y.), and Sen. Tammy Baldwin (D-Wis.).
"We're going to get together and we're going to call Canada, and we're going to say, 'What happened?'" thundered Trump.
Trump's beef with Canadian dairy played well with Republicans, too. At a speech in dairy-heavy Wisconsin last week (video here), Trump fulminated against our northern neighbor's milk policy and vowed to organize what sounds like a dramatically awkward group phone call involving the state's most prominent politicians: Wisconsin Gov. Scott Walker, Sen. Ron Johnson (R-Wis.), and House Speaker Paul Ryan (R-Wis.). "We're going to get together and we're going to call Canada, and we're going to say, 'What happened?'" he thundered. "And they might give us an answer, but we're going to get the solution, not just the answer, okay?"
Okay!
If you're wondering what the hell Trump is babbling about—and why Canadian milk generates such strange, and angry, bedfellows south of its border—here's a primer.
• US dairy producers are churning out way too much milk, and they have been for a while. "Farmers in the U.S. are pouring out tens of millions of gallons of excess milk, amid a massive glut that has slashed prices and has filled warehouses with cheese," the Wall Street Journal reported last October. In the first eight months of 2016, the paper added, US dairy farmers dumped out 66 Olympic swimming pools worth of milk, the "most wasted in at least 16 years." In 2015, too, there was "so much milk flowing out of US cows…that some is ending up in dirt pits because dairies can't find buyers," Bloomberg reported at the time.
The backstory: Goaded by rising demand for dairy products from Asia and low prices for feed, US farmers scaled up in 2014, increasing their herds and squeezing out more milk per cow. Trouble is, farmers in other big milk-producing regions like New Zealand made the same bet, and now there's a global milk glut. The practice of dumping surplus milk has continued into this spring, the US Department of Agriculture recently reported.
US agriculture programs give dairy farmers incentive to produce as much as possible, embroiling them in boom-and-bust cycles like the current one, driving small farms out of business and forcing survivors to scale up. As recently as 1950, around 3.5 million US farms kept dairy cows; by 2012, that number had dwindled to 58,000, even as overall production surged. The shakeout continues. "In 2010, Vermont had more than 1,000 dairy farms, but by the end of last year there were just more than 800," NPR recently reported.
Meanwhile, the massive overproduction persists amid heroic, government-led efforts to prod Americans to consume more dairy. As Josh Harkinson reported in 2015, USDA dietary guidelines urge everyone nine years old or older to drink three cups of milk per day, a recommendation that owes much more to industry lobbying than it does to sound nutrition science. Then there's Dairy Management, a group overseen by the USDA that works with "influential and globally recognized companies such as McDonald's, Domino's, Quaker, Taco Bell and Pizza Hut" to work more dairy into fast food. Oy.
• Canada's dairy farmers are largely insulated from these cycles. That's because, in sharp contrast to the US government, Canada's dairy policy is based on production quotas that prevent farmers from either under- or overproducing. The program guarantees farmers get a price that covers their production costs, and slaps a high tariff on dairy imports, protecting them from foreign competition. Canadian consumers tend to pay more for milk than their peers, but not prohibitively so. Overall, Canadians devote just 9.7 percent of their overall expenditures to groceries, one of the lowest rates in the world. (US consumers have the lowest rate of all: 6.4 percent.)
Canada's dairy program, known as "supply management," might sound crazy to US ears, but it has advantages. In an excellent 2010 Gastronomica article, Barry Estabrook noted that, while decades of booms and busts had hollowed out dairy farming in New England and upstate New York, small and mid-sized dairy farms just over the border in Ontario—farming the "same gently rolling tapestry of field and forest"—are thriving.
• But there's a hole in Canada's dairy-tariff wall. So-called ultra-filtered milk—made with a process that concentrates milk proteins, separating out the fat—is a relatively new invention, designed to make dairy products that are highly concentrated and shelf-stable, and thus easy to export. Because of a loophole in trade law, Canada's dairy tariffs don't apply to it, and so the US dairy industry has been exporting ultra-filtered milk into Canada for years, where it competes with less processed domestic skim milk in cheese making. Major production plants have "been built in recent years along the Canada-US border in states like New York and Wisconsin to service Canadian demand," reports the Canadian news site iPolitics.com; and it has grown into a $150 million market for US producers.
• The Canadian dairy industry just slammed shut that loophole—enraging the US industry and capturing Trump's attention. Triggered by an agreement between Canadian farmers and processors announced in February and put into effect recently, the price of processed dairy products has dropped in Canada, essentially pricing US ultra-filtered milk out of its market. * Two US dairy companies geared to the Canadian market—one in Wisconsin, one in New York—immediately complained of lost sales; the Wisconsin one, Grassland Dairy products, delivered bad news to 75 farms: It would no longer buy their milk. The development inflamed politicians in Democratic Party-dominated New York and and GOP-heavy Wisconsin, and eventually in the White House.
"If every dairy farm in Wisconsin culled one cow out of production, it would more than make up for the milk lost to Canada, and everyone can keep farming."
• But the US dairy industry has been itching for years to break down Canada's tariff wall and undercut its dairy program—as have Democratic politicians. Under Barack Obama, US negotiators pushed hard to fully pry open the Canadian market to US dairy under the Trans-Pacific Partnership, the trade deal championed by Obama and ultimately killed by Trump. And Tom Vilsack, who served as Obama's secretary of agriculture for the entire eight-year term, now leads the US Dairy Export Council, a Big Dairy group that for years has pushed against Canada's program. Vilsack recently signed a letter to Trump demanding "immediate action" against Canada for icing out US ultra-filtered milk.
• Canada aside, though, US dairy farmers clearly can't export their way out of the dairy glut. As Chris Holman, a Wisconsin farmer who is active in the Wisconsin Farmers Union, noted in a recent blog post, the underlying problem is a "vicious cycle" that leads to oversupply: "When markets are up, farms often expand and production increases to take advantage of better prices. When the milk supply goes up and markets are down, farms often expand and production increases as they try to keep their heads above water." Holman recently told me that "if every dairy farm in Wisconsin culled one cow out of production, it would more than make up for the milk lost to Canada, and everyone can keep farming."
But organizing such a move would essentially require supply management—something anathema to big US dairy processors, which enjoy all the cheap milk encouraged by a lack of production controls. Ferd Hoefner, former policy director and current senior strategic adviser for the National Sustainable Agriculture Coalition, told me that the 2014 farm bill included a supply management program for dairy, but it was struck down at the last minute.
• Wisconsin is a dairy-heavy state—and one that Trump barely won. And also the home of Ryan, with whom Trump needs to be friendly if he is going to get anything done in Congress. Moreover, his anti-trade tirades have not been popular with US Big Ag interests, which rely heavily on exports. Applying his fierce trade rhetoric to pry open Canada's domestic dairy market may be a way for him to appease those interests.
Meanwhile, this week, Trump added more fuel to his trade war with Canada, imposing hefty duties on lumber imports from there. As the Los Angeles Times noted, "Dairy and lumber are sensitive industries in the heartland and rural parts of America, and any moves to strengthen those domestic constituents could help the administration garner congressional support for its broader trade policy objectives." And picking on Canada is less risky than picking on his usual targets, China and Mexico. "It's not like Canada is going to open up the border and let a whole bunch of Central Americans into the United States. So Canada is a pretty safe target," Laura Dawson, director of the Canada Institute at the Woodrow Wilson Center, told Politico.
*Clarification: This piece originally suggested that a change initiated by the Canadian government caused the price drop that priced US ultra-filtered milk out of the Canadian market. In fact, the price change emerged from an agreement between farmers and processors. "The government was not involved in these negotiations," a Canadian government spokesman said in a statement.