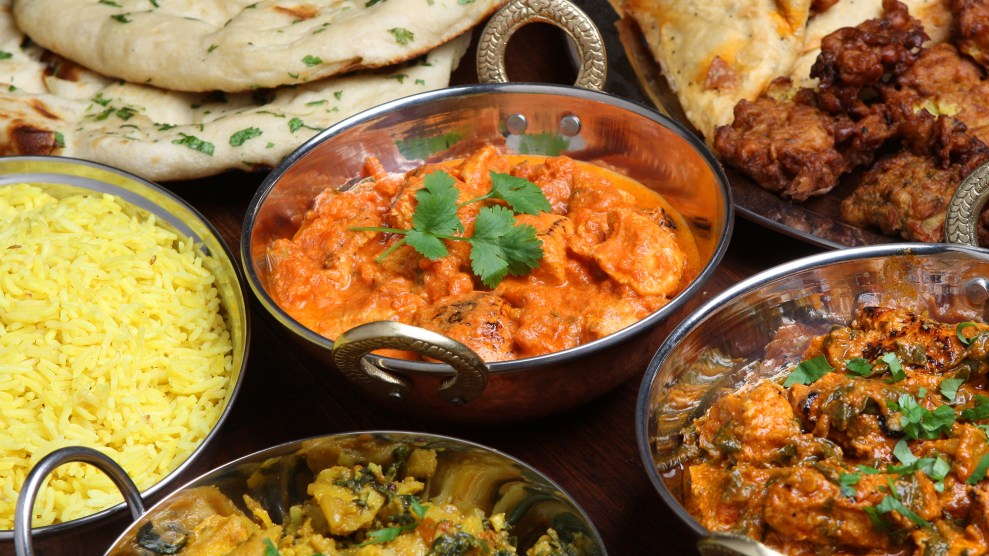 Perhaps you've heard by now about the Instant Pot, a slow cooker, rice cooker, food warmer, pressure cooker, sauté pan, and yogurt maker all rolled into one slightly unwieldy programmable metal contraption. Over the last few months, this kitchen gadget has garnered a lot of attention. It's a bestseller on Amazon. The New York Times took it for a spin, as did NPR's The Salt. Bon Appétit claimed it "will change your life."
But there's one group that applies exceptional creativity to the Instant Pot: people who cook Indian food. On a private Facebook group called Instant Pot for Indian Cooking, home chefs adapt traditional dishes—dals, biryanis, curries, and more—and post the photos and recipes to 70,000 members. They also poll each other for advice—questions like "How much paneer do you get from a gallon of whole milk" in the Instant Pot? and "Has anyone used packaged fried onion from the store for Instant Pot biryani?"
These folks are devoted to their Instant Pots. Many members boast that they've thrown away their traditional Indian pressure cookers. Someone recently posted a photo of her Instant Pot overlooking a scenic mountain vista. Yes, the Instant Pot went camping.
So what makes the Instant Pot so good for Indian cuisine? On the last episode of Bite, our food politics podcast, I had a quick lesson with Pooja Verma, who cooks a lot of Indian food for her family in Fremont, California. (The segment starts at 02:28)
Pooja told me she now does an impressive 80 percent of her cooking in the Instant Pot. One reason she likes it, she says, is that it's great for recipes that usually only work in India's hot climate. Take idlis—dumplings made from fermented rice and lentil flour. The key to making great idlis, Pooja explained, is that the batter must ferment without the addition of yeast. "So some smart people have figured out that the yogurt function in the Instant Pot emanates just the right amount of heat to get the batter fermented overnight." For more Instant Pot cooking tips from Pooja, listen to our latest episode of Bite.
Bite is Mother Jones' food politics podcast. Listen to all our episodes here, or by subscribing in iTunes or Stitcher or via RSS.