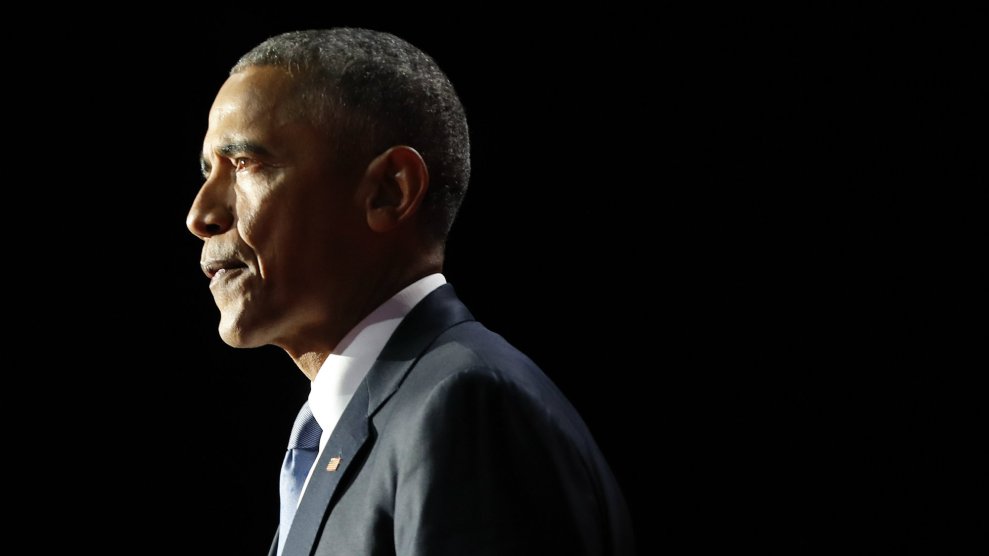 President Barack Obama has made one final contribution to the fight against global warming on his way out the White House door. On Tuesday, Obama transferred $500 million to the UN's Green Climate Fund, a key program set up to finance climate change adaptation and renewable energy projects in developing countries. That's on top of another $500 million the Obama administration had already given to the fund. As we explained in December:
In 2010, the United Nations established the Green Climate Fund, a mechanism for wealthy countries to finance efforts by poor countries to reduce their emissions and adapt to climate change. Four years later, Obama pledged $3 billion to the fund. In March this year—despite objections from the GOP-controlled Congress—the administration submitted its first payment of $500 million. The funds came from the Economic Support Fund, $1.9 billion that Congress had already appropriated to the State Department for the promotion of economic and political stability in countries with special conditions.
President-elect Donald Trump has repeatedly denied that global warming is real. During the campaign, Trump promised to cancel US commitments to support UN climate programs and instead pledged to use the funds for domestic priorities. Last month, more than 100 organizations called on the Obama administration to transfer the remaining funds before Trump takes office. Tuesday's announcement is likely to draw criticism from Republicans in Congress, but there's little they can do about it. Trump won't be able to reverse payments to the UN that have already been made.
Obama's total contributions of $1 billion are still far short of his $3 billion pledge, but his actions are drawing praise from climate activists. "The Obama administration is refusing to let President-elect Trump's posse of oil barons and climate deniers dictate how the world responds to the climate crisis," said Tamar Lawrence-Samuel of Corporate Accountability International in a press release. "This victory is the climate justice movement's opening salvo to the Trump presidency. And we're not going away."