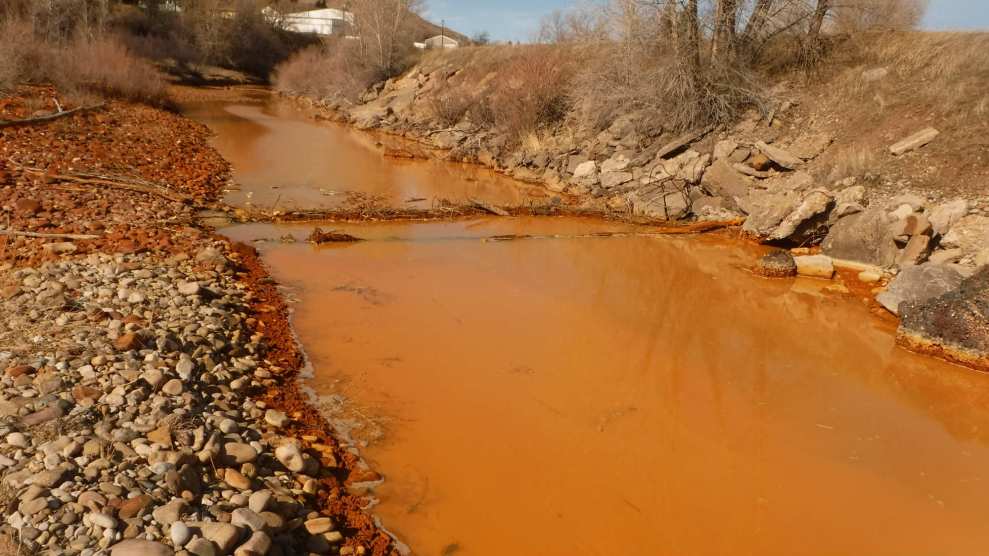 As the clock ticks down to the beginning of Donald Trump's presidency, the Obama administration is moving to enact one final measure aimed at cutting coal pollution. According to a spokesperson for the Interior Department, the administration intends to release an update to a decades-old regulation protecting streams from the impacts of mining before Obama leaves office on January 20.
Obama's climate and environmental policies have largely been defined by a slew of executive actions and new regulations, including limits on carbon and mercury emissions from coal-fired power plants; new fuel efficiency standards; and a moratorium on new coal leases on public lands. In recent weeks, the administration has finalized a rule that seeks to limit methane emissions from oil and gas facilities and has placed a chunk of the Arctic off limits to further offshore drilling.
The "Obama administration has frittered away its time," said Derek Teaney of Appalachian Mountain Advocates.
The Stream Protection Rule revisions would be one more piece of the conservation puzzle. The original regulations, enacted more than 30 years ago, were intended to protect streams and their ecosystems from waste discharged during coal mining operations. According to the environmental impact statement released by the Interior Department, "Scientific studies published since [the original regulations were adopted in 1983] have indicated that surface coal mining operations continue to have significant negative impacts on streams, fish, and wildlife."
Derek Teaney, senior attorney with the nonprofit Appalachian Mountain Advocates, says environmentalists have been waiting years for the rule to be strengthened. It was last updated by the Bush administration in 2008, and critics complained those changes left coal companies with too many loopholes. The Bush-era revisions were challenged in court by environmental groups, and the Interior Department withdrew them in 2014.
The industry disputes the idea that the existing regulations are insufficient. In a statement, the National Mining Association warned that the proposed revisions would destroy coal jobs while providing "no discernable environmental benefits while duplicating extensive existing environmental protections."
Republicans in Congress are also opposed. Jim Inhofe (R-Okla.), the outgoing chair of the Senate's environmental committee, said during a hearing in February that the proposal "would establish new onerous conditions." He called it "an illegal power grab."
The revised rule has remained in bureaucratic limbo for months, and now some activists are worried the delays will make it easy for Trump and the Republican-controlled Congress to stop it from going into effect. The initial draft of the revised rule was released in 2015, and the Interior Department released an environmental impact statement on November 16. According to federal law, the rule cannot be finalized for at least 30 days from the date of the final environmental impact statement, meaning the earliest it can be completed is mid-December.
The "Obama administration has frittered away its time," said Teaney.
"Time for this is past due. Please save our water."
According to Thom Kay of the environmental group Appalachian Voices, congressional Republicans who oppose the new rule may now be able to use an obscure law called the Congressional Review Act to overturn it. Under the CRA, Congress has 60 days after receiving a finalized rule to file a resolution disapproving it. If both houses pass the resolution, it goes to the president's desk, where it can be vetoed. (Last year, for example, Republicans in Congress attempted to use the CRA to overturn Obama's Clean Power Plan. Obama simply vetoed the resolutions.) But there will be a new president and a new Congress just days after Interior says the new Stream Protection Rule will be finalized. Trump—who has promised to revitalize the coal industry and to "rescind all the job-destroying Obama executive actions"—is unlikely to veto a resolution sent by majorities of his own party.
If congressional Republicans do employ this strategy to try to defeat the rule, Kay said it would be a "tough fight for us," but "one that we're willing to take on."
Local activists say the new rule is desperately needed to improve stream conditions. Matt Wasson, director of programs at Appalachian Voices, told Inhofe's committee at a hearing in February that the rule could prevent further harm caused by coal pollution to residents and wildlife in Appalachia. He cited lower life expectancy in coal mining areas and concerns about diseases such as cancer.
Some members of the public, who were allowed to comment on the rule over a period of three months, echoed Wasson's statements. One, identified by Wasson at the hearing as Gary Garrett from Tennessee, said, "It's gone! What once was a gathering spot for many locals is no longer and will never be again. The cold, crystal clear, mountain water that brought many folks with empty water jugs in hand to fill to a small mountain stream which once flowed down 78 Old Standard Hill in the Clairfield area of Claiborne County, Tennessee, is now covered up."
Another commenter, identified as Patrick G. Jones, from Kentucky, said, "As a citizen of Kentucky and frequent visitor of West Virginia I have seen far too many perennial streams destroyed by strip and deep mine runoff. Time for this is past due. Please save our water [lest] it become polluted by chemicals that can not be removed."