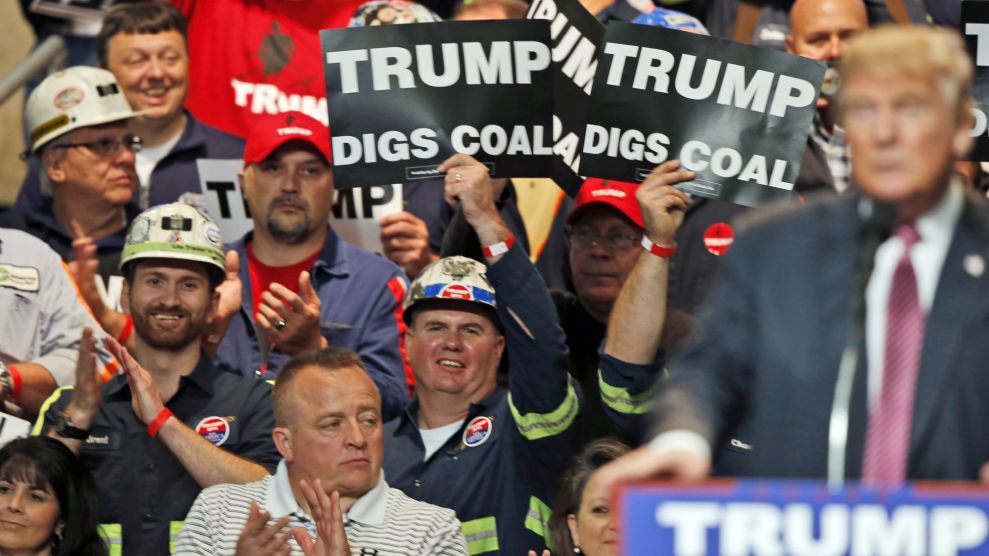 This story originally appeared on Grist and is reproduced here as part of the Climate Desk collaboration.
What's a candidate to do when he's strapped for cash and still 139 days out from election day? If you're Donald Trump, and you don't want to entirely self-finance, the answer to that question might lie in a business whose product has been called "black gold."
Trump pulled in just $3 million in individual contributions and reported having only $1.3 million in the bank at the end of last month, meaning he's got less cash on hand than either of his former rivals Ted Cruz or Ben Carson. Clinton's fundraising, meanwhile, dwarfs Trump's by nearly 40 times.
But Trump's got a plan. His first move after the abysmal fundraising report was to announce that he's holding an invitation-only fundraiser in West Virginia coal country next Tuesday, hosted by mining magnate CEO Robert Murray. Murray, one of the largest independent coal operators in the United States, only endorsed Trump after his first-choice candidate Cruz dropped out. His ringing endorsement of Trump was to say he's "all we've got."
Despite his absolute lack of knowledge about the coal industry, Trump feels comfortable enough to turn to the coal industry after a barrage of bad press. The magnates are looking to boost Trump's coffers, even though he can't do much to stop the industry-wide free fall.