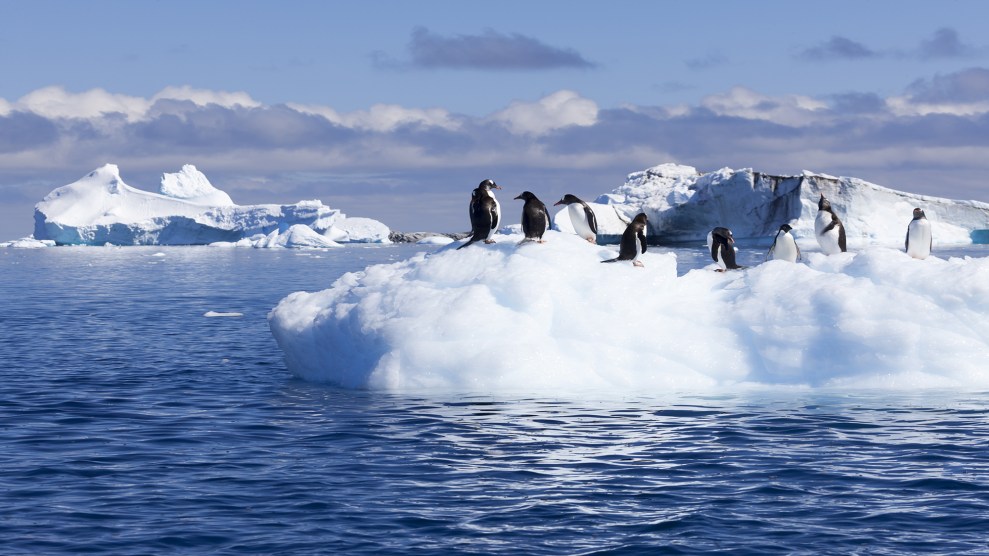 Let our journalists help you make sense of the noise: Subscribe to the
Mother Jones Daily
newsletter and get a recap of news that matters.
Oof. We just passed yet another climate change milestone, and it's a particularly troubling one. Carbon dioxide levels in Antarctica recently hit 400 parts per million, according to an announcement from the National Oceanic and Atmospheric Administration on Wednesday. It's the first time in 4 million years that the region has reached such levels.
Carbon dioxide—a heat-trapping gas produced by burning fossil fuels—is the primary driver of global warming. Carbon dioxide levels have been on the rise all over the world, but because Antarctica is so remote, the pollutant has accumulated more slowly there. Antarctic CO2 concentrations first surpassed the 400 ppm mark on May 23, according to measurements taken at the South Pole Observatory.
"The far southern hemisphere was the last place on earth where CO2 had not yet reached this mark," Pieter Tans, the lead scientist of NOAA's Global Greenhouse Gas Reference Network, said in a statement. "Global CO2 levels will not return to values below 400 ppm in our lifetimes, and almost certainly for much longer."