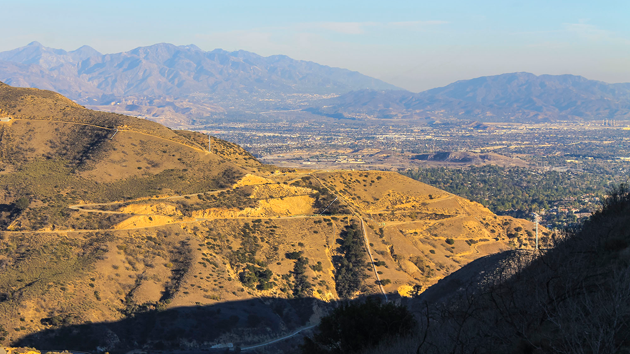 For more than two months, California has experienced a slow-moving environmental disaster: Methane leaking from a faulty natural gas well near the Los Angeles neighborhood Porter Ranch has displaced thousands of families and is releasing the greenhouse gas equivalent of driving 7 million cars each day. Here's what's going on:
When did all this start? On October 23, methane began leaking from a faulty well in Aliso Canyon, the site of a natural gas storage facility owned by Southern California Gas company. Since then, the well has been releasing about 70,000 pounds of methane every hour—equivalent to about a quarter of the state's methane emissions, according to CBS News. (Methane is a particularly powerful greenhouse gas; pound for pound, it traps 86 times more solar radiation than CO2 over a 20-year period.) SoCalGas estimates the leak won't be fixed until February or March.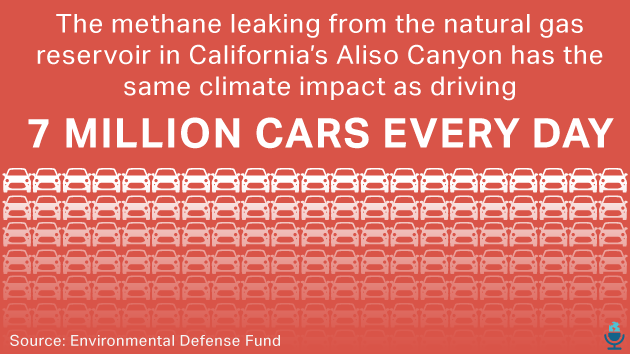 Why is it taking so long to fix? Often, leaky wells take just a few days to repair—you simply plug the well. But this leak is particularly tricky, in part because the gas is escaping not just from the well but from the soil and rocks around it. According to the Los Angeles Times, the leaky well in question is 61 years old. The reservoir holding the natural gas is among the biggest in the country, and it's thousands of feet below the ground. About 500 feet below the surface, there's likely a hole in the pipe that carries natural gas from the reservoir to the top of the well. That pipe is surrounded by a cement casing, and the gas may be leaking from the hole in the pipe into the cavity of the casing. From there, it flows down until the casing ends, where it leaks into the surrounding soil and rock. In order to fix it, crews will have to build an entire new relief well.
What's the impact on climate change? This is one of the largest—if not the largest—methane leaks on record, says Timothy O'Connor, the California Oil and Gas Program director at the Environmental Defense Fund. The EDF, which keeps a running counter of the leakage (below), estimates that roughly 10 million metric tons of carbon dioxide equivalent will have been released by the time the leak is stopped. That's about 6 percent of all methane emissions from the US gas industry in 2013.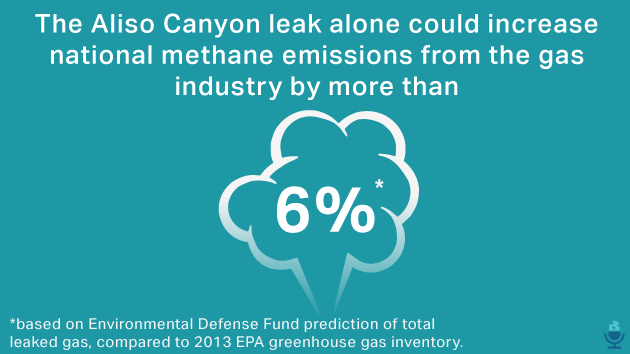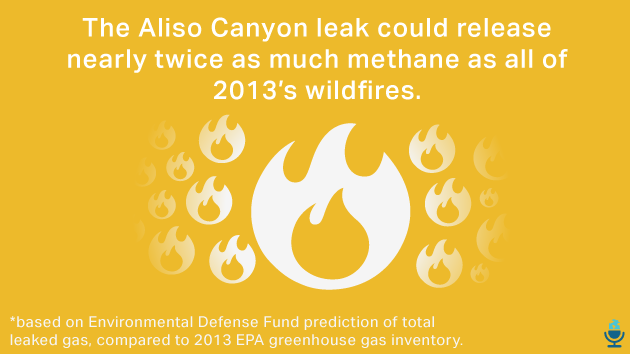 What's SoCalGas doing about it? According to company spokeswoman Melissa Bailey, SoCalGas is "doing everything we can to stop the leak as quickly as possible." Furthermore, the company has "committed to mitigating the effects" of the leak on climate change, and has reached out to Gov. Jerry Brown's office to do so. "We're not sure how the mitigation will happen—everything's on the table," said Bailey. "We want to make sure we don't set California back."
What symptoms are residents reporting? Nearby residents, most of whom live in an affluent neighborhood called Porter Ranch, have reported a number of acute symptoms, including blurry vision, nausea and vomiting, dizziness, shortness of breath, and headaches. These are likely due to exposure to mercaptans—chemical scents added to natural gas, which is naturally odorless. But the biggest concern for many is exposure to benzene, a known carcinogen that has been found at levels three to five times higher than those in urban Los Angeles. While the levels are lower than those expected to produce long-term health impacts, says O'Connor, "any exposure to those is concerning."
Are residents moving? Los Angeles County has ordered SoCalGas to temporarily relocate residents reporting symptoms from the leak. The company has paid to relocate 2,500 families, and more than 1,300 more are waiting to move, according to Bailey. Because the leak will likely not be fixed for two to three months, she wrote in an email, "we're working to provide residents with extended stay and more home-like accommodations."
Those residents must be pissed. Yup. Since the leak started, five lawsuits have been brought against SoCalGas, mostly from residents seeking damages and compensation for the impact on health and property prices. The city of Los Angeles has also sued SoCalGas for air and climate pollution.
What caused the leak to begin with? No one can say for sure—several investigations are currently underway. We do know that this facility had documented corrosion and well failures at Aliso Canyon; in a testimony last year, Philip Baker, director of storage operations at SoCalGas, wrote, "Well integrity may have already been severely compromised requiring immediate attention to maintain safety, integrity and reliability." (Baker was requesting permission to raise rates, saying the company would need more than $30 million to conduct repairs at its four storage facilities.) O'Connor says the leak represents a larger national problem: Aliso Canyon is one of the nation's 400 natural gas storage facilities, many of which were built before modern well standards were in place. Unlike natural gas production facilities, the storage facilities are exempt from the federal laws that regulate underground well integrity, leaving regulation up to the states. "The regulation of these facilities really flies under the radar until catastrophe strikes."