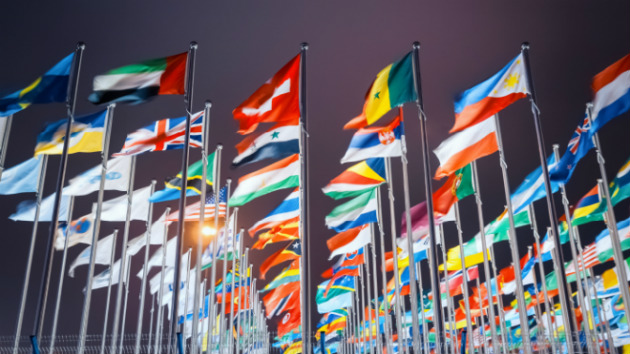 This story originally appeared in Slate and is reproduced here as part of the Climate Desk collaboration.
This week, more than 140 world leaders are gathering in Paris to kick off tense two-week treaty negotiations over the fate of a planet in crisis. If this were about any topic other than climate change, it might even make the news.
A jargon-filled monstrosity of diplomatic protocol…
Granted, there's been a lot of other news out of France recently—a major climate-themed march in Paris will be canceled for security concerns. And there is going to be a lot of coverage of the Paris climate talks. But it will be nothing compared to the attention that would be paid to a last-ditch meeting to avoid a nuclear standoff—even though climate change is no less dangerous. As Climate Home previews, "a treaty at this scale has never been accomplished before, and the one under construction will affect the way the entire global economy operates."
Maybe climate change tends to take a back seat because the talks themselves are a jargon-filled monstrosity of diplomatic protocol, which means no one—not even the diplomats themselves!—understands what's happening half of the time.
"The most experienced lawyer on the Earth will not be able to understand this text" says Oleg Shamanov, Russia envoy #ADP2

— Edward King (@edking_CH) October 23, 2015
Here we are, closing out what's quite possibly the warmest year since the invention of agriculture 10,000 years ago, with our atmosphere's carbon dioxide at record levels and emissions still rising. But, alas, the most interesting drama and diplomatic wrangling are buried in a sea of legalese and acronyms.
Case in point: Peru's environment minister, Manuel Pulgar Vidal—a key figure in recent years at international climate negotiations—recently tweeted a link to a document designed to provide a more-or-less official guide to the Paris talks. It's titled: "Scenario note on the twelfth part of the second session of the Ad Hoc Working Group on the Durban Platform for Enhanced Action." Not exactly helpful or soul-stirring.
So, here is my attempt to translate diplomat-speak to commoner language, focusing on why everyone's in Paris, what the major sticking points are, and what it all means:
"Ad Hoc Working Group on the Durban Platform," often abbreviated ADP2, especially for hashtagging purposes, is the official title of the international climate talks. Over the last four years or so, representatives from nearly every nation on Earth have gathered about once every three months, primarily in Bonn, Germany. At these preliminary talks, ADP2 laid the framework for a draft agreement—an unwieldy 54-page document. It's called the "Durban Platform" because back in 2011 in Durban, South Africa, world leaders agreed that the first global climate treaty would be agreed upon in 2015—which brings us to today, in Paris. This mega-gathering is officially the 21st Conference of the Parties to the Kyoto Protocol, or #COP21 for short.
The text of the Durban Platform contains 1,300 square brackets that provide different options for wording. For example, here's what the section on the global temperature target currently looks like:

In Paris, it will be the delegates' job to eliminate the square brackets in the text.
Among the major sticking points:
How much and how fast should countries reduce their emissions?: The world's first climate treaty, the United Nations Framework Convention on Climate Change, was signed by 165 countries in 1992. Enshrined the UNFCCC, is the idea of "common but differentiated responsibility" that although all countries should reduce their emissions, developed countries with historically high emissions—like the United States, Japan, and Germany—should make steeper cuts. Negotiations leading up to Paris produced a series of voluntary pledges, or Intended Nationally Determined Contributions (INDCs) designed to allow countries to set their own plans, and then be shamed by the international community into ramping them up. It's worked, sort of, but since the INDCs alone are not enough, a major topic at Paris will be coming up with a method to keep increasing the rate at which countries cut emissions.
Finance: One way to encourage climate-friendly development that is for rich countries to give poor countries lots of money. Developed countries have already committed to contributions of $100 billion per year by 2020, but there's still no clear idea on where that kind of money would come from. Many poor countries, to their credit, have hard-coded their finance requirements into their INDC pledges, noting they'd be able to transition to renewable energy much more quickly with help from the international community.
Loss and damage: Even with rapid emissions reductions, there's still a lot of warming in the pipeline thanks to thermal inertia in the ocean and the inherent lag in the global climate system. Basically, if we stopped all emissions now, the amount of CO2 in the atmosphere would quickly stabilize and then slowly decline—but elevated levels would remain for centuries, barring the widespread adoption of some sort of carbon-sucking geoengineering. That means that climate-linked disasters will continue to escalate over the coming decades, and like most disasters, they'll hit poor and vulnerable countries the hardest. Understandably, these poor and vulnerable countries want a mechanism in place to appeal for aid and help in adapting to future weather extremes.
Ratchet mechanism: Since the Paris talks on their own won't fix climate change, a key negotiating point will be how often countries should announce bolder targets. Rich countries are generally advocating a ramp-up in targets once per decade, while poor countries say new targets should be agreed upon once every five years.
Since the UN climate talks operate by consensus, the strategy this time around, to avoid the failures of Kyoto and Copenhagen, is to make everything voluntary. Still, the European Union—especially host country France—wants the Paris deal to be legally binding. That would mean it would need to be approved by the Republican-controlled US Congress, which is about as likely as a snowball's chance in the Oklahoma summer. So, the US is forcefully opposing strict legal language in Paris.
Some other key players to watch:
The G77 + China, which now contains 134 members (with China playing an increasingly minor role) is a major force for the interests of developing countries. China and India increasingly operate like heavyweight developed countries; they act as a sort of intermediary between the EU/US and the truly threatened countries like Bangladesh, Burkina Faso, and the Maldives. Among the groups advocating for the strongest possible climate deal are the Alliance of Small Island States (AOSIS), the Vulnerable Countries Forum (V20), and the Least Developed Countries (LDC). Major fossil fuel producing countries like Russia, Venezuela, and Saudi Arabia will advocate for the weakest deal possible.
If you'd like to follow along with the negotiations on Twitter, I've put together a list that includes the best climate journalists, activists, and diplomats from the talks.
No matter what's decided in Paris, it won't immediately be enough to bend global emissions to a level consistent with the internationally agreed-upon goal of limiting warming to 2 degrees Celsius above pre-industrial levels. But it probably will be enough to avoid the worst-case scenario. In the cards is a deal that will explicitly, for the first time, advocate for the eventual phase-out of fossil fuel use altogether—something that, absurdly, has never been enshrined in formal language at this high of a level. And that, if done in the next three decades or so, would be worth celebrating.