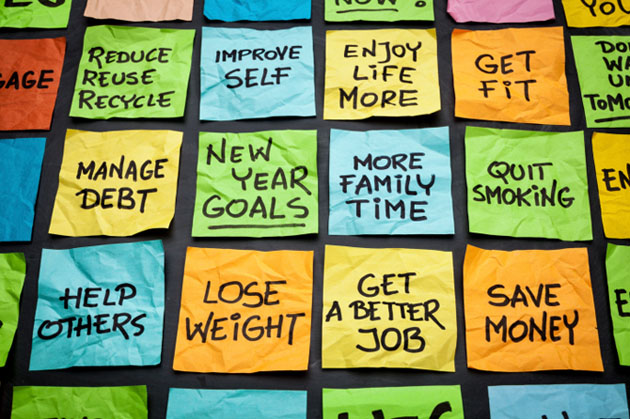 We've all heard this advice before. We might have even passed it on to encourage a struggling friend or to mentor a younger person: Follow your dreams. Imagine the future that you want, and it will come to pass. And yet, we still struggle to lose that weight, or finish that project, or improve that relationship. When we make resolutions at the start of each new year, it's easy to feel optimistic that this time it will be different. But deep down we know that if it didn't work in the past, it's unlikely to work in the future.
Believe it or not, there's substantial scientific evidence that fantasizing about a bright future can actually make us less likely to achieve our goals. "We have found that the more positively people daydream about the future, the less well they do over time," explains Gabriele Oettingen on the latest episode of the Inquiring Minds podcast. Oettingen, a professor of psychology at New York University and the University of Hamburg, has been studying the science of motivation for more than 20 years. And her new book, Rethinking Positive Thinking, challenges the conventional wisdom about optimism.
In one early study, for example, Oettingen and her colleagues tracked the progress that a group of obese women made as they attempted to lose weight. The researchers recorded the extent to which these women fantasized about their svelte future selves. The results were surprising: It turned out that women who had frequent positive daydreams about being thin were actually less likely to lose weight.
"We have found that the more positively people daydream about the future, the less well they do over time."
And in a more recent study, Oettingen and her colleagues asked undergraduates to daydream about a future in which they had positive, negative, or neutral experiences. Once again, the results were striking—positive fantasizing led to poorer achievement outcomes. "And the more positively they fantasized about an easy transition into work life, the less well [they did] in the future," says Oettingen. Why was this the case? The study suggested one possible mechanism by which positive daydreams can affect productivity: Using physiological instruments and behavioral indicators, the researchers found that these types of thoughts actually sap a person's energy. (Exactly why that happens remains a mystery.)
So is the link between positive thinking and achieving one's goals completely spurious? Can we finally just agree that you can't dream your way to success? Well, not so fast.
As scientists disentangle the different ways in which we can engage in positive thinking, an interesting distinction between positive expectations and positive fantasies has emerged. Positive expectations based on past experience are generally a good thing. For example, "you expect that you do well in a meeting because, in past meetings, you did well, especially in this specific context," explains Oettingen. But daydreams about the future, in which we indulge in optimistic fantasizing that isn't based on solid evidence, can be counterproductive.
Remember the women in Oettingen's early study who wanted to lose weight? It turns out that if they had a positive expectation of success, but realistic or negative daydreams (perhaps imagining what it would be like to bulge out of a favorite pair of jeans), they were more likely to shed pounds.
What's more, Oettingen has found that a specific method of positive thinking can lead to better outcomes. She calls it "mental contrasting." "It starts with identifying a wish," she explains. The wish can be big or small—a major life change or just a task that needs to be completed today. "And then," she says, "you identify the best outcome if you fulfill that wish." That's where the daydreaming comes in. You fantasize about what your future will be like if you attain your wish.
But don't stop there, even though it's enjoyable. Instead, make a serious effort to think about the obstacles that stand in your way. "Now what is it in me that holds me back?" Oettingen says. "What is it actually that stops me from fulfilling that wish and experiencing that outcome?" This is the "contrasting" portion of mental contrasting. Once you identify the obstacle, you go back to fantasy land and imagine what you need to do to overcome that barrier. The last step is to lay out a plan—either by writing it down or simply by thinking about it—that includes both your desired outcome and the ways in which you can overcome the obstacles that have thwarted you in the past.
"We have plenty of experiments which show that this mental contrasting is effective," says Oettingen. And not just in one domain—mental contrasting works for problems related to your work, your family life, and even your interpersonal relationships.
But careful! Oettingen says the order of your directed thinking matters. For example, she points to one study in which her participants hoped to become more physically fit. She divided them up into two groups: Both groups fantasized about a future in which they were more fit, and both thought about the obstacles that stood in their way. But one group used mental contrasting—that is, they first imagined their future accomplishments, and then they thought about the obstacles they needed to overcome. The other group reversed the process: They imagined the obstacles first and then fantasized about the future.
After this exercise, Oettingen asked participants to go from the ground floor of the building to the fourth floor, where they would meet to discuss the experiment. Then she counted how many of them rode the elevator to get there. And sure enough, the people who used mental contrasting in the correct order were more likely to take the stairs.
Click below to listen to the full interview with Oettingen:
Inquiring Minds is a podcast hosted by neuroscientist and musician Indre Viskontas. To catch future shows right when they are released, subscribe to Inquiring Minds via iTunes or RSS. We are also available on Stitcher. You can follow the show on Twitter at @inquiringshow and like us on Facebook.