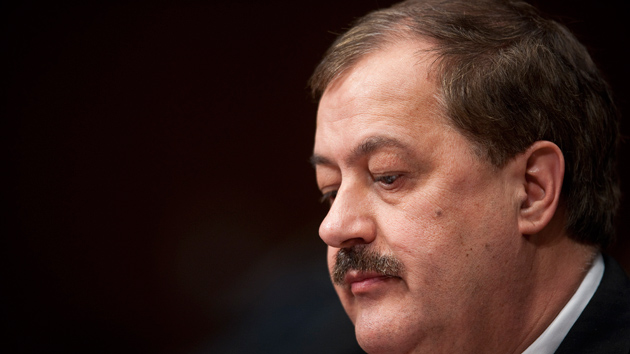 Former Massey Energy CEO Don Blankenship was indicted by a federal grand jury on Thursday, more than four years after an explosion at his company's Upper Big Branch Mine killed 29 coal miners. The four-count indictment alleges that Blankenship "conspired to commit and cause routine violations of mandatory federal mine safety standards" in order to "produce more coal, avoid the costs of following safety laws, and make more money." (Blankenship was also indicted for allegedly making false statements to the Securities and Exchange Commission.)
Blankenship, characteristically, is not backing down. In a statement, his attorney, William Taylor, said that "Mr. Blankenship is entirely innocent of these charges. He will fight them and he will be acquitted." Taylor called Blankenship "a tireless advocate for mine safety" and argued the prosecution had been triggered by Blankenship's "outspoken criticism of powerful bureaucrats."
But the 43-page indictment tells a different story—in which Massey employees devised secret codes to thwart safety inspectors, and workers risked drowning while laboring in flooded mines that lacked even the minimum safety precautions.
Here are some allegations from the indictment:
The Upper Big Branch mine averaged nearly one safety violation a day: Between January 1, 2008, and April 9, 2010, the Upper Big Branch mine was cited "approximately 835 times for violations of mandatory federal mine safety and health standards." That includes 283 "violations of the laws on mine ventilation, which operate to prevent explosions and fires in coal mines," and 59 violations that required a part of the mine to be shut down. According to the indictment, "UBB ranked among the worst mines in the United States in such shutdown orders during the Indictment Period."
Upper Big Branch was the company's cash cow: Per the indictment, the Upper Big Branch mine group "generated revenues of approximately $331 million" in 2009—good for 14 percent of the company's overall revenue and more than any other group of Massey mines.
The ceiling was literally falling down, and the company knew it: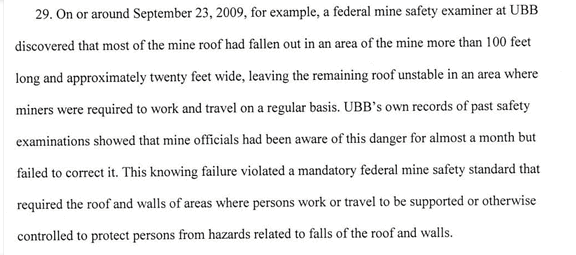 Massey had a secret code to foil safety inspectors: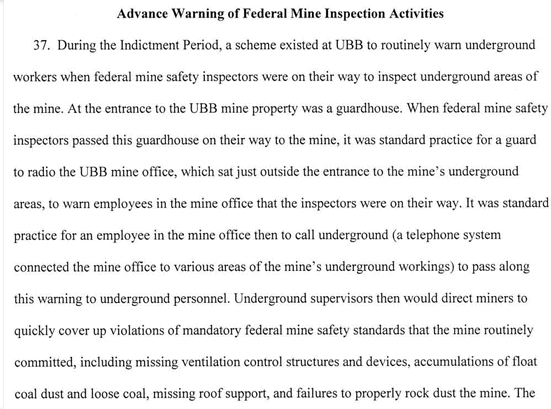 According to the indictment, "UBB employees frequently used code words and phrases when discussing imminent safety inspections on the mine telephone system." The advance warning system allegedly had the support of UBB officials—and as a consequence, some portions of the mine could have as much as two hours to prepare for an on-site inspection. In at least one case, Blankenship himself allegedly encouraged advance warnings of inspections:

"We'll worry about ventilation…at an appropriate time":
Although Massey was cited for 283 separate violations of mine-ventilation standards, putting employees at risks of explosions, the indictment says Blankenship ordered his subordinates to "run some coal" instead of addressing ventilation issues:

Miners operated in flooded conditions:
According to the indictment, a Massey executive ordered workers to stop production on a necessary drainage system for a new mine project, so that they could extract more coal. As a result, workers were exposed to dangerous, flooded conditions: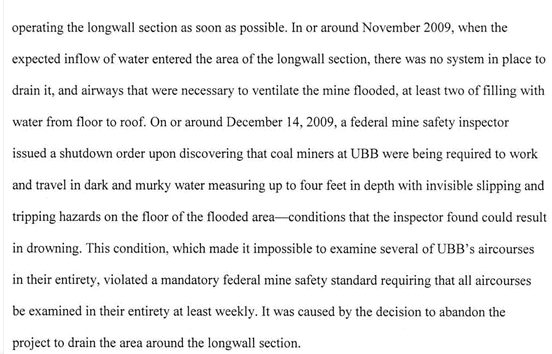 Blankenship called mine-safety expenditures "literally crazy":
In 2008, Blankenship allegedly sent a note to an Upper Big Branch official to instruct him not to spend so much of his resources on mine safety.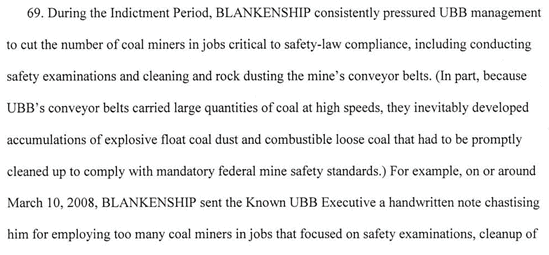 "I could Krushchev you":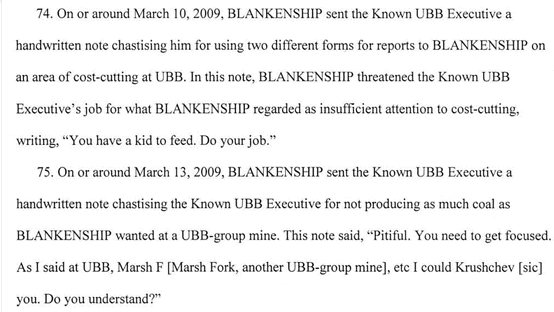 "children could run these mines better than you all do":
In internal memos, according to the indictment, Blankenship pressured his subordinates to drive up their profit margins, sometimes complaining that they were too concerned with "construction" projects—like basic mine-safety improvements. In one memo, he wrote: