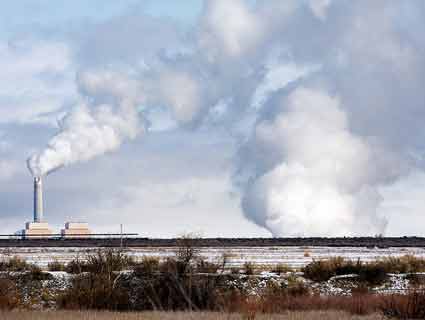 Fight disinformation:
Sign up
for the free
Mother Jones Daily
newsletter and follow the news that matters.
Now that the election is over and Barack Obama will be staying in the White House for another four years, environmental groups are hoping that some long-awaited new rules will break loose from the regulatory logjam.
It's no surprise that a lot of the rules that seemed to do a disappearing act are the ones that the fossil fuel industry and Republicans in Congress have opposed. "It takes no genius to see that from mid-summer until now there were not going to be any major controversial rules finalized until after the election," said Trip Van Noppen, president of Earthjustice, which has filed suit to speed up the delivery of several of these delayed regulations.
While some rules were delayed this year because of election season strategizing, others have been backlogged for years. The sticking place for many of them is the Office of Information and Regulatory Affairs in the Office of Management and Budget, a White House outpost that is supposed to review draft regulations within 90 days. Many advocates for tougher environmental and public health rules blamed OIRA for being too timid in Obama's first term, weakening or delaying any rule that could be contentious.
Here are eight environmental problems that the Obama administration could soon get around to regulating:
1. Greenhouse gas emissions: Last March, the Environmental Protection Agency announced new limits on greenhouse gas pollution from power plants. The new standards would make it very unlikely that any new conventional coal-fired plants would be built in the United States. The comment period on the new rule closed in June, but the EPA has yet to finalize the rule. The EPA also has not yet issued rules for existing power plants, but is expected to do so once the rules for new power plants are in place.
2. Ozone pollution: In January 2010, the EPA rolled out tough new standards for ground-level ozone pollution, which creates smog. But then the proposed rules just sat there, and sat there, until September 2011, when President Obama personally stepped in to quash the ozone rule as part of his effort to reduce "regulatory burdens and regulatory uncertainty," directing the EPA to hold off on updating the standard until 2013. Enviros were livid, accusing Obama of throwing the ozone rule under the bus in his attempt to appear business-friendly in the run up to the election. Meanwhile, the tougher rules would save an estimated 2,450 to 4,130 lives per year, according to a recent study from researchers at Johns Hopkins University.
3. Emissions from industrial boilers: Rules on toxic emissions from industrial and commercial boilers—the ones powering factories and other major facilities that aren't power plants—have been in the works since the Clean Air Act was amended in 1990. The Obama EPA proposed new rules in April 2010, but when the final rules were issued in February 2011, they were substantially different from the initial rules—prompting the agency to ask for "further public review." The agency released a weaker version of the rule in December 2011, but opponents of the rules still freaked out, and they have yet to be finalized.
4. Potentially toxic chemicals: In December 2009, the EPA announced that it had created a list of chemicals that it believes "may present an unreasonable risk of injury to health and the environment." This marked the first time that the EPA had flagged new chemicals since the Toxic Substances Control Act became law in 1976, and it included potential hormone disruptors such as phthalates and some types of flame retardants, among others. The proposal to list these chemicals went to OIRA in May 2010 and hasn't been seen since then—likely thanks to pressure from ExxonMobil and major chemical manufacturers, as the Center for Public Integrity has reported.
5. Sulfur in gasoline: The EPA was supposed to issue new limits on sulfur in gasoline, a move that would reduce pollution from cars and light trucks, back in March. The agency got a lot of flak from Congress and oil interests who argued that it would raise gas prices. Automakers, however, cheered the new rules, which would help them meet new fuel economy standards from the Obama administration. Lowering the amount of sulfur in gas, says Frank O'Donnell, president of Clean Air Watch, would be "the single most effective smog-reduction strategy—the equivalent of taking 33 million cars off the road immediately."
6. Coal ash disposal: In October 2009, the EPA issued a proposed rule that designated coal ash—the stuff left behind when you burn coal for power—as a hazardous waste that requires special disposal, as it contains toxic substances like arsenic, mercury, and lead. The rule went to the OIRA, and reemerged as two potential rules: one that looked like what EPA sent over, and a second, more lax version that would leave regulation largely to individual states and leave out the word "hazardous." (That word is a nonstarter for Republicans in Congress and for the for the coal ash industry, which argues that a "hazardous" designation would stigmatize the cement, bowling balls, and other objects they make from the waste.) Now more than three years later, there is still no federal rule governing coal ash disposal.
7. Soot: The EPA is under a court-issued deadline to issue a final rule on fine particle pollution, better known as soot, by December 14. The agency issued draft rules in June after a group of states and environmental and public health organizations filed a lawsuit against it. (The rules were due in 2011, but the EPA had argued that it needed more time.) The proposed rule would reduce the acceptable level of fine particle pollution by about 17 percent, forcing power plants, trucks, and factories to clean up their act in counties that are not meeting the standard.
8. Water pollution: The EPA and the US Army Corps of Engineers issued draft guidance about which bodies of water should be protected under the Clean Water Act back in April 2011, an attempt to clarify that wetlands and streams qualify for federal protection, just like lakes and rivers. The EPA's guidance has been stuck over at the White House for more than a year now, prompting the New York Times to complain that it had become a "prisoner of election-year politics."
Advocates point to a major question that might affect all these rules: who's in charge at the agencies. The OIRA head for most of Obama's first term, Cass Sunstein, resigned in August, and his replacement has not yet been named. Environmental and public health advocates were not big fans of Sunstein, and are waiting to see who takes over at OIRA. "If the person didn't view his agenda as playing Whack-a-Mole with everything the agencies send over, it would be a very positive development, and long overdue," said Rena Steinzor, a professor of law at the University of Maryland and the president of the Center for Progressive Reform.
There's also widespread—but unconfirmed—speculation that EPA administrator Lisa Jackson won't stick around for a second term. In general, environmental advocates have been pleased with her tenure, and they worry that appointing a new head for the agency could lead to a confirmation battle in the Senate.