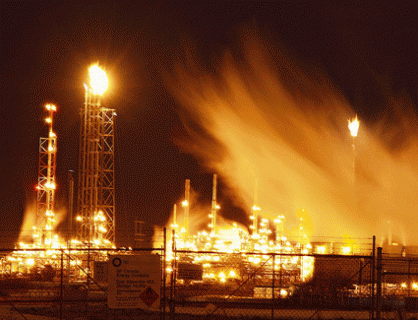 Fight disinformation:
Sign up
for the free
Mother Jones Daily
newsletter and follow the news that matters.
Recent debate over the Keystone XL oil pipeline has turned a spotlight on Canada's controversial and oil-rich tar sands, which would be the source of crude oil flowing through the pipe to the Gulf of Mexico. Tar sands oil has faced stiff criticism from environmental groups, which say that it's far dirtier than its Middle Eastern counterpart despite claims from the Canadian government and industry groups that they keep a close eye on environmental impact.
But long before the Keystone XL became a cause célèbre, tar sands oil was already ubiquitous in America: It goes to fuel our cars and corporations' trucking fleets, and it's used in the production of products from aluminum cans to asphalt. Starting last year, San Francisco-based environmental advocacy group Forest Ethics launched a campaign to encourage American companies to boycott tar sands oil and, specifically, the refineries that process it (below).
Using data from the federal Energy Information Administration (which tracks imports of unprocessed crude oil), Forest Ethics compiled a list of nearly 50 US refineries that handle tar sands oil (MoJo made the above map based on that list). In these refineries, the heavy, molasses-like "bitumen" from the tar sands undergoes heating, blending, and other refining steps and comes out as useable fuel, ready to be pumped into a long-haul semi. What the map shows, Forest Ethics campaign director Aaron Sanger said, is that "unless you take action to take tar sands oil out of your footprint, you've got it in your footprint."
By "you," of course, Sanger doesn't mean you, dear reader: When you fill up at the local gas station, there's really no way to know from which refinery your fuel is coming. (Chances are it has been blended from several before reaching the pump.) Instead, he's referring to companies whose in-house or contracted trucking fleets buy fuel in bulk directly from refineries or through a broker (known as a "jobber" in industry parlance). Forest Ethics has persuaded 14 such companies, including Trader Joe's, Whole Foods, and LUSH Cosmetics, and Chiquita, to downsize their transportation footprint, in part by avoiding fuel from any of the refineries on the map.
"You and I as individuals don't have much leverage over the fuel sources," Sanger said. "But big companies do."
At stake is a serious chunk of change: The tar sands industry was worth $13.4 billion in 2009 (down from $20.5 billion in 2008), and oil from Alberta, the western Canadian province the tar sands call home, made up 15 percent of American crude imports, according to statistics from the Albertan government.
Consequently, applying that leverage is no easy task. Over the last couple years, Sanger and colleagues have reached out to 200 big companies, and in every instance when one agreed to investigate its fuel sourcing, there was tar sands oil in the mix, he said. TA Travel Centers, a major "over-the-road" fuel supplier to trucking fleets, found that it buys fuel directly from a quarter of the refineries on the map. For companies on the Forest Ethics list like Walgreens, cutting tar sands oil out means negotiating with fuel brokers and/or truck refilling stations and the possibility of not renewing contracts with those who are unable or unwilling to avoid tar sands oil. Sanger said that Trader Joe's, for example, has made avoidance of tar sands oil a contractual obligation for its distributors.
On top of all that, there's the issue of bad press. The oil industry is an economic behemoth in Alberta; according to the Albertan government, it employs some 136,000 people and constitutes roughly 30 percent of Alberta's GDP. Boycotting tar sands oil means turning a cold shoulder to potential customers in the region, which some companies have been loath to do. Last year, a handful of companies (including The Gap and Levi Strauss) lashed back at Forest Ethics for being included on the anti-tar-sands list, claiming that although they were investigating their fuel sources, they weren't necessarily giving the ax to the tar sands. ("We do not take a position opposing or supporting any fuel or energy source from any country or geography," a Levi Strauss spokesperson said then).
Earlier this year, an Albertan business advocacy nonprofit called Alberta Enterprise Group (AEG) launched a counter-boycott campaign on Facebook, calling Forest Ethics' bluff and urging Canadians not to buy products from businesses who have agreed to cut out tar sands oil.
Companies with an interest in Albertan business "ought to think twice about discriminating against Alberta's energy," said AEG Vice President David MacLean. "We want to push back on behalf of Albertans who benefit from this industry."
MacLean added that good environmental stewardship has always been a component of the oil sands industry. But projections from Canada's environmental ministry point to an estimated 740,000 acres of boreal forest being chopped down over the next decade to make way for tar sands development, and some estimates peg the carbon footprint of tar sands oil extraction at up to 70 percent higher than other crude oil sources.
Moreover, environmental groups have raised concerns about negative health impacts in the neighborhoods surrounding refineries that process tar sands oil and even at the extraction sites themselves: A few years ago, MoJo reporter Josh Harkinson described seeing his small airplane reflected in "a shimmering reservoir of oil waste" near Alberta's Athabasca River. Tar sands oil is much heavier than conventional oil and, to ease transportation to refineries via pipeline, it must be watered down at the extraction site with a natural gas byproduct that is later burned off in the refining process. At the same time, sulfur (with which tar sands oil is notoriously loaded) and a slew of heavy metals are extracted and either sold off or released into the environment. A December 2010 Sierra Club report linked tar sands refineries emissions to prenatal brain damage, asthma, and emphysema, and it also suggested a disproportionate placement of tar sands refineries in low-income minority neighborhoods.
"We do believe that tar sands refineries are dirtier and more dangerous" than other refineries, Sanger said.
In any case, there's little disagreement that avoiding tar sands oil is a sticky situation for American consumers. MacLean even scoffed at the basic premise of the Forest Ethics push to cut tar sands oil from supply lines: "I think that's technically impossible." Still, Sanger said, pressure from consumers on big trucking companies like UPS and FedEx—and the retailers who rely on them—could help rein in our dependence on the tar sands. Convincing truckers to drop tar sands oil could in turn convince refineries to drop it too. "Let's contain it," he said. "Let's not let this problem get outside the regions where it already is."