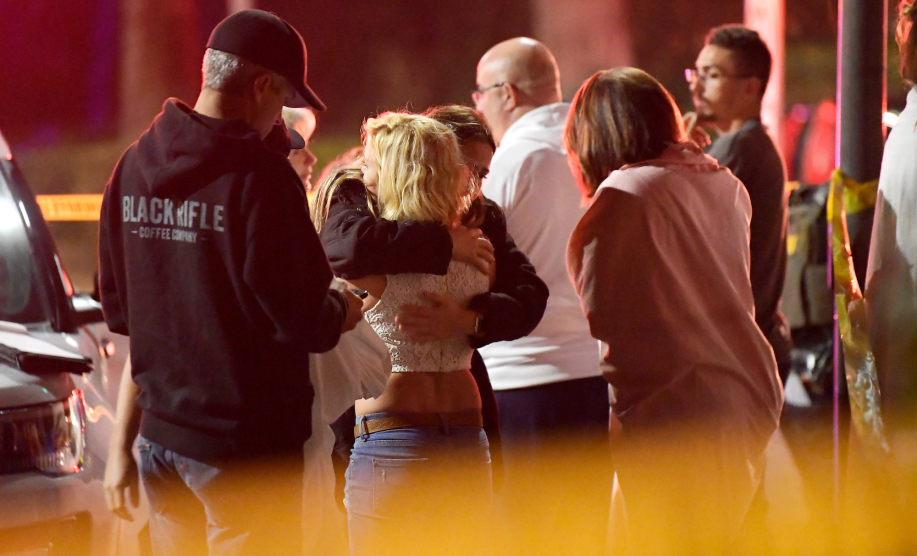 At least 12 people, including a veteran sheriff's sergeant, were killed late Wednesday when a gunman opened fire inside a Thousand Oaks, California, bar that had been hosting a "college country night."
Police on Thursday identified the suspected shooter as 28-year-old Ian Long. Ventura County Sheriff Geoff Dean told reporters they had had several contacts with Long, including a 2015 bar incident in which Long was the victim of battery. In April, officials came to his house in response to a disturbance report. "He was somewhat irate," Dean told reporters. "Acting a little irrationally. They called out our crisis intervention team, our mental health specialists who met with him, talked to him and cleared him." (For more on the related work of threat assessment, read our deep-dive.)
A motive is unknown at this time.
Long was found dead inside the Borderline Bar & Grill when law enforcement officials subsequently arrived at the scene west of Los Angeles. Authorities estimate "hundreds" of people, most of whom were likely students from nearby colleges, were inside the venue when the shooting occurred.
"It's a horrific incident," Dean said at an earlier press conference. "It's part of the horrors that are happening in our country and everywhere and I think it's impossible to put any logic or any sense to the senseless."
While holding back tears, Dean described Sgt. Ron Helus, the 29-year veteran officer killed in the shooting, as a "hardworking, dedicated sheriff's sergeant."
"He was totally committed. He gave his all, and tonight, as I told his wife, he died a hero, because he went in to save lives, to save other people."
"He died a hero. He went in to save lives, to save other people."

Ventura County Sheriff Geoff Dean honors sheriff's Sgt. Ron Helus who died after the Southern California shooting #Borderline pic.twitter.com/8XhShrgAGe

— TicToc by Bloomberg (@tictoc) November 8, 2018
Some tearful reunions among those presumably (though unconfirmed) at Borderline or who knew them at Borderline. #Borderline #BorderlineShooting #ThousandOaksShooting @vcstar pic.twitter.com/0Ik19qFyGa

— Jeremy Childs (@Jeremy_Childs) November 8, 2018
In a heartbreaking interview, one witness told ABC7 that he saw the gunman firing into the crowd. "He didn't say anything, at all. He just started shooting. I should have stayed till he changed his clip, but I was worried about my boy."
"They're all young," he continued. "I'm 56, I've lived a life. They're all young. This shouldn't have happened to them."
Absolutely heartbreaking interview from witness with @ABC7Jory at scene of reported mass shooting at #Borderline in #ThousandOaks. "They're so young, this shouldn't have happened to them." pic.twitter.com/gwHU4XCfaO

— Greg Lee (@abc7greg) November 8, 2018
The New York Times reported that some of the bar patrons in Wednesday's shooting said they had survived the country music festival shooting in Las Vegas that killed 59 people last year.
This is a breaking news post. We will update as more information is confirmed.