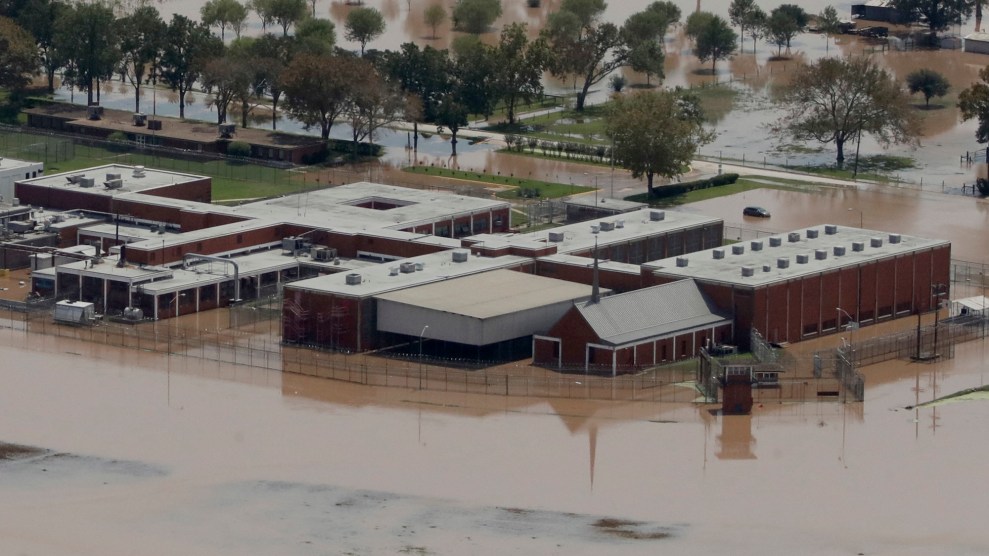 Fight disinformation:
Sign up
for the free
Mother Jones Daily
newsletter and follow the news that matters.
More than 1 million residents have been ordered to evacuate regions of North Carolina, South Carolina, and Virginia in the face of Hurricane Florence, the Category 4 storm expected to blast coastal counties with potentially deadly wind and floods after it makes landfall Friday. But as scores of residents prepare to head for safer ground, some prison officials and sheriffs are planning to leave thousands of people in the mandatory evacuation zones behind: the prisoners, guards, and staff at a South Carolina state prison and three city jails in Virginia.
South Carolina's MacDougall Correction Institution was built more than 50 years ago and now holds around 650 men in medium-security lockup. The state prison is located in Berkeley County, one of five counties under a mandatory evacuation order from Gov. Henry McMaster that went into effect Tuesday. "We're not going to gamble with the lives of the people of South Carolina," McMaster said at a news briefing. "Not a one."
But according to current plans, prisoners will remain at the facility, along with corrections officers who have scheduled shifts, according to South Carolina Department of Corrections spokesman Dexter Lee, who says the agency will continue to monitor the hurricane to determine if evacuating MacDougall is necessary. Inmates at MacDougall were not evacuated during Hurricane Hugo, a Category 4 storm that hit South Carolina in 1989, and the prison "didn't have any structural damages," Lee explains. "Previously, it's been safer to stay in place with the inmates rather than move to another location," he told Vice News.
South Carolina also has no plans to evacuate Ridgeland Correctional Institution in Jasper County, which was initially expected to experience some of the most severe storm conditions in the state, according to The State. (The governor lifted the mandatory evacuation order for Jasper County on Tuesday, citing updated forecasts.)
In Virginia, meanwhile, a few city jails are also planning to sit out the storm despite being located along the low-lying coastline, where Gov. Ralph Northam ordered a mandatory evacuation starting Tuesday. In preparation, the Norfolk Sheriff's Office ordered 3,200 gallons of fuel for the city jail and two weeks' worth of food and medicine for its 1,100 inmates, and arranged for guards to stay in hotel rooms nearby, the Virginian-Pilot reports. The sheriff's office staff also printed out paper copies of prisoners' medical records, anticipating power outages. The 240-bed Portsmouth City Jail has also declined to evacuate despite the governor's order, as has the Chesapeake City Jail, which holds roughly 1,000 inmates.
Yet a few miles down the road in Chesapeake, outside the mandatory evacuation zone, Virginia officials decided to transfer nearly 1,000 men from the Indian Creek Correctional Center to another state prison about 100 miles inland, according to the Virginian-Pilot.
The North Carolina Department of Public Safety is taking fewer chances. Several hundred juvenile and adult prisoners are being evacuated from facilities located in the storm path, with transfers expected to conclude Wednesday, said Jerry Higgins, a spokesman for the agency. Each inmate will be allowed to make a free phone call to a family member over the weekend, he added.
So what can the thousands of prisoners forced to remain in evacuation zones expect as a storm of unprecedented power makes landfall? As my colleague Nathalie Baptiste reported last year, during Hurricane Harvey conditions for thousands of men inside Texas state prisons deteriorated rapidly:
The Category 4 storm made landfall in Rockport, a small town on the Gulf Coast on Friday, August 25. The next day, the storm slammed into Beaumont, a city of 118,000 located 85 miles east of Houston. Four prisons are there—three of them state facilities and one federal—and the town was hit hard by Harvey. Its water pressure system failed, leaving residents with little access to clean water. They were told to boil their water starting September 1. The notice was lifted eight days later.

After the storm, the Houston Chronicle reported that Clifton Cloer, another inmate at the Stiles Unit, told his wife the facility had flooded and the water was up to his knees. Conditions at the prison began to deteriorate in the pre-dawn hours on Monday, August 28. "The water at the prison was shut off without notice," Hartvikson writes in his four-page letter, "and the ceilings in our cells started leaking, causing dirty water to pool up on our floors."

The Texas Department of Criminal Justice denied those reports, saying the prison had been inspected and there was no water in any of the state facilities. "I spoke with offenders and, given the situation, they were in good spirits," department spokesman Jason Clark said. But Hartvikson's allegations echo Cloer's.

Unable to flush the toilets, the smell quickly became unbearable, he notes: "They left us locked in an 8 by 12 foot cell for several days with feces and urine piling up in our toilets." Hartvikson alleges the prison did not provide enough portable toilets; he says only two were provided for his cell block of 450 people.
Read her whole story here.