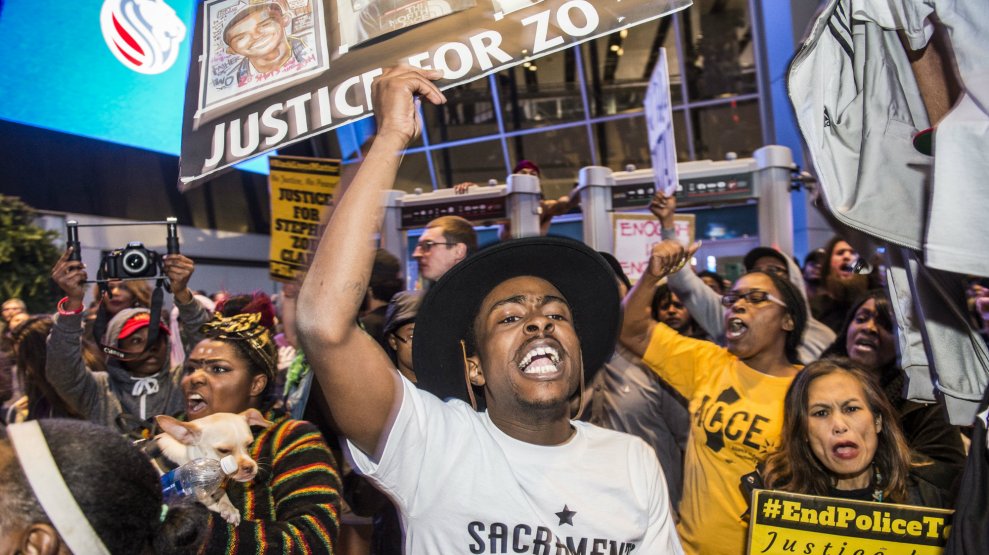 Fight disinformation:
Sign up
for the free
Mother Jones Daily
newsletter and follow the news that matters.
Two California lawmakers on Tuesday introduced legislation to restrict when police officers in the state can use lethal force, requiring them to use such force only when there is no opportunity to use a non-lethal means. The bill would also make clear that the use of lethal force would not be justified in circumstances where an officer's "gross negligence" contributed to a situation that made that level of force necessary. The bill, introduced at a press conference at California's state capitol in Sacramento, comes amid continued protests in the city over the police shooting death of Stephon Clark in March.
Current Supreme Court precedent—and existing court precedent in California—permits officers to use lethal force when so long as another police officer in a similar situation might reasonably make the same decision. The proposed bill would create a higher standard in the state. If passed, the legislation would be the first of its kind in the nation.
"The facts are the facts. The facts are young black men are 20 times more likely to be killed by police than young caucasian men," Assemblyman Kevin McCarty, one of the authors of the bill, said Tuesday during the press conference. "The time is now to revise this more than one year hundred year old law that, unfortunately, too often justifies the use of lethal force by police."
The bill is backed by the ACLU of California as well as a number of other local and state groups, including the Sacramento chapter of Black Lives Matter. Representatives those groups also spoke at the press conference.
"Clearly the current standard where they can use deadly force when they feel a serious threat isn't enough to prevent unnecessary deaths of members of the community, particularly people of color," said Lizzie Buchen, a legislative advocate at the ACLU. "It's given legal cover to the killings of Michael Brown, Tamir Rice, Jessica Williams [and] many, many other killings that have devastated communities and resulted in people feeling less safe."
"It's clear that the current law protects the police, not the people," she added.
Clark, a 23-year-old father of two,
was killed on March 18 by two Sacramento police officers responding to a call about a man breaking into cars. Video of the incident showed officers shoot at Clark a combined 20 times. An independent
autopsy
commissioned by Clark's family determined that Clark was struck eight times from behind, including multiple shots to his back. The officers have said that they shot at Clark after he reached toward them holding an object they believed to be a gun. Only a cell phone was found at the scene, however. The medical examiner who performed the autopsy also
said
his findings contradict the officers' assertion that Clark was facing them when they shot him.
Yesterday, the Supreme Court
ruled
in favor of a police officer in Arizona accused of using excessive force when he shot a woman holding a knife in 2010. The woman, though armed, had not made any threats toward the officer or bystanders. Justice Sonia Sotomayor slammed the decision in a dissenting opinion. "[The majority's] decision is not just wrong on the law; it also sends an alarming signal to law enforcement officers and the public,"
wrote
Sotomayor. "It tells officers that they can shoot first and think later, and it tells the public that palpably unreasonable conduct will go unpunished."