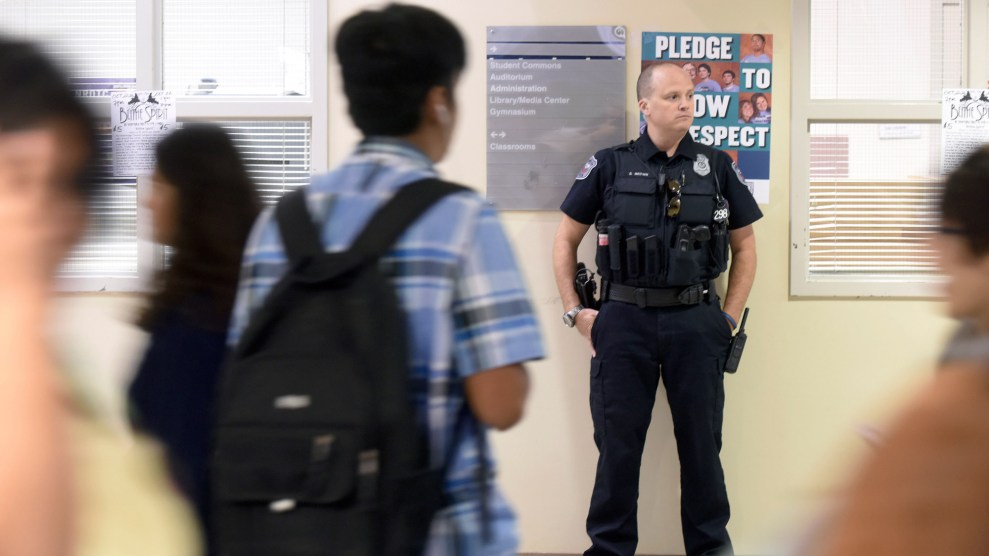 Fight disinformation:
Sign up
for the free
Mother Jones Daily
newsletter and follow the news that matters.
Attorney General Jeff Sessions' contribution to a White House plan to make schools safer post-Parkland is predictably in line with his tough-on-crime approach to governing: put more cops in schools.
Last week, he proposed a measure to prioritize grant funding for those who intend to hire more school resource officers, which are sworn cops tasked with providing security on K-12 campuses.
"No child should have to fear going to school or walking the streets of their neighborhood," Sessions said in a statement announcing the new actions. "We are increasing the number of school resource officers, improving background checks and more aggressively prosecuting those who illegally attempt to purchase a firearm, and reviewing and enhancing the way our law enforcement agencies respond to tips from the public."
But civil rights groups fear that more officers in schools would mean more students of color will be targeted unfairly, resulting in arrests and charges for offenses like truancy and fighting, sending them into the criminal justice system.
A larger police presence may make schools appear safer, but studies that have examined whether school resource officers reduce violence have come to conflicting conclusions, according to a 2013 Congressional Research Service report. Although the report noted that schools with law enforcement officers were more likely to use those officers to mentor students, it also found a higher likelihood that students would be arrested for minor infractions.
"Putting police officers in schools is emotionally reassuring and politically appealing but not practical," says Dewey Cornell, a psychology professor at the University of Virginia who studies school safety, in an email to Mother Jones. "Schools are one of the safest places in our country. If you put police officers in schools as guards, they will have little to do and they will not be in the high crime areas of our community where they are needed the most."
Students of color may not feel the same assurance of having more officers on school grounds as their white peers. Black students are 2.2 times more likely to be either referred to law enforcement or arrested at school than white students, according to Education Department civil rights data. That could lead to more students in criminal courts for misbehavior, pushing them into the justice system.
At a hearing on school safety, Sen. Kamala Harris (D-Calif.) remarked upon research that shows black and Latino students are disproportionately arrested and disciplined in school, asking Associate Deputy FBI Director David Bowdich whether a proposal to allow teachers to carry a firearm would require implicit bias training.
"I never really put the two together," Bowdich said. "I think whatever we decide, training is necessary on all fronts."
What's more, although schools with SROs were more likely to have regular security assessments and emergency plans in the event of a shooting, the CRS report concluded that "the body of research on the effectiveness of SROs does not address whether their presence in schools has deterred mass shootings." Experts suggest that bolstering the number of school resource officers could make students feel less safe and raise the risk of disciplinary infractions.
After the deadly shootings at Columbine High School and Sandy Hook Elementary School, the number of school resource officers stationed in schools boomed. In 2013, just after the Sandy Hook shooting, then-President Barack Obama poured millions of dollars in grant funding under the Community Oriented Policing Services hiring program to increase the ranks of school resource officers in schools, as well as counselors and school psychologists. Between 1997 and 2014, the percentage of school resource officers in public schools surged from 17 percent in 1997 to nearly 30 percent. School resource officers are currently stationed in 24 percent of the nation's elementary schools and 42 percent of its high schools, according to the Department of Education.
"It was presented as a way of protecting students from people coming in from outside," says Dennis Parker, director of the ACLU's Racial Justice Program. "It inevitably turned into a situation where the role of a school resource officer became more involved with what's going on in the school. Increasingly, non-criminal activity was treated as criminal activity by the school resource officer. Kids were being arrested for things that they were not previously arrested for."
Don Bridges, president of the National Association of School Resource Officers who has worked in Baltimore County schools for decades, told Mother Jones that properly-trained officers should build relationships with kids and the school community as a counselor and a "means of protection for the schoolhouse," not as a merely disciplinary force.
But regardless of the Justice Department's actions, plans to add more school resource officers are also in play at the state level. The Trump administration's proposals follow a new gun control law in Florida that includes enlisting specially-trained school personnel as armed guards and investing millions of state dollars to bring more resource officers into schools. Kaitlin Banner, deputy project director at the Advancement Project, told Mother Jones that Florida's investment could open the door for other states to hire more school resource officers.
Earlier this month, New York state senators passed a school security package that would provide state funding for more officers and other security measures. In New Jersey, state police make unannounced visits to the schools it has jurisdiction over, and one district opted to have armed officers stationed at its schools throughout the school day. New Mexico's governor Susanna Martinez has proposed using retired police officers for campus security, an idea the White House also supports, and school district officials in Wisconsin have also called on the state legislature to consider funding for SROs.
"Instead of meaningful solutions that would keep children safe, like increasing safety restrictions and limitations on gun purchases and providing more school counselors, this plan will overpolice children and militarize schools," says Vanita Gupta, president of The Leadership Conference on Civil and Human Rights who oversaw the Justice Department's Civil Rights Division. "It must be scrapped."