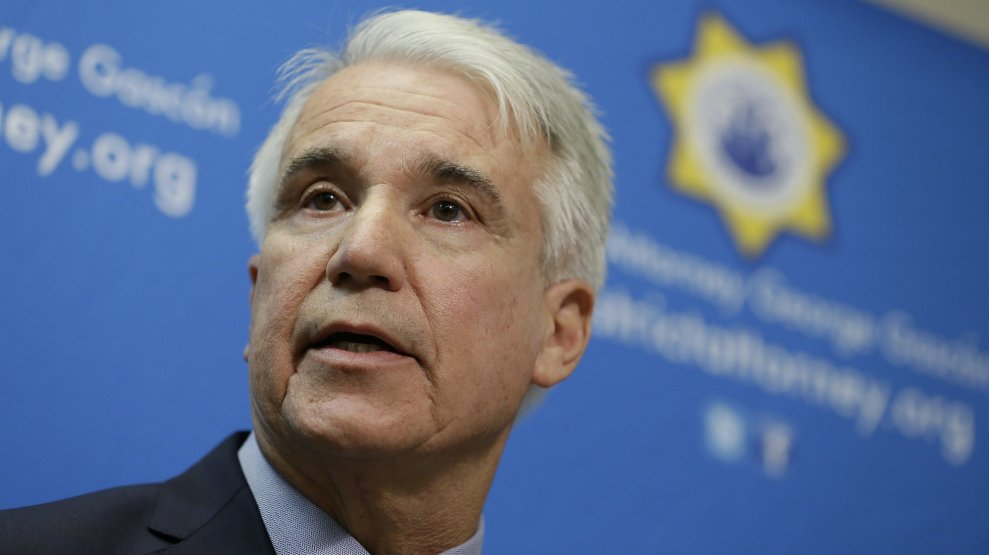 Fight disinformation:
Sign up
for the free
Mother Jones Daily
newsletter and follow the news that matters.
Now that recreational marijuana is officially legal in California, the San Francisco District Attorney's Office has announced that it will seek dismissals for more than 3,000 misdemeanor marijuana convictions dating as far back as 1975.
The move is a result of California's Prop 64, which passed on the ballot in 2016 and allowed the recreational sale of marijuana at the start of this year. It also allowed people with misdemeanor marijuana convictions to petition a court to have their sentences reduced if they are serving time or are on probation, or to have their criminal records revised if they've already completed their sentences. People with felony convictions can also apply to have their sentences reduced if their conduct is considered a lesser offense under Prop. 64. The San Francisco District Attorney's Office also plans to review more than 4,900 marijuana-related felony convictions.
"While drug policy on the federal level is going backwards, San Francisco is once again taking the lead to undo the damage that this country's disastrous, failed drug war has had on our nation and on communities of color in particular," George Gascón, San Francisco's chief district attorney, said in a press release.
Between November 2016, when courts began accepting petitions, and October 2017, 4,885 people petitioned for relief statewide, according to the Judicial Council of California. Yet in 2015, there were around 6,500 people incarcerated based solely on a marijuana offense in California—or for multiple charges of which the pot-related charge was the most serious—according to a report by the Drug Policy Alliance, and the total number of people who could have marijuana convictions scrubbed from their records could stretch to nearly a million, Rodney Holcombe, an attorney at the Drug Policy Alliance, told Mother Jones in December.
But just 23 people petitioned for relief under Prop 64 in San Francisco in the past year, the press release noted.
Part of the reason so few people have petitioned for relief in San Francisco, Gascón said, is because of a lack of awareness and often a lack of financial and legal resources. Gascón's decision to petition the court on behalf of eligible persons eliminates that barrier because the DA's office will be bringing forward all of the cases to a judge without the involvement of people with convictions.
"This example, one of many across our state, underscores the true promise of Proposition 64— providing new hope and opportunities to Californians, primarily people of color, whose lives were long ago derailed by a costly, broken and racially discriminatory system of marijuana criminalization," added California Lt. Gov. Gavin Newsom. "This isn't just an urgent issue of social justice here in California—it's a model for the rest of the nation."