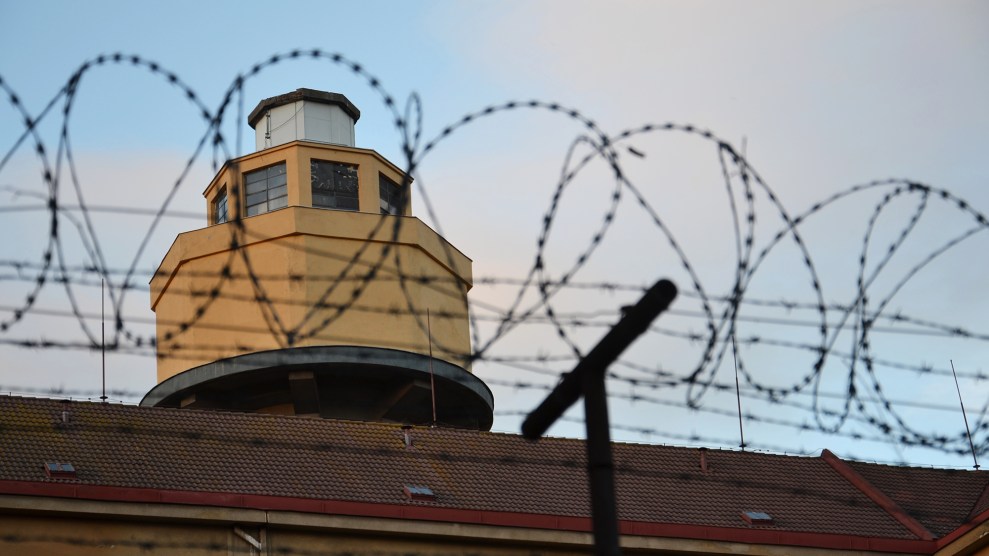 It's no secret that President Donald Trump has been very good for private prison executives. After the Justice Department announced earlier this year that it would continue using private lockups—a reversal of an Obama policy announced in 2016—prison companies' stock prices soared. Now, a campaign finance watchdog is suing to figure out whether one of these prison companies influenced the Trump administration's policy reversal by donating large sums to a pro-Trump super-PAC during the 2016 presidential campaign.
In August and November, GEO Group, the country's biggest private prison company, donated a total of $225,000 through a subsidiary to a pro-Trump super-PAC, according to campaign disclosures. The super-PAC, Rebuilding America Now, had been heartily endorsed by the Trump team; Mike Pence said contributions to the group would be "one of the best ways to stop Hillary Clinton and help elect Donald Trump our next president." But according to a lawsuit filed Thursday by the Campaign Legal Center, the prison company's decision to fund the super-PAC allegedly violated federal law, which prohibits government contractors from making political contributions.
GEO Corrections Holdings made a donation of $100,000 on August 19, just one day after the Obama administration announced that it would phase out its use of private prisons because of their high rates of violence. In November, before Election Day, the GEO subsidiary made another donation to Rebuilding America Now.
After Trump's inauguration, Attorney General Jeff Sessions announced that the Justice Department would continue its relationship with private prisons. The following month, GEO won a $110 million contract to build a federal immigrant detention center in Texas.
In its lawsuit, the Campaign Legal Center is asking the Justice Department to turn over documents related to the administration's decision to keep working with private prisons. In particular, the nonprofit watchdog is seeking records that might shed light on whether the administration's decision was influenced by GEO contributions to the pro-Trump super-PAC. The Campaign Legal Center filed a Freedom of Information Act request for these records more than three months ago. But the Justice Department's Office of Legal Counsel has delayed the fulfillment of the request, according to the lawsuit, which seeks to speed up the disclosure process.
"GEO made illegal contributions to influence the election, and now DOJ is refusing to release the documents that might show whether the Administration rewarded GEO for its illegal spending," Adav Noti, a senior director at the Campaign Legal Center and a former associate general counsel for policy at the Federal Election Commission, said in a statement.
GEO Group denies the allegation that its contributions broke campaign finance laws. "These are absolutely baseless and meritless allegations. All of our company's contributions have been fully compliant with all applicable laws," the company said in a statement to Mother Jones. It defended its $110 million contract to build an immigrant detention facility in Texas. "The contract we were awarded by the Department of Homeland Security, not the Department of Justice, was part of a competitive procurement process which was initiated by the Obama Administration in 2015." It also noted that the Federal Bureau of Prisons has worked with private prison companies since the 1990s.
GEO noted in December that its subsidiary's super-PAC donations were legal because its subsidiary "is a non-contracting legal entity and has no contracts with any federal agency." The Bureau of Prisons confirmed to Mother Jones that it does not currently hold any contracts with the subsidiary.
However, a page on USASpending.gov, a government website, suggests the subsidiary did receive funds from a federal contract in the past. A spokesman for the GEO Group told Mother Jones that the information on the USASpending.gov page was incorrect and "GEO Corrections Holdings has never held any federal contracts."
Whether or not the subsidiary receives federal funding, the Campaign Legal Center says GEO Group, the parent company, has still violated campaign finance laws. The law prohibits a contractor from "directly or indirectly" making contributions to super-PACs, the watchdog says. It argues that GEO Group, which holds contracts with several federal agencies, made an indirect donation through its wholly owned subsidiary. The Federal Election Commission has yet to weigh in on the matter.
This story has been updated.