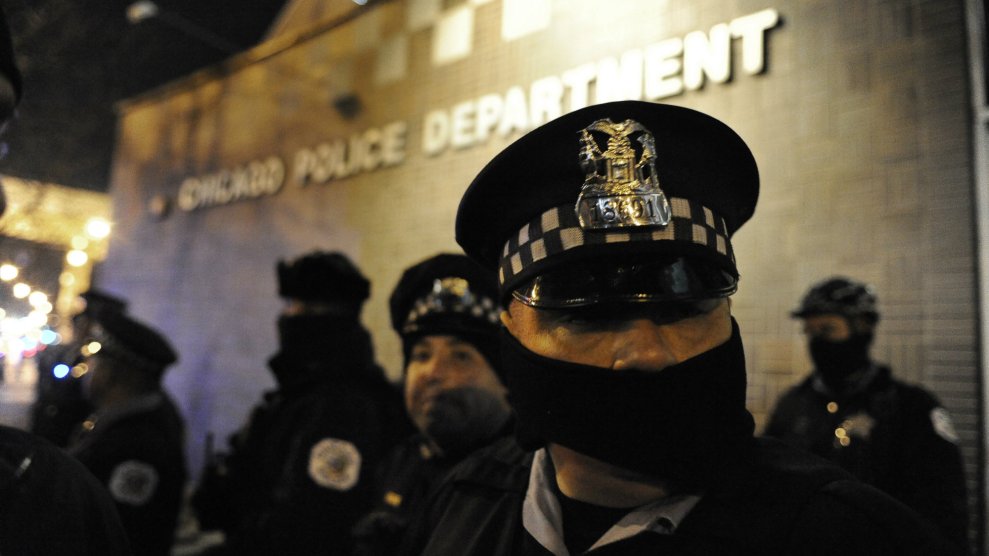 Three current and former Chicago Police Department officers have been charged for allegedly conspiring to cover up the police shooting death of 17-year-old Laquan McDonald in October 2014, prosecutors announced Tuesday afternoon. Former Chicago police officer Jason Van Dyke, who is white, shot McDonald, who was black and armed with a knife, 16 times in a 2015 incident that sparked outrage nationwide. Van Dyke is awaiting trial on a murder charge and multiple counts of aggravated battery. In January, the U.S. Department of Justice released a report slamming CPD for a pattern of unconstitutional abuses following a year-long investigation of the department sparked by McDonald's death.
Now, a grand jury has indicted former officer David March and current officers Joseph Walsh and Thomas Gaffney—all veterans of the department—on one felony count each of conspiracy, obstruction of justice, and official misconduct. The indictment accuses the officers of lying about the incident, and the dashcam video of it, in official reports. It also alleges that the officers chose not to identify or interview witnesses or preserve physical evidence, and that they deleted communications with other officers.
"It was the object of the conspiracy to conceal the true facts of the events surrounding the killing of Laquan McDonald by [Van Dyke] in order to shield their fellow officer from criminal investigation and prosecution [and] so the public would not see the video recordings of the events," the indictment says. "The co-conspirators understood that public airing of the events surrounding Laquan McDonald's killing, including the video recordings, would inexorably lead to a thorough criminal investigation by an independent body and likely criminal charges."
It was not immediately clear whether the officers had hired attorneys. Their arraignments are set for July 10.
Van Dyke initially told investigators that he shot McDonald after McDonald approached him with a knife. But the video showed that McDonald was backing away when the officer opened fire. In the latest indictment, special prosecutor Joseph McMahon alleges that officers on the scene fabricated other details, including:
Claims that McDonald attacked officers: According to the indictment, March wrote in an incident report that McDonald had "committed aggravated assaults" against three officers, forcing Van Dyke to shoot him to protect himself and the others. Walsh, who was Van Dyke's partner, and Gaffney wrote nearly identical battery reports after the incident claiming that McDonald had attacked them, the indictment says. In a subsequent report, March said that McDonald ignored commands to drop the knife and swung it at Van Dyke. Gaffney allegedly wrote that McDonald posed an "imminent threat of battery." Video of Van Dyke's encounter with McDonald does not show the teenager threatening anyone with the knife.
Claims that McDonald tried to get up, forcing Van Dyke to shoot him again. In one report on the shooting, March wrote that McDonald had been "attempting [to] get up, still armed with the knife," the indictment says. He allegedly repeated the claim in another report. But video of the incident shows Van Dyke shooting McDonald multiple times as he lay defenseless on the ground. McDonald also dropped his knife as he fell.
Last August, Chicago police superintendent Eddie Johnson recommended that multiple officers who were implicated in the handling of the McDonald case be disciplined or fired. Those recommendations are still under review by the city's police oversight board. March left the department voluntarily. A spokesperson for the police department said Walsh is also no longer with the department and that Gaffney will be suspended without pay.
In March, special prosecutor Mahon charged Van Dyke with 16 counts of aggravated battery with a firearm on top of the murder charge he already faced. A veteran Chicago defense attorney told Mother Jones at the time that at trial, prosecutors would likely argue that even if Van Dyke felt threatened by McDonald, that could no longer have been the case after the teenager was on the ground. Each bullet fired thereafter could then constitute a separate assault.