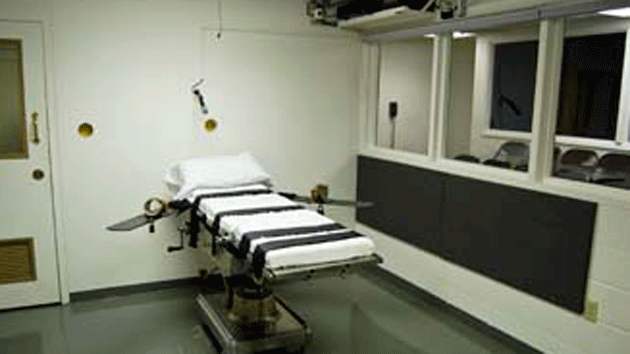 Fight disinformation:
Sign up
for the free
Mother Jones Daily
newsletter and follow the news that matters.
In April, when Oklahoma tried to execute Clayton Lockett, everything went wrong. The execution team spent more than an hour trying to find a useable vein. And after officials administered drugs that should have rendered him unconscious, he raised his head, writhed on the gurney and mumbled, appearing to be in pain. The proceeding was eventually halted, but Lockett reportedly died of a heart attack a few minutes later. Corrections officials insisted at the time that Lockett's vein had "blown" or ruptured, causing the drugs to leak into surrounding tissue rather than into his blood stream. Now preliminary findings from an independent autopsy of Lockett suggest an unsettling explanation of what really happened: The people charged with carrying out the execution had absolutely no clue what they were doing.
Oklahoma officials initially claimed that Lockett's executioners had been forced to insert an IV line into the inmate's femoral vein—a painful place for the insertion and also a risky one that requires serious medical expertise—after running into difficulty finding another suitable vein. They also suggested that dehydration or another medical condition might have led to Lockett's botched execution.
Lockett's lawyers retained a medical examiner, who performed an autopsy on the prisoner. Dr. Joseph Cohen's findings, which were released today, raise serious questions about the official account. The autopsy indicates that Lockett's vein never blew—because the IV was never inserted there in the first place. Instead, the needle punctured the vein. Cohen also determined that there was nothing wrong with the veins in Lockett's arms that would have justified using a femoral vein, nor was he dehydrated. Yet he found "skin punctures on the extremities and right and left femoral areas," and proof that the execution team had tried to set lines in both of Lockett's arms and both sides of his groin. Cohen also found more evidence of inept handiwork in hemorrhages around the places the team had tried to access a vein, as well as other injuries related to "failed vascular catheter access."
As with other botched lethal injection executions, the autopsy provides compelling evidence that the people handling what is supposed to be a medical procedure, albeit a gruesome one, have little or no medical training. Oklahoma corrections officials, as well as the governor, said athat a phlebotomist had inserted Lockett's IV. Phlebotomists are fairly low-level health care workers whose primary training and work involves drawing blood for testing. Leaving aside the fact that, in Oklahoma, phlebotomists aren't licensed, regulated, or trained in inserting catheters or IVs, the state's own protocols require a paramedic or EMT to inert an IV. After the Tulsa World started asking about this discrepancy, the state changed its position and claimed that the work had been done by an EMT. State law makes this almost impossible to verify, shrouding the identities of execution team members in secrecy.
Executioner jobs don't necessarily attract the best and brightest. The oath doctors take to "first do no harm" renders them ethically prohibited from participating in executions, so often the people who carry out lethal injections are just ordinary prison officials or, in some cases, employees with checkered pasts. In Arizona, for instance, where execution team members are supposed to receive background checks, one of the primary execution team members had a criminal record, including arrests for drunk driving and drinking in public. Even when doctors participate, they're not always at the top of their profession. In Missouri, dyslexic surgeon Dr. Alan Doerhoff, who admitted to improvising drug mixtures, oversaw 54 executions before a judge banned him from performing any more. Doerhoff was the subject of more than 20 malpractice lawsuits during his career, and he was disciplined by the state medical board for concealing lawsuits from a hospital where he worked. Two Missouri hospitals banned him from practicing in their facilities.
Cohen is still seeking more information from Oklahoma about its procedures, test results from the coroner's office, and other details about the day Lockett died. Corrections officials tasered Lockett in the process of removing him from his cell to take him to the death chamber, and Cohen is seeking more information about that, too, due to other injuries he found on Lockett's body.
In a statement, Dr. Mark Heath, an assistant professor of anesthesiology at Columbia University and an expert in lethal injection executions who has been aiding defense lawyers challenging state protocols, explained, "Dr. Cohen has begun a critically important inquiry into the botched execution of Clayton Lockett. However, to complete this inquiry, Dr. Cohen will need the state to provide extensive additional information beyond what the body itself revealed. I hope that Oklahoma provides everything he asks for so that we can all understand what went so terribly wrong in Mr. Lockett's execution."