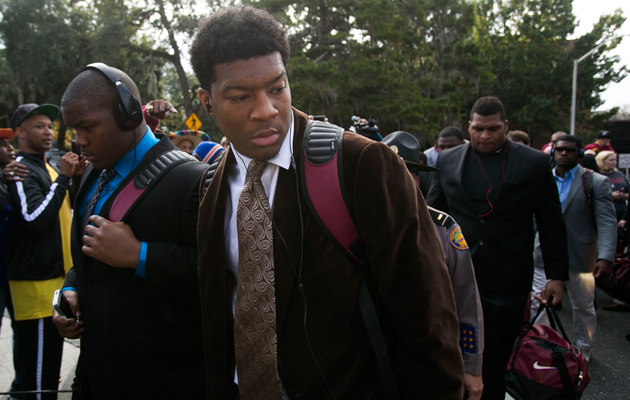 Fight disinformation:
Sign up
for the free
Mother Jones Daily
newsletter and follow the news that matters.
Last week, prosecutors in Tallahassee announced they would not press charges against Florida State quarterback Jameis Winston, over allegations he had raped a former FSU student in December of 2012. Investigators had sat on the case for almost a year, and an attorney for the accuser (who withdrew from school after coming forward) alleged that Tallahassee police had told her to tread carefully, because she was in a "big football town." The press conference announcing that no charges would be filed was interrupted frequently by laughter from the (mostly male) attendees.
On Friday, the Tampa Bay Times broke down just how lax the Tallahassee Police Department's investigation really was. After interviewing the accuser in January of 2013, police were presented with a number of obvious sources to follow up with: they knew the bar where she'd been drinking; they knew she'd taken a taxi; and they knew that a football player named "Chris" had walked in on the alleged rape. Among the details:
"More than 200 pages of documents showed no signs that police ever questioned anyone at the bar or requested surveillance footage. The bar had more than 30 cameras that could have shown how much the woman drank, if she interacted with Winston and whom she left with."
"Police also seemed to quickly give up on finding the cab or its driver, though a specific company (Yellow Cab) was known to offer student discounts."

"Back then, police also didn't look for the freshman football player named Chris. A simple review of the Seminoles' 2012 roster shows Chris Casher was the only true freshman on the team with that first name. Investigators later learned that Casher was Winston's roommate and had walked in on the sexual activity—in part to record it on his cellphone. By the time investigators interviewed Casher in November, the recording had been deleted and the phone discarded."
That last item may be the most damning—there was literally a video of the alleged crime and police never tried to find it.
That's not to say Winston would have been found guilty. Maybe the leads investigators never followed might have led them to the same conclusion they ultimately drew. But the nature of the investigation made it clear that the odds were stacked against the accuser from the start. It would hardly be the first time.